Enjoy a warm, well-spiced treat with these fluffy cakes packed full of nutty tahini and anti-inflammatory turmeric!
This aromatic turmeric tahini cake is a Paleo take on a popular Lebanese dessert called sfouf. Typically made in a baking pan and sliced into squares like brownies, this recipe uses a muffin tin to conveniently bake the cakes into individual portions.
These cakes are sure to elevate your dessert arsenal. Pair them with a cup of tea or golden milk for an aromatic, warmly flavored dessert.
Love turmeric recipes?
Add power-packed anti-inflammatories to every meal with these FREE turmeric recipes!
How To Make Sfouf Paleo
To achieve the moist cakey texture of sfouf without semolina flour, we use blanched almond flour. This ensures a fluffy texture that bakes up spongy and moist. You can also substitute cashew or macadamia nut flour.
Tahini paste, a vital component of the original recipe, adds moisture along with honey and eggs. Due to the high-fat content of tahini, no extra oil is needed.
The sweet and subtle flavor of honey compliments the warm flavors of turmeric and tahini paste. A pinch of black pepper increases the absorption of turmeric for full anti-inflammatory benefits, so be sure to add it.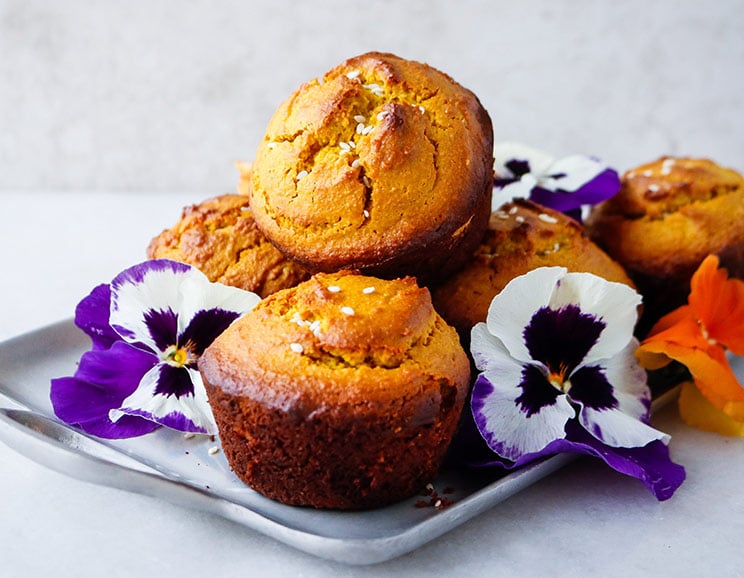 Spruce Up Your Cake
Turmeric tahini cakes are often decorated with unique toppings. Try any of these Paleo-friendly options:
Edible flowers
Sesame seeds
Blanched almonds
Pine nuts
Dried fruit like apricots or figs
Fresh raspberries
Helpful Tips To Get You Started:
Skip the fridge. Be sure to use tahini paste at room temperature to get the full effects of its oils. Refrigerated tahini tends to solidify, making it harder to mix into the batter.
Looking for more sesame flavor? Sprinkling the cakes with sesame seeds right after removing them from the oven helps heat the seeds, drawing out their oils and adhering them to the cakes.
Jennafer Ashley
Fluffy Golden Turmeric Cakes (Sfouf)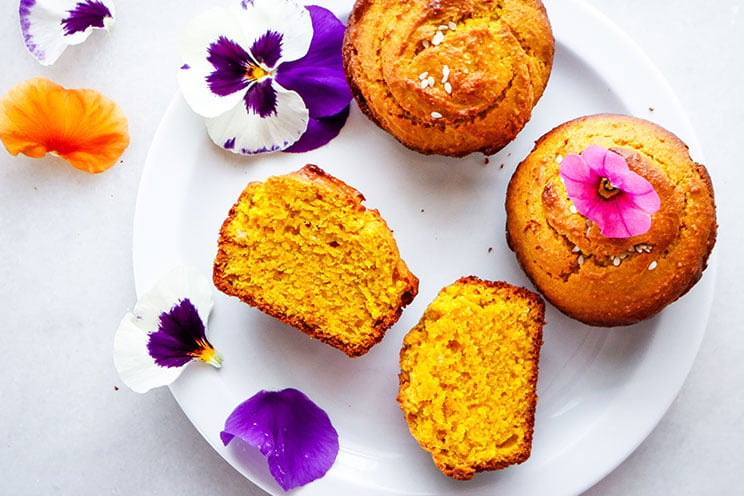 Inactive Time:
10 mins
10 minutes
Cook Time:
28 mins
28 minutes
Prep Time:
10 mins
10 minutes
Nutrition facts:
12 grams of protein
19 grams of carbohydrates
24 grams of fat
Fluffy Golden Turmeric Cakes (Sfouf)
Enjoy a warm, well-spiced treat with these fluffy cakes packed full of nutty tahini and anti-inflammatory turmeric.
Tools
6-cup muffin tin

Small mixing bowl

Medium mixing bowl
Ingredients
1 t melted ghee

1 ¼ cups blanched almond flour

2 t ground turmeric

½ t baking powder

¼ t sea salt

Pinch of ground black pepper

2 large eggs

½ cup room temperature tahini

¼ cup honey

Optional toppings: sesame seeds, edible flowers, fresh fruit
Instructions
Preheat the oven to 350ºF and grease the cavities and top of a 6-cup muffin tin with ghee. In a small mixing bowl, stir together the almond flour, turmeric, baking powder, sea salt, and pepper.

In a separate medium mixing bowl, whisk together the eggs, tahini, and honey until fully incorporated, about 30 seconds. Gradually mix the dry ingredients into the wet.

Use a ¼ cup measuring cup to scoop the mixture into the muffin tins. Bake for 25 to 28 minutes, until the edges are lightly browned.

Remove from the oven and sprinkle the cakes with sesame seeds immediately, if using. Cool for 10 minutes in the muffin tins. Slide a sharp knife around the cakes to remove and decorate with edible flowers or fresh fruit, if desired.
Looking for Paleo ingredients? Here are a few we'd recommend:
Ghee (Pure Indian Foods)
Almond flour (Hodgson Mill)
Turmeric (Simply Organic)
Baking powder (Hain)
Sea salt (REDMOND)
Black pepper (Frontier)
Raw honey (Bee Farms)
Sesame seeds (McCormick)