Swap your morning snack for a slice of this light and fluffy golden turmeric bread!
Quick breads are one of our favorite things to bake, and this turmeric bread is our new obsession. We nixed the traditional yeast in favor of grain-free flours and baking powder to make this bread rise in a shorter amount of time.
The turmeric in this recipe helps rid the body of inflammation and lends a vibrant golden hue to the bread. For extra sweetness, we used a spoonful of healing raw honey and finished it off with a topping of shredded coconut.
Love Coconut Flour Recipes? Then you'll love our FREE Coconut Flour Recipes.
Click here to get your FREE copy of our delicious Coconut Flour Recipes!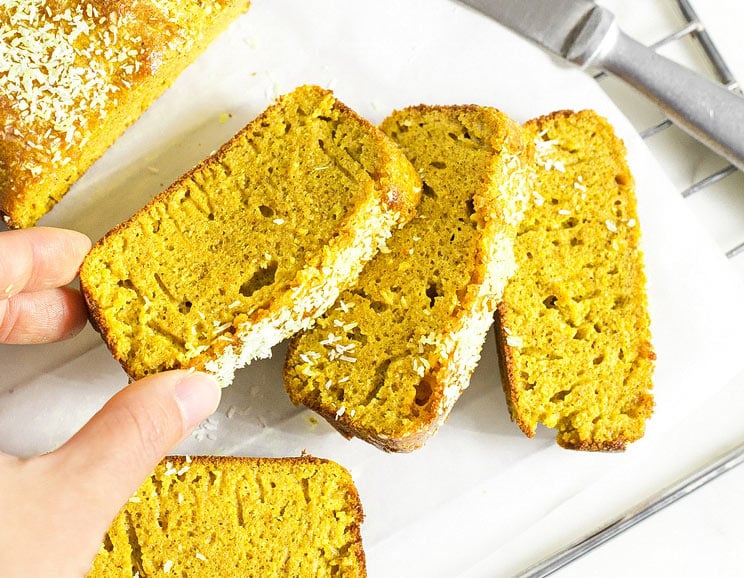 Serve your golden turmeric bread slathered with homemade coconut butter and a mug of warm tea.
Helpful Tips for Getting Started:
Don't have honey? Try maple syrup. Both are equally delicious and can be swapped in equal amounts.
Let the bread rest after baking. We know it's hard to resist, but try not to cut into your turmeric bread right away. Instead, let it cool for 15 minutes to prevent crumbling.
Try making them into muffins! If you want, skip the loaf pan in favor of a muffin tin. Simply fill each cavity up to ¾ full with batter, sprinkle on the shredded coconut, and reduce the baking time to 20 minutes.
Felicia Lim
Golden Turmeric Bread Topped with Shredded Coconut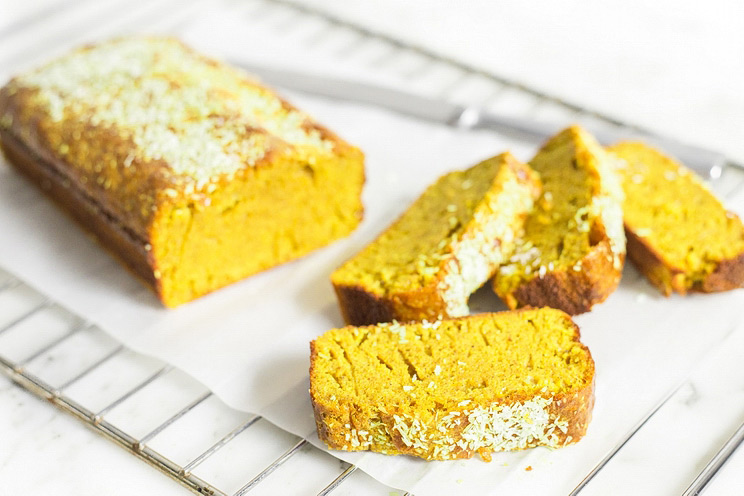 Cook Time:
40 mins
40 minutes
Prep Time:
10 mins
10 minutes
Nutrition facts:
6 grams of protein
19 grams of carbohydrates
23 grams of fat
Golden Turmeric Bread Topped with Shredded Coconut
Swap your morning snack for a slice of this light and fluffy golden turmeric bread.
Tools
Medium loaf pan

Medium mixing bowl
Ingredients
4 eggs

¼ cup water

½ cup coconut oil, melted and cooled

1 T raw honey

½ cup coconut flour

¾ cup tapioca starch

½ t salt

1 t ground turmeric

1½ t baking powder

1 T shredded coconut, for topping
Instructions
Preheat the oven to 350°F and line a loaf pan with parchment paper.

In a medium bowl, whisk the eggs, water, and melted coconut oil together until fully combined.

Sift in the coconut flour, tapioca starch, salt, turmeric, and baking powder. Whisk until there are no more lumps.

Let the batter sit for 5 minutes before pouring it into the prepared loaf pan.

Sprinkle the top of the batter with shredded coconut.

Bake for 40 minutes, or until an inserted toothpick comes out clean from the center.

Let the bread cool in the pan for at least 15 minutes, then remove and slice.
Looking for Paleo ingredients? Here are a few we'd recommend:
Cold pressed coconut oil (Viva Naturals)
Raw honey (Bee Farms)
Coconut flour (Nutiva)
Tapioca flour (Authentic Foods)
Turmeric (Simply Organic)
Baking powder (Hain)
If you're just as obsessed as we are with sweet turmeric recipes, you gotta try these chocolate turmeric truffles or golden ginger turmeric cookies!