Whip ground turmeric into your Paleo hummus for the smoothest and creamiest anti-inflammatory dip you'll ever make.
One of my favorite finger foods to serve when I have guests over is hummus – because it easily feeds a crowd alongside Paleo crackers or vegetable crudités.
This hummus recipe is simple and foolproof, requiring just 10 minutes and a blender. To make it Paleo-friendly, we're making a raw cashew version that incorporates anti-inflammatory turmeric, lending it a savory flavor and vibrant yellow hue.
Love turmeric recipes?
Add power-packed anti-inflammatories to every meal with these FREE turmeric recipes!
Swapping Cashews for Chickpeas
You're probably used to seeing chickpeas at the base of hummus, along with ingredients like olive oil, tahini, lemon juice, and garlic.
Fortunately, nearly all of these ingredients are Paleo-friendly, and chickpeas can easily be subbed out for raw cashews.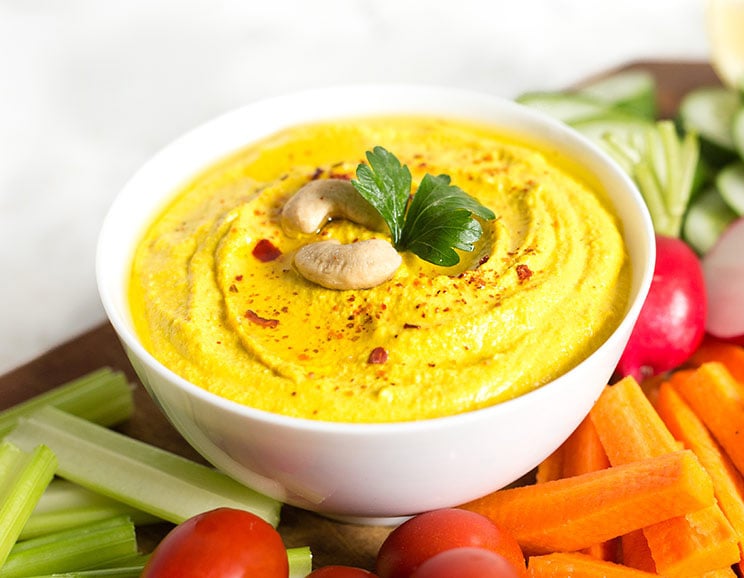 Why cashews? Raw cashews, which haven't been roasted or flavored, impart a slightly sweet flavor that goes beautifully with the ground turmeric. It also contrasts nicely with garlic and makes this hummus incredibly addictive.
Plus, when soaked in water, they're the perfect consistency for creamy, ever-dippable Paleo hummus.
Helpful Tips To Get You Started:
Soak your cashews. Cashews contain phytic acid, which can make them difficult to digest. Soaking the cashews helps reduce the amount of phytic acid in them, making them easier to blend.
Be patient when blending. Depending on how big and fast your blender is, you may need to scrape down the sides occasionally, or further incorporate the ingredients with a spoon in between pulses.
Accompany with crudités. This hummus is delicious alongside fresh, crisp veggies like carrots, celery, and cucumber. You can also serve it with Paleo crackers or toasted Paleo bread.
Felicia Lim
Golden Turmeric Cashew Hummus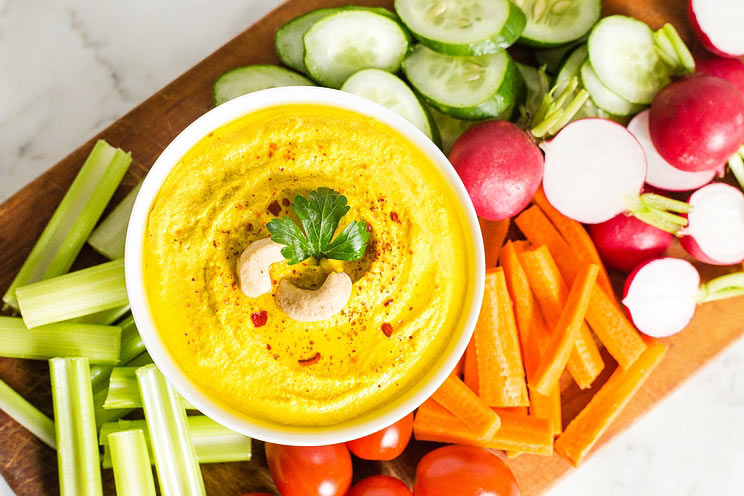 Prep Time:
10 mins
10 minutes
Nutrition facts:
13 grams of protein
20 grams of carbohydrates
40 grams of fat
Golden Turmeric Cashew Hummus
Whip ground turmeric into your Paleo hummus for the smoothest and creamiest anti-inflammatory dip you'll ever make.
Ingredients
2 cups raw cashews, soaked for 1 hour and drained

3 T olive oil

1 cup water

2 T lemon juice

1 T tahini

¾ t salt

1 t minced garlic

1 T ground turmeric

1 t red chili pepper flakes, for sprinkling

Lemon wedges, for garnish

Fresh parsley, for garnish
Instructions
Combine the soaked cashews, olive oil, water, lemon juice, tahini, salt, minced garlic, and ground turmeric in the bowl of your blender and blend until smooth and creamy. Scrape down the sides as needed. If needed, add 1 extra tablespoon of water at a time, until you get your desired consistency.

Sprinkle the hummus with red chili flakes, then garnish with lemon wedges and fresh parsley. Serve alongside vegetable crudités and your favorite accompaniments.
Looking for Paleo ingredients? Here are a few we'd recommend:
Raw cashews (Terrasoul Superfoods)
Olive oil (Sky Organics)
Turmeric (Simply Organic)
For more highly dippable recipes, try this creamy roasted beet hummus recipe!