Make this lighter-than-air blueberry coconut bread with just 10 minutes of prep!
Craving a Paleo treat? Whip up this blueberry-studded coconut bread, made with wholesome coconut ingredients and buttery ghee. The coconut flour is key here, as it's the base of this perfectly fluffy bread. And the blueberries impart a natural sweetness, while the maple syrup delivers a touch more.
In just a few easy steps, you'll have a blueberry bread that works as well for breakfast as it does for dessert.
Love Coconut Flour Recipes? Then you'll love our FREE Coconut Flour Recipes.
Click here to get your FREE copy of our delicious Coconut Flour Recipes!
Let The Ingredients Come To Room Temperature
You'll notice our recipe calls for room-temperature coconut milk, ghee, and eggs. Though it might be tempting to skip this step, you'd also be skipping the fluffy rewards of your patience.
When eggs and ghee are at room temperature, they more easily trap air. That air kicks into action in the oven, expanding to maximize the light, soft texture of this bread. Plus, room temperature coconut milk is much easier to whisk and won't cool down the other ingredients.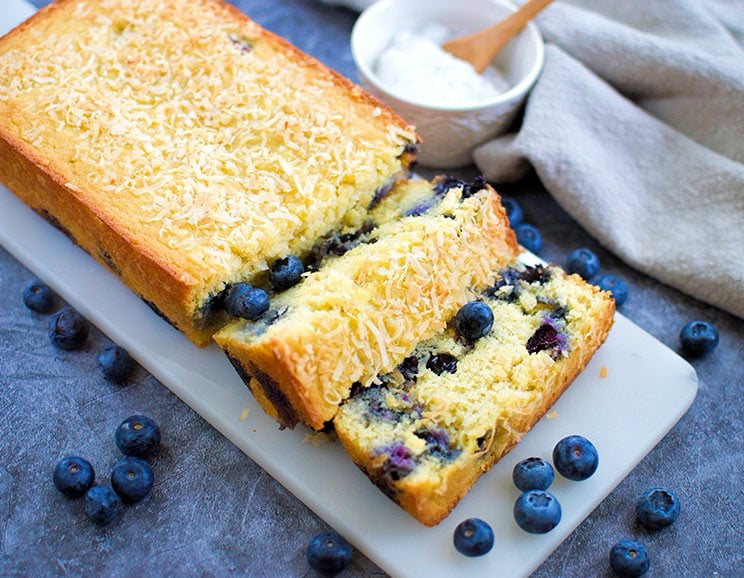 Don't Forget To Sift Your Coconut Flour
Another easy but important step in this recipe is sifting the flours together. This small act will add a ton of volume to your end result.
Coconut flour is notorious for its ability to soak up liquid. That's why we go heavy on the liquids and light on the flour in this recipe. A little coconut flour goes a long way in adhering to the wet ingredients.
Batter made with coconut flour will continue to thicken as it is mixed or as it sits. That's why it is important to mix this batter only until just incorporated, then immediately get it in the oven. Overmixing the batter or allowing it to sit will result in a dense, dry bread.
Helpful Tips To Get You Started:
Be gentle with the blueberries. We already talked about how important it is to not overmix this batter, so keep that in mind when folding in your blueberries. A few gentle turns with a rubber spatula should do the trick.
Allow the bread to cool. It's always tempting to dive right in to a freshly baked loaf, but giving this bread the proper time to cool will allow it to solidify its form a bit. After 10 minutes in the pan, transfer it to a wire rack so the bottom can cool too.
Danielle Moore
Fluffy Coconut Flour Blueberry Bread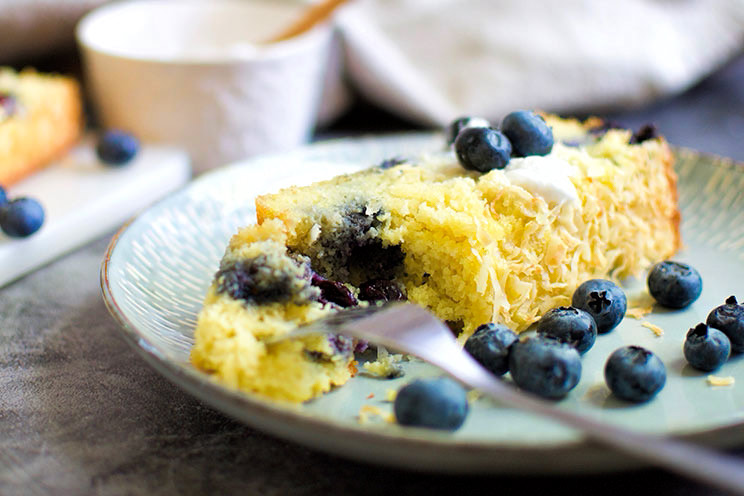 Inactive Time:
1 hr 35 mins
1 hour 35 minutes
Cook Time:
55 mins
55 minutes
Prep Time:
10 mins
10 minutes
Nutrition facts:
6 grams of protein
26 grams of carbohydrates
30 grams of fat
Fluffy Coconut Flour Blueberry Bread
Make this lighter-than-air blueberry coconut bread with just 10 minutes of prep.
Tools
Loaf pan

Large mixing bowl

Sifter

Medium mixing bowl

Electric mixer
Ingredients
1/2 cup room temperature ghee, plus extra for greasing

1/2 cup maple syrup

3/4 cup room temperature coconut milk

1 t vanilla extract

5 room temperature eggs

1/2 cup coconut flour

1/4 cup tapioca flour

1 T baking powder

1/2 cup shredded unsweetened coconut, divided

1/2 cup blueberries

1/2 cup coconut cream, chilled
Instructions
Preheat oven to 325°F. Grease a loaf pan with ghee.

In a large mixing bowl, whisk to combine the ghee, maple syrup, coconut milk, vanilla extract, and eggs.

Sift in coconut flour, tapioca flour, and baking powder. Add half of the shredded coconut. Mix until just incorporated.

Gently fold the blueberries into the batter with a rubber spatula.

Transfer the batter to the prepared loaf pan and spread it into an even layer. Sprinkle the remaining coconut over the top of the bread.

Transfer to the oven and bake for 45 to 55 minutes, until a toothpick inserted in the center comes out clean.

Cool the bread in the pan for 10 minutes. Transfer to a wire rack to cool another 30 minutes.

In a medium mixing bowl, whip the chilled coconut cream with an electric mixer on medium-high speed for 2 to 3 minutes, until fluffy. Store in the refrigerator until ready to serve.

Slice the cooled bread. Top with whipped coconut cream.
Looking for Paleo ingredients? Here are a few we'd recommend:
Ghee (Pure Indian Foods)
Coconut milk (Native Forest)
Vanilla extract (Frontier)
Coconut flour (Nutiva)
Tapioca flour (Authentic Foods)
Baking powder (Hain)
Coconut cream (Native Forest)