Saucy, oven-baked ribs that are fall-off-the-bone tender. Zero grilling skills required.
The recipe pairs ribs with a delicious homemade barbeque sauce made from pantry staples. The ingredients marry into a thick sauce that's a little sweet, a little spicy, and has a whole lot of tang! To give the sauce an extra spicy flavor, add one or two teaspoons of your favorite hot sauce (you can use Frank's Hot Sauce or any Paleo-friendly hot sauce) to the ingredients. It adds a lot of heat, but the taste is incredible!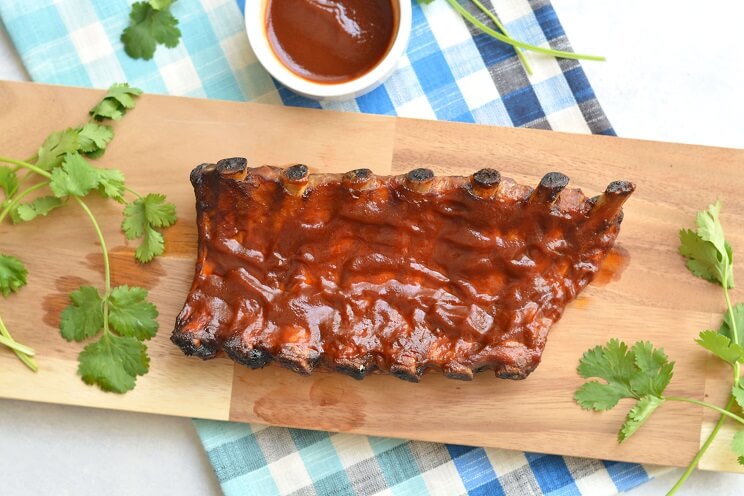 Making these oven-baked ribs is simple. The key to making them fall off the bone is removing the membrane. To remove it, gently slide a small knife under the membrane (be careful!), then using your fingers, pull the membrane away from the bones. Note: It is slippery, so once you get a small part pulled up, use a paper towel to hold onto the membrane and peel away the rest.
Love slow cooker recipes?
Click here to get your FREE copy of our delicious Slow-Cooker Recipes!
This recipe requires the ribs to bake 3-4 hours in the oven at a low temperature. If you're short on time, you can alternatively boil the ribs in a pot of water for 30 minutes, and bake at 375°F for 1 hour. The ribs are best cooked low and slow, but this is a good option for those who are in a bind.
Serve your Oven-Baked Ribs with a side of roasted veggies and Paleo sweet potato fries for a scrumptious, dinnertime meal!
Megan Olson
Easy, Melt In Your Mouth Oven-Baked Ribs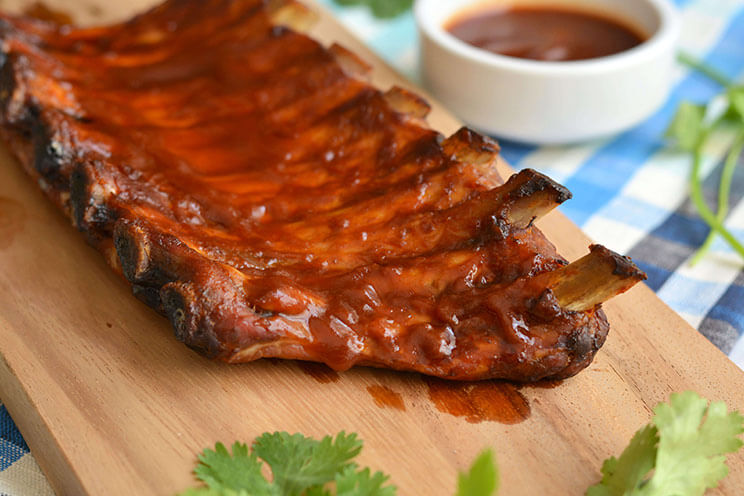 Prep Time:
20 mins
20 minutes
Easy, Melt In Your Mouth Oven-Baked Ribs
Saucy, fall-off-the bone ribs baked right in the oven. Zero grilling skills required.
Tools
Baking sheet

Aluminum foil

Small saucepan

Wire whisk
Ingredients
½ rack of bone-in pork ribs, room temperature

Salt and pepper, to taste

1 6oz can tomato paste

½ cup water

4 T raw apple cider vinegar

½ T garlic powder

1 T onion powder

½ t cinnamon

¼ t nutmeg

½ T raw honey

1 t chili powder

½ t paprika
Instructions
Preheat oven to 250°F. Prepare a baking sheet with aluminum foil. Top with a wire rack. Alternatively, you can use a roasting pan.

Heat a small saucepan to medium-high heat, then add all ingredients for the sauce. Stir with a wire whisk until tomato paste is fully incorporated in the mixture. Once bubbly, reduce to a low simmer.

While the sauce simmers, prepare the ribs by removing the membrane. Pat dry with paper towels then place on top of wire rack. Salt and pepper both sides.

Remove the sauce from the heat and generously add it to both sides of the ribs, leaving the bone side up.

Bake for 3-4 hours, covered with aluminum foil, until tender.

Remove from oven and slice along the bone.
Looking for Paleo ingredients? Here are a few we'd recommend:
Organic Apple Cider Vinegar (Bragg)
Organic, Raw, Unstrained Honey (Thrive)


(You'll Also Love: Chimichurri Baby Back Ribs)