No need to fry to achieve the comforting crisp flavor of fried pickles. These spears are coated in almond flour and a robust blend of Cajun seasonings for a southern-style snack with a Paleo twist.
Love crispy, fried pickles but not the processed flour and unhealthy oils they're deep-fried in? Luckily, turning this delectable side dish into a guilt-free recipe is a breeze – just omit the frying and bake instead until golden brown.
Making oven-fried pickles starts with choosing the right type of flour for dredging. I use almond flour instead of almond meal. Almond flour is finer than the meal variety and sticks to the pickles better, creating more of a flour-like coating. The almond flour gets combined with Cajun seasoning – a blend of dried herbs and smoky paprika with a kick of heat from cayenne pepper. This Cajun seasoning doubles as a terrific rub for chicken, steak and burger seasoning.
Love Almond Flour Recipes? Then you'll love our FREE Almond Flour Recipes.
Click here to get your FREE copy of our delicious Almond Flour Recipes!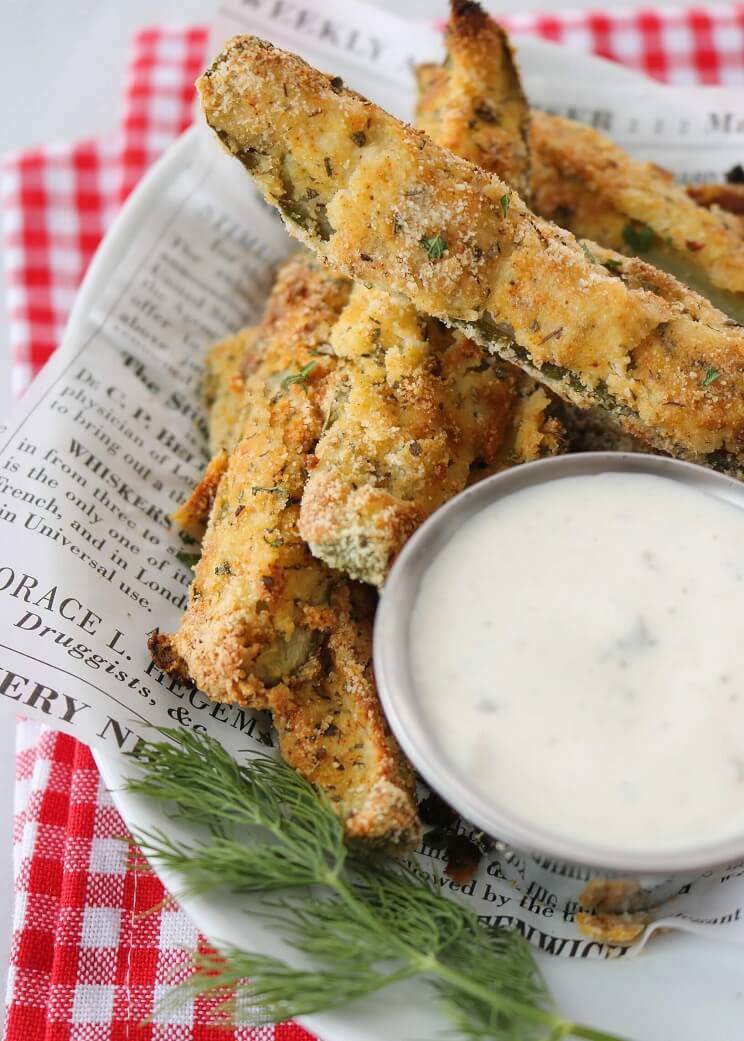 Begin by blotting excess moisture from the pickle spears. This is an important part of the process, helping the egg and coating stick to the pickles. Beat one egg in a shallow dish and dunk each pickle, shaking off any excess.
Next, dredge each pickle in the mixture of almond flour and seasonings. Dredging can get messy, so keep a damp towel handy to wipe your hands every so often. Set coated pickles onto a baking sheet and bake for 30 minutes, turning spears once to evenly crisp. It is best to serve the pickles right out of the oven when most crispy due to the high moisture content of the pickles. This recipe is great any time of year, but particularly in the summer as an appetizer or side dish with grilled recipes.
These pickles were made for dunking, so be sure to pair with one of these Paleo dips…
Tip: Allergic to nuts? You can also use arrowroot powder instead of almond flour in this recipe.
Jennafer Ashley
Cajun Oven-Baked Pickles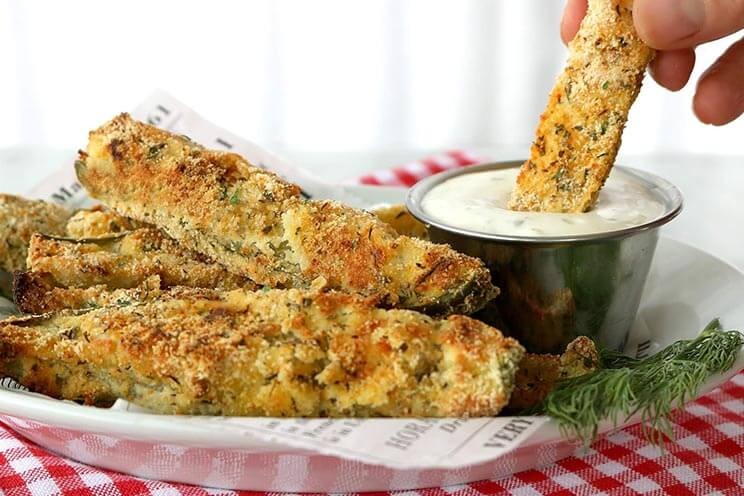 Cook Time:
30 mins
30 minutes
Prep Time:
10 mins
10 minutes
Cajun Oven-Baked Pickles
These fried pickle spears are coated in almond flour and a robust blend of Cajun seasonings for a southern-style snack.
Tools
Baking sheet

Parchment paper

Paper towel

Shallow dish

Tongs
Ingredients
10 dill pickle spears

1 large egg

1/2 cup almond flour

1/2 t dried thyme

1/2 t dried oregano

1/4 t onion powder

1/4 t garlic powder

1/8 t smoked paprika

1/8 t cayenne pepper
Instructions
Preheat oven to 425°F and line a baking sheet with parchment paper. Blot pickle spears with a paper towel to remove excess liquid.

On a large plate, combine almond flour and seasonings. Beat egg in a separate shallow dish.

Dredge each pickle spear in egg, shake off any excess egg, and then coat in the almond flour-seasoning mixture.

Place pickles onto prepared baking sheet. Bake for 15 minutes. Use tongs to turn each spear and bake an additional 15 minutes. Serve immediately.

(You'll Also Love: Loaded Mashed Sweet Potato Balls)