Oven roast these healthy Hasselback Zucchinis stuffed with zesty gremolata packed with bright lemon, garlic, and fresh parsley.
Roasting vegetables brings out natural flavors while tenderizing the center and crisping the top. This easy side dish is no exception! It creates a deep caramelized flavor by roasting the zucchini into thin hasselback slices. The ridges between the slices are filled with an Italian-inspired gremolata that adds a fresh herbal zing. Serve it as a dish that pleases adults and kids alike!
Traditional gremolata is a condiment consisting of finely chopped herbs, lemon zest, garlic and anchovies. It has a tangy flavor that adds lip-smacking zip. Added garlic offers a rich aroma as it roasts with buttery ghee during the baking process. Great for high-heat roasting, ghee is often used as an alternative to dairy and comes loaded with essential vitamins.
Parsley is the backbone of the gremolata and adds both bulk and brightness to the dish. It's also a powerful herb that's rich in antioxidants and folic acid to boost your health. When shopping for parsley, opt for the curly variety instead of flat-leaf versions to better absorb the ghee and to add a fluffier texture. While we don't add anchovies to our gremolata recipe, feel free to add 1-2 anchovy fillets if you'd like a saltier flavor.
To get started, create the gremolata by mixing the melted ghee, parsley, lemon, garlic, and sea salt together in a small bowl. Set aside and start prepping your zucchinis. Use a sharp chef's knife to thinly slice along the top of each zucchini crosswise, without cutting all the way through. Brush the zucchini with a quarter of the gremolata mixture and save the rest for later. Note: As the zucchini roasts, the ridges will fan out and make it easier to add more later.
Next, bake the zucchini for 25 minutes and then quickly spoon an additional quarter of the mixture in between the ridges. Return to the oven for 10 minutes and let it roast. When finished, remove the zucchini from the oven and serve with remaining gremolata.
Jennafer Ashley
Garlic-Lemon Hasselback Zucchini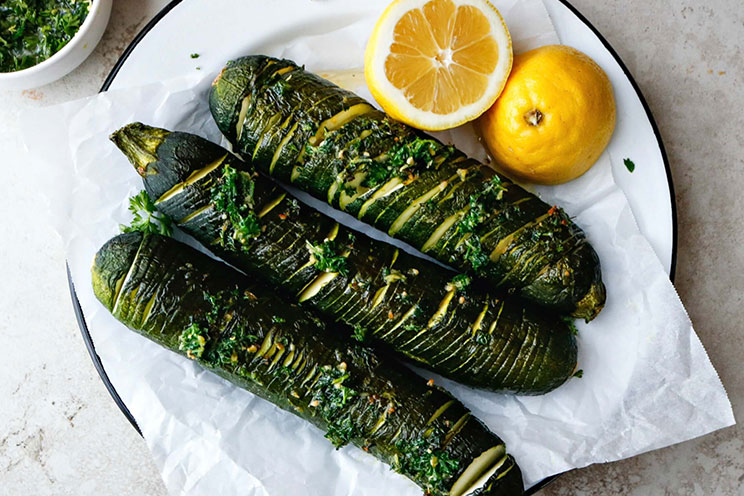 Cook Time:
35 mins
35 minutes
Prep Time:
10 mins
10 minutes
Garlic-Lemon Hasselback Zucchini
Oven roast these Hasselback Zucchinis with zesty lemon, garlic, and fresh herbs to experience a new way of enjoying veggies.
Tools
Baking sheet

Parchment paper

Small bowl
Ingredients
4 medium zucchini

1/4 cup ghee, melted

3 T fresh parsley, minced

1 t lemon zest

1/4 t garlic, minced

1/4 t sea salt
Instructions
Preheat oven to 400ºF and line a baking sheet with parchment paper. In a small bowl, stir together ghee, parsley, lemon zest, garlic, and sea salt.

Thinly slice each zucchini crosswise, along the top and without cutting all the way through. Set onto a baking sheet and spoon or brush a quarter of the gremolata onto the zucchini.

Bake for 25 minutes and then open the oven to carefully brush another quarter of mixture onto the zucchini. Make sure to get the mixture between the slices and return to the oven for 10 minutes.

Serve warm and enjoy!
Looking for Paleo ingredients? Here are a few we'd recommend:
Ghee (Pure Indian Foods)
Garlic powder (Frontier)

(You'll Also Love: Hasselback Sweet Potatoes Drizzled in Rosemary Ghee – Antioxidant-Rich!)