Sometimes, we wake up on a Saturday morning craving a big, meaty breakfast burrito from our local greasy spoon—but we don't crave the immediate regret that follows. The solution: this double-meat breakfast burrito. It's all Paleo, all satisfying, and guilt-free.
The big innovation is in the tortilla, which we handcraft to avoid the corn and other non-Paleo ingredients found in traditional tortillas. While it may sound complicated to make your own tortilla, this recipe requires only 4 ingredients, takes 5 minutes tops, and results in a huge, fluffy, pliable and pan-griddled tortilla.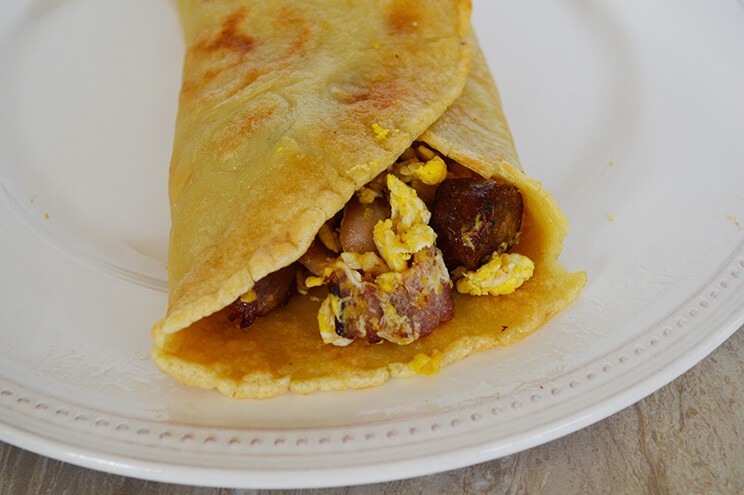 For the sake of heartiness, we stuff our burritos with uncured nitrite- and nitrate-free bacon, uncured nitrite- and nitrate-free breakfast sausage, and two quick-scrambled eggs. Our tortilla, when made in a 12-inch pan, is just big enough to hold all its contents. You'll feel satiated, but won't feel like a food baby set up residence in your stomach.
Love Paleo Breakfasts? Then you'll love our FREE Paleo Breakfast Recipes.
Click here to get your FREE copy of our delicious Breakfast Recipes!
Be sure to follow the exact ratios in this tortilla recipe—otherwise, you may end up with liquidy scrambled eggs or a tortilla that falls apart with any attempt to flip it. You can make the tortilla in a well-seasoned cast iron pan or a pan drizzled with coconut oil.
This recipe makes the ultimate breakfast burrito for a weekend brunch, but it can easily be adapted and customized. Try it stuffed with Paleo salsa or guacamole. Hot sauce is always encouraged, too. Vegetables are welcome, as is Paleo cheese. You don't have to stick to bacon and sausage; Paleo-friendly chorizo and eggs would be delicious, as would a steak and egg burrito. In fact, this tortilla recipe is the perfect base for any number of burrito recipes. Get creative.
Courtney Hamilton
Double-Meat Breakfast Burrito Recipe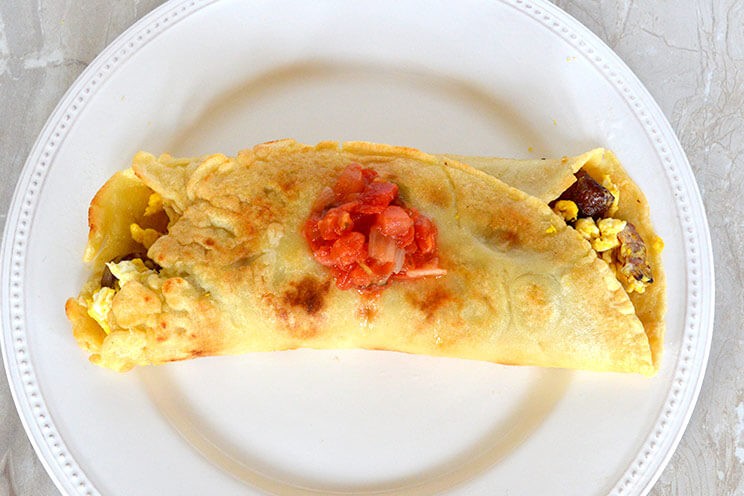 Cook Time:
15 mins
15 minutes
Prep Time:
5 mins
5 minutes
Double-Meat Breakfast Burrito Recipe
Craving a greasy breakfast? This meaty breakfast burrito is satisfying and guilt-free!
Tools
12-inch pan, or a well-seasoned cast iron skillet

Medium bowl

Whisk

Spatula
Ingredients
For the Tortilla:
½ cup tapioca flour

1/8 cup coconut flour

½ cup almond milk or coconut milk

1 large egg

Coconut oil for greasing the pan
For the Burrito Filling:
2 large eggs

2 pieces breakfast sausage, sliced

2 pieces bacon, sliced
Instructions
Grease a the pan or skillet with coconut oil and heat pan over medium-high. Whisk together tapioca flour, coconut flour, egg and milk until mixture is lump-free.

Pour mixture to fill entire pan. Cook until bubbles appear on one side, about 2 minutes. Flip and cook another two minutes. Both sides should be golden-brown.

Set tortilla aside. Add bacon and sausage to the pan and cook to preferred crispiness. In the last two minutes, crack two eggs and quickly scramble them with the meat.

Fill tortilla with meat mixture and roll into a burrito.


(You'll Also Love: Bacon & Egg Sweet Potato Pancake Breakfast Sandwich)