These healthy sweet potato fritters pack steamed cauliflower, almonds and flax seeds into crispy patties for a nutritious, savory meal.
Looking for a new, delicious go-to lunch or dinner? These gluten-free fritters are perfect for meal planning (you can freeze them and eat them throughout your busy week) or as fun school lunches for kids.
Made with cauliflower and sweet potato for extra fiber and coated in almonds for extra protein, you can eat the fritters solo or with a fresh salad bowl. There are so many ways you can enjoy these sweet potato fritters, so definitely mix and match what you pair them with.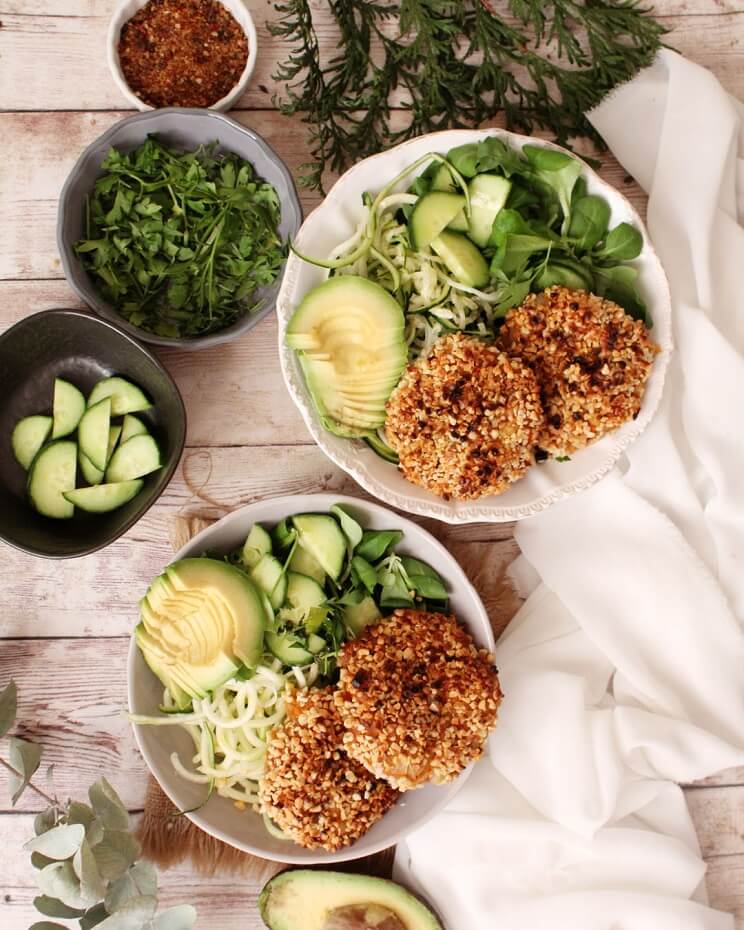 You can enjoy them with grilled eggplant and red bell peppers, with a cauliflower "rice" bowl, or sliced on top of zoodles! You could even use the fritters as burger "patties" covered in Paleo mayo and sandwiched between gluten-free buns.
As for cooking methods, I decided to bake them since it's an easy way to create that crispy texture and keep things light. That being said, you could also lightly fry them in a bit of coconut oil or ghee.
This recipe is also super easy to customize. Just like the pairings, play around with the vegetables and seasoning to make the fritters. For something spicier, add some chili powder!
Consuelo Morcillo
Healthy, Crispy Sweet Potato Fritters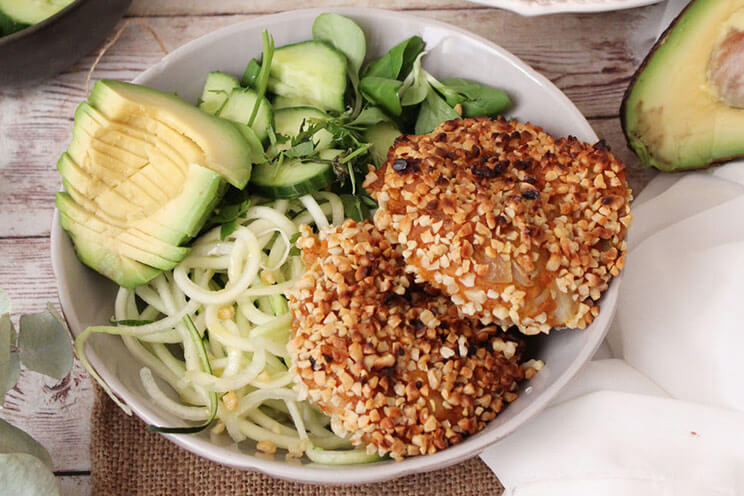 Prep Time:
30 mins
30 minutes
Healthy, Crispy Sweet Potato Fritters
These healthy sweet potato fritters pack sweet potatoes, almonds and flax seeds for a nutritious, savory meal.
Tools
Large mixing bowl

Parchment paper

Saucepan

Skillet
Ingredients
2 medium sweet potatoes, chopped into small chunks

1 cup cauliflower florets, steamed and softened

1 medium onion

1 T coconut oil

2 T flax seeds

½ t chili powder

1 ½ cup almonds, chopped

Pink Himalayan salt, to taste
Instructions
Preheat oven to 400°F.

Place sweet potatoes on a baking tray lined with parchment paper and bake for 30-35 minutes.

Heat coconut oil in a skillet and sauté onion until golden and fragrant.

In a large mixing bowl, combine steamed cauliflower, baked sweet potato cubes, flaxseed, chili powder and sautéed onion.

Mash everything with a fork and mix. There will be chunks and that's okay – the patties don't need to be completely smooth. Roll mix into 8 balls and gently flatten into patties.

Place patties in the fridge and chill for 15-20 minutes to firm up.

Place chopped almonds on a large plate and roll the patties in almonds until covered.

Bake patties at 375°F for 25-30 minutes and enjoy!


(You'll Also Love: Crispy & Easy Zucchini Fritters)