Sweet ice cream bonbons get dunked in a dark chocolate coating. Perfect for warm weather dessert-ing!
Bonbons are a classic childhood treat that are chocolate-covered on the outside and filled with candy, ice cream or nut butters on the inside. For a healthier, Paleo twist that's a cinch to make, this recipe uses dairy-free ice cream and dark chocolate. You can either make your own dairy-free, Paleo ice cream at home (any flavor works!) or buy some at your local grocery store. With just two ingredients, you can easily make these goodies in your kitchen whenever your sweet tooth strikes.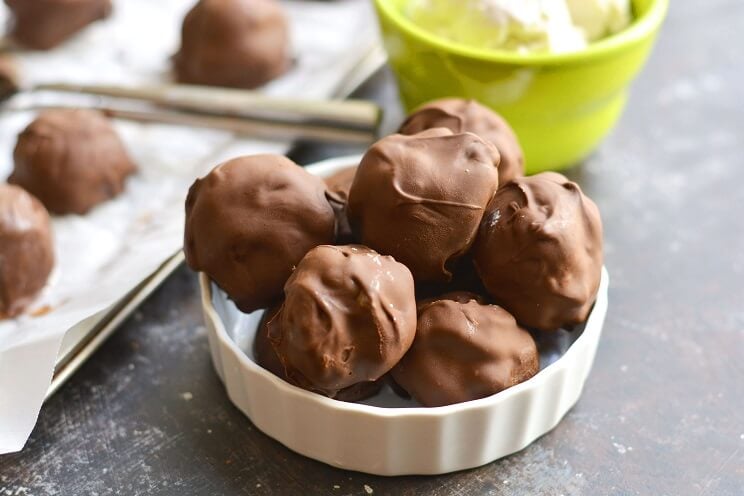 To start, simply scoop the ice cream onto a baking sheet prepared with parchment paper. Then place in the freezer while you melt the chocolate.
Note: Put the baking sheet in the freezer for at least 30 minutes before scooping the ice cream balls onto it. This will ensure the surface is nice and cold, and will prevent the ice cream balls from melting.
Freeze the ice cream balls for about 15 minutes. Next, remove from the freezer and drench each scoop in decadent melted dark chocolate. The best way to do this is by placing the ice cream ball in the bowl with the melted chocolate, covering entirely, then lifting it out with two spoons and placing it back onto the baking sheet. Each ball will be coated perfectly and you'll avoid getting chocolate everywhere.
Love Paleo Desserts? Then you'll love our FREE Paleo Dessert Cookbook. Click here to get it!
As you coat each ball with the chocolate, it will harden immediately. Feel free to eat them right then and there! It's the perfect time to eat them since the ice cream will be slightly melted on the inside. When you take a bite, you'll get a chocolatey crunch with a pop of creamy goodness in the middle.
Looking for an Easy Homemade Coconut Milk Ice Cream recipe? Click here.
Megan Olson
2-Ingredient Ice Cream Bonbons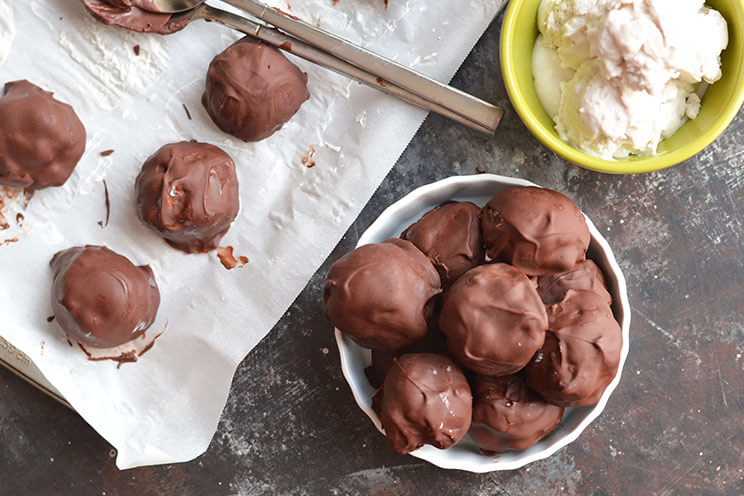 Cook Time:
5 mins
5 minutes
2-Ingredient Ice Cream Bonbons
Sweet ice cream balls get dunked in a dark chocolate coating. Perfect for warm weather dessert-ing!
Tools
Baking sheet

Parchment paper

Cookie scoop

Glass dish

Large pot
Ingredients
1 pint dairy-free ice cream

8 oz. organic dark chocolate
Instructions
Place a baking sheet lined with parchment paper in the freezer for 30 minutes.

Remove the baking sheet and dairy-free ice cream from the freezer. Using a small cookie scoop, scoop small balls of the ice cream onto the baking sheet, making 18 balls.

Place in the freezer 15 minutes.

While the ice cream balls are freezing, place chocolate in a glass dish fitted over a pot of boiling water. Stir the chocolate until melted. Cool the chocolate to room temperature before coating the ice cream.

When the chocolate is cooled, remove the baking sheet from the fridge. Place an ice cream ball in the chocolate, lift out using two spoons, and then place back on the baking sheet. Repeat the process for the remainder of the ice cream.

Store the ice cream bonbons in the freezer until ready to eat.
Tips:
Don't have chocolate? No problem! Mix ¼ cup raw cocoa powder with ¼ cup melted coconut oil and make your own! Just mix the two ingredients together in a bowl and cover the ice cream with it.
Experiment with other Paleo ice cream flavors and make a bunch of different ice cream bonbons in a batch.


(You'll Also Love: Coconut Ice Cream Muffin Sandwiches)