When you head out to dinner, does the ooey-gooey, cheesy spinach and artichoke dip under the appetizers section beckon to you? With all that bread and chips on the side, it's a ridiculously tempting—and ridiculously awful for you—starter.
With so many calories, unhealthy fat, carbs, and more, we're under no illusions that the spinach content offers much nutritional value. Beyond that, it's one hefty starter to be followed by a full meal.
Don't worry, though. With some simple changes, you can capture all of the savory flavor and satisfyingly gooey texture of the restaurant dip all in one spinach artichoke chicken skillet dinner. With fresh spinach, artichokes, solid protein from chicken, and the omission of cheese and gluten-laden bread, this skillet dinner is a healthful way to indulge.
Love slow cooker recipes?
Click here to get your FREE copy of our delicious Slow-Cooker Recipes!
Even without the cheese, this spinach and artichoke sauce is ultra-creamy, thanks to a versatile cashew cream. All you need is a strong food processor to make the cashew cream, which is a great dairy substitute. In this case, we opt for a savory cream—an emulsified blend of soaked cashews, water, apple cider vinegar, lemon juice, avocado or olive oil, and garlic.
You can also make a sweet cashew cream just as easily, subbing out the savory ingredients for vanilla extract and maple syrup or honey. (It's great drizzled over fruit or in baked goods).
This spinach artichoke chicken recipe makes an abundance of savory cashew cream to be used in other ways: worked into dip and sauces, spread over protein, or as a dish all on its own—it's that good.
Beyond the spinach and artichoke "dip," the chicken in the meal is succulent, crispy, and simple to make. With the creamy sauce spooned over it, it's a dinner that tastes more decadent than it really is!
Courtney Hamilton
Creamy Spinach Artichoke Chicken Dinner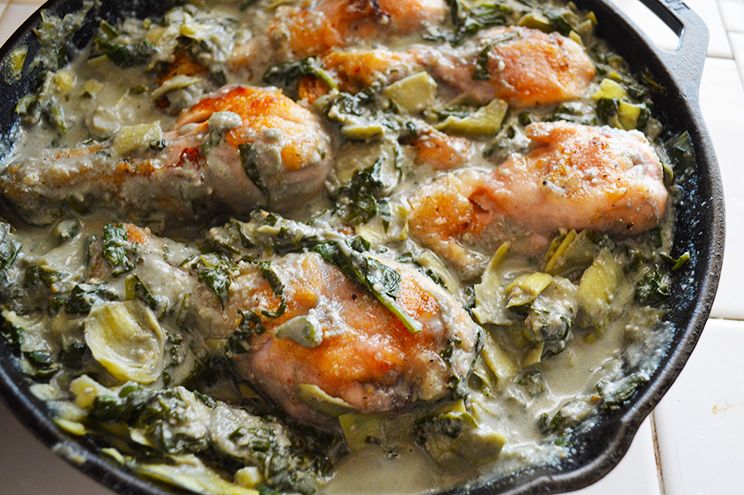 Cook Time:
15 mins
15 minutes
Prep Time:
45 mins
45 minutes
Creamy Spinach Artichoke Chicken Dinner
This crispy chicken in a savory cashew cream sauce is basically a meal version of spinach artichoke dip!
Tools
Food processor

Plastic baggie

Cast iron skillet
Ingredients
1 cup cashews, soaked for 2 hours up to overnight

Juice of ½ lemon

½ cup (or more) water

1 t apple cider vinegar

3 t minced garlic, divided

1.5 lbs. chicken drumsticks

1/3 cup tapioca flour

8 oz. fresh spinach, washed

8 whole marinated artichoke hearts

1 cup chicken broth

1 t Dijon mustard

Salt and pepper for seasoning

Avocado oil (or other high-heat oil) for cooking
Instructions
Make your cashew cream. In a food processor, add cashews (their soaking water drained), lemon juice, water, apple cider vinegar, 1 teaspoon minced garlic, and 1 to 2 tablespoons of avocado oil. Blend until smooth like cream, adjusting water and oil as needed.

Dredge your chicken. In a plastic or paper bag, combine tapioca flour with a liberal amount of salt and pepper. Add chicken drumsticks to bag, seal, and shake until drumsticks are evenly coated with flour mixture. Shake off the excess.

Coat the bottom of a cast iron skillet or heavy-duty frying pan with cooking oil. Pan-fry your chicken over medium-high heat for 25 to 30 minutes, turning throughout, until chicken is cooked through and juices run clear.

While chicken cooks, roughly chop your spinach and artichoke hearts.

When chicken is cooked through, remove it to a separate plate and set aside. Add to pan 2 teaspoons garlic, Dijon mustard, chicken broth, and salt and pepper to taste. Stir to combine, then add spinach and artichokes. Stir in ½ cup cashew cream and save the excess for other purposes. Cook over medium heat until spinach is wilted and sauce has reduced, around 10 minutes.

Add chicken back into sauce and cook in sauce for an additional 5 minutes. Enjoy!
(You'll Also Love: Creamy Chicken Alfredo Recipe)