Jazz up dinner with this savory, crispy cashew-crusted chicken made from just six ingredients.
If you're tired of ho-hum chicken recipes and looking for an easy, healthy way to change things up, this quick dish is just the thing.
Cashews are the secret ingredient to creating the crunchy outer layer without the grains. To start, pulse raw cashews in a blender or food processor until they take on a flour-like texture. Be careful not to over blend – you might end up with cashew butter!
Love slow cooker recipes?
Click here to get your FREE copy of our delicious Slow-Cooker Recipes!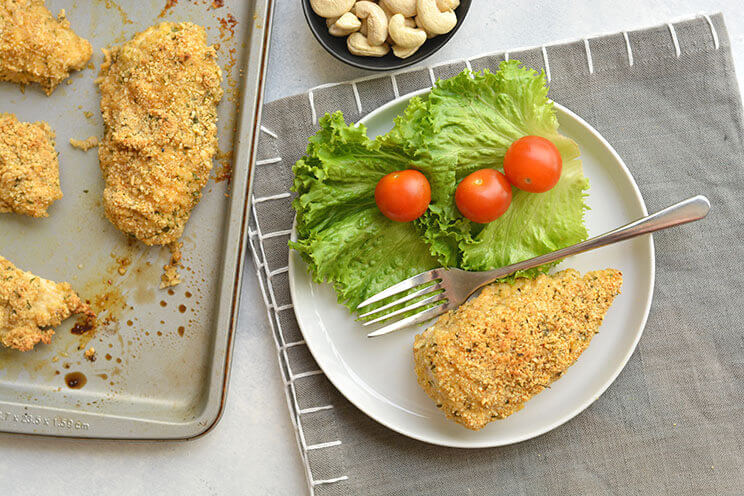 For spices, this recipe uses simple ingredients already in your pantry to give the chicken that deep-fried aroma. As it bakes, the chicken browns to perfection on the outside while staying juicy on the inside.
If you want to take the recipe up a notch, add more spices and herbs. Cayenne pepper and Italian seasoning are delicious additions, but feel free to experiment with others. The cashew base will absorb any of your favorite flavors!
This protein-packed recipe is great for meal prepping as a healthy lunch, as a quick and easy weeknight dinner, or as an appetizer. Tip: Just cut the chicken breasts in half to turn them into chicken tenders and serve with honey Dijon.
This cashew-crusted chicken dish also goes perfectly with roasted veggies and a side of sweet potato fries.
Megan Olson
Winner Winner Cashew-Crusted Chicken Dinner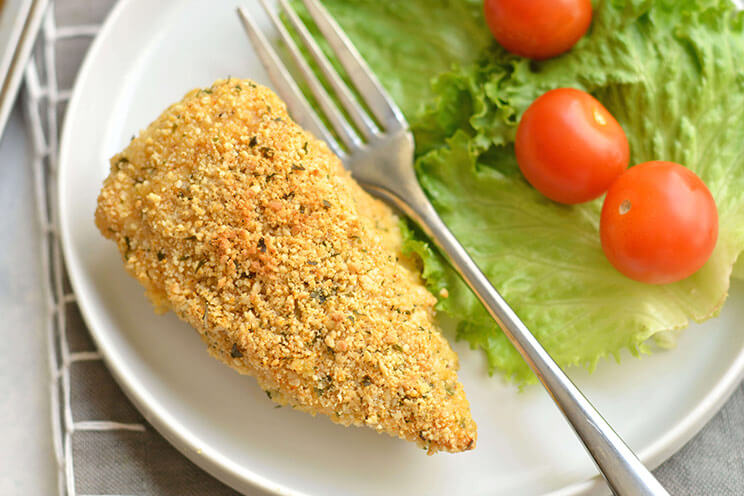 Cook Time:
20 mins
20 minutes
Prep Time:
15 mins
15 minutes
Winner Winner Cashew-Crusted Chicken Dinner
Jazz up dinner with this savory, crispy cashew-crusted chicken made from just six ingredients.
Tools
Baking sheet

Parchment paper

Food processor

2 medium-sized bowls
Ingredients
6 medium-sized, skinless chicken breasts

1 cup raw cashews

1 large egg + 2 T water

1 t garlic powder

½ t paprika

½ t dried parsley

Salt and pepper, to taste
Instructions
Preheat oven to 400°F. Prepare a baking sheet with parchment paper.

In a food processor or blender, pulse the raw cashews until ground into a flour-like mixture. Do not over process.

Next, set out two medium-sized bowls.

In one bowl, whisk together the egg with two tablespoons of water.

In the other bowl, add the paprika, garlic powder, parsley, salt, pepper and ground cashews. Stir together.

Create an assembly line placing the egg wash first, seasoning bowl next, and then the baking sheet.

Dip a chicken breast into the egg wash, then the seasonings (coating the chicken liberally), and place on the baking sheet. Repeat for all chicken breasts.

Bake for 20 minutes.

Remove from the oven and serve immediately.
Watch the Video Recipe Below!


(You'll Also Love: The 23 Best Chicken Recipes of All Time)