Elevate the classic grilled cheese with this dairy-free take, loaded with artichokes and antioxidant-rich spinach!
Grilled cheese is a classic comfort food that you may have written off as off-limits on the Paleo diet. Thanks to a few sneaky good-for-you ingredients, you can have your grilled cheese and eat it too! Not only does this meal capture all the gooey, creamy, and crispy parts of grilled cheese, it also packs in healthful veggies like cauliflower, artichokes, and spinach.
Serve this indulgent grilled cheese alongside a cup of soup or salad for a full meal.
Add power-packed superfood veggies to every meal with these easy cauliflower recipes.
Click here to get your FREE copy of our Cauliflower Recipe Guide!
Use Veggie-based Bread For A Healthful Alternative
Cauliflower rice steps in for traditional flour in the bread used for this recipe, along with a little help from almond flour and eggs. The result is a soft and chewy bread that can actually be toasted, sliced, and picked up. Cauliflower is also rich in immune-boosting vitamin-C. You can get the recipe for this easy cauliflower bread here.
This spinach artichoke grilled cheese is delicious, but you can also pile this bread high with your favorite sandwich toppings or even smear it with avocado.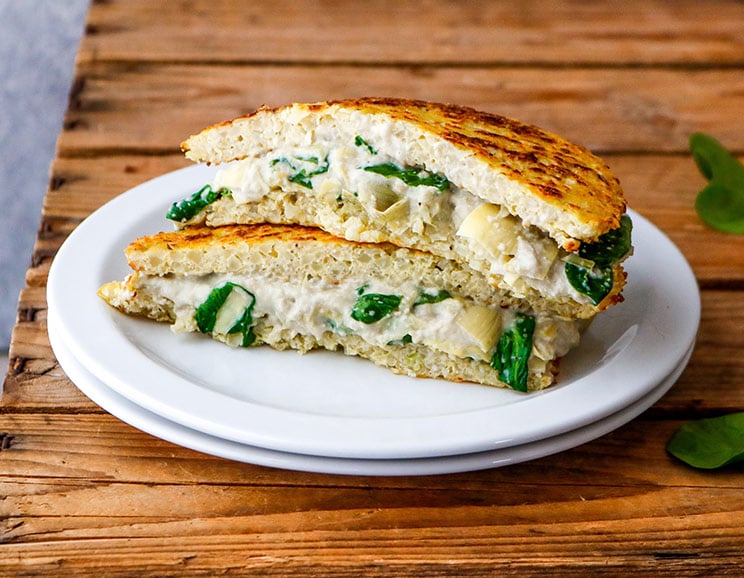 How To Make The Perfect Dairy-free Spinach Artichoke Filling
This creamy "cheese" filling takes everything you love about spinach artichoke dip and turns it into a Paleo-friendly spread.
Cashews are ideal for creating a cheese-like base because they are skinless. Boiling them first helps them plump and soften, so they blend up smooth. A pinch of nutritional yeast not only adds amino acids to the recipe but also cheesy flavor.
Garlic, artichokes, and fresh spinach bring fresh flavor with tangy, herby notes that compliment the richness of the cashew cheese.
Helpful Tips To Get You Started:
Plan ahead. The cauliflower bread can be made up to a day in advance and kept covered in a dry, cool spot.
Use up your leftovers. This spinach artichoke cheese can also be used as a dip for veggies.
Eat 'em up. These sandwiches are best enjoyed within a couple of days for the best flavor and texture.
Substitutions work. Arrowroot flour can be substituted for tapioca starch to thicken the cheese. Ghee adds buttery flavor to the toasted bread, but you can also use avocado oil.
Jennafer Ashley
Spinach Artichoke Grilled Cauliflower Sandwiches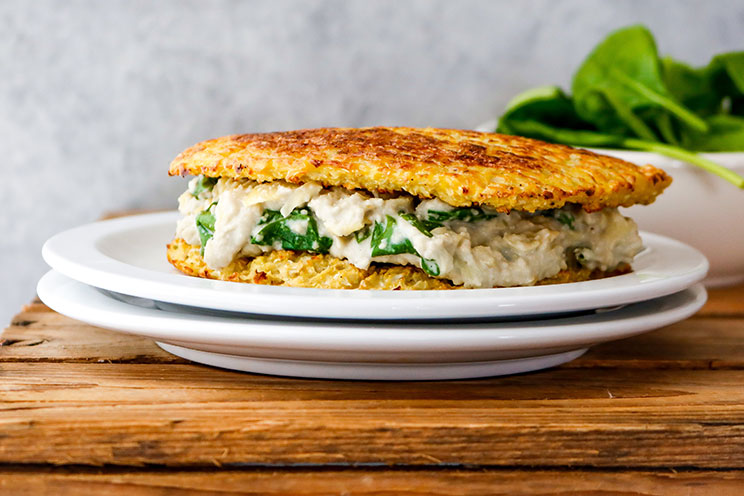 Cook Time:
36 mins
36 minutes
Prep Time:
10 mins
10 minutes
Nutrition facts:
33 grams of protein
52 grams of carbohydrates
40 grams of fat
Spinach Artichoke Grilled Cauliflower Sandwiches
Elevate the classic grilled cheese with this dairy-free take, loaded with artichokes and antioxidant-rich spinach.
Tools
Medium saucepan

Food processor

Medium cast iron skillet
Ingredients
1 cup raw cashews

¾ cup unsweetened almond milk

1 T nutritional yeast

1 t minced garlic

½ t salt

1 cup artichoke hearts, halved

1 T tapioca starch

2 cups spinach leaves

1 t ghee

4 slices cauliflower bread (recipe linked above)
Instructions
Bring the cashews and 2 cups of water to a boil in a medium saucepan over medium-high heat for about 7 minutes. Continue to boil for 3 minutes longer.

Drain the water and transfer the cashews to a food processor with the almond milk, nutritional yeast, garlic, and sea salt. Blend until smooth and creamy, about 1 minute. Add the artichokes and pulse 3 times to break them up slightly.

Return the cashew mixture to the saucepan and heat over medium-low heat until steaming, about 3 minutes. Gradually stir in the tapioca starch to thicken.

Once the tapioca starch is incorporated, add the spinach. Heat for 3 to 4 minutes longer to wilt the spinach. Turn the heat off and cover to keep warm.

Heat the ghee in a medium cast iron skillet over medium heat for 3 minutes. Add 2 slices of bread and toast for 3 to 4 minutes on each side. Repeat with the remaining slices of bread.

Spread 1 slice of toasted bread with ½ cup spinach artichoke mixture and place a slice of bread on top. Repeat with the other 2 slices. Serve hot.
Looking for Paleo ingredients? Here are a few we'd recommend:
Raw cashews (Terrasoul Superfoods)
Nutritional yeast (NOW Foods)
Sea salt (REDMOND)
Tapioca flour (Authentic Foods)
Ghee (Pure Indian Foods)
You'll Also Love: 37 Anti-Inflammatory Cauliflower Recipes