Chicken wings are just plain fun. Everyone loves them, so they're perfect to bring to a pot luck or for serving those friends who are suspicious of your weirdo caveman diet. Another great use for chicken wings is for feeding toddlers. They find regular chicken on the bone to be unwieldy, but are willing to dive right into wings because they are perfectly proportioned to the smaller humans.
A dusting of sesame seeds increases the street cred of these wings, as does some kind of sweet and sour dip. Heathen that I am, I use ranch.
Rebecca Maclary
Garlic-Tossed Chicken Wings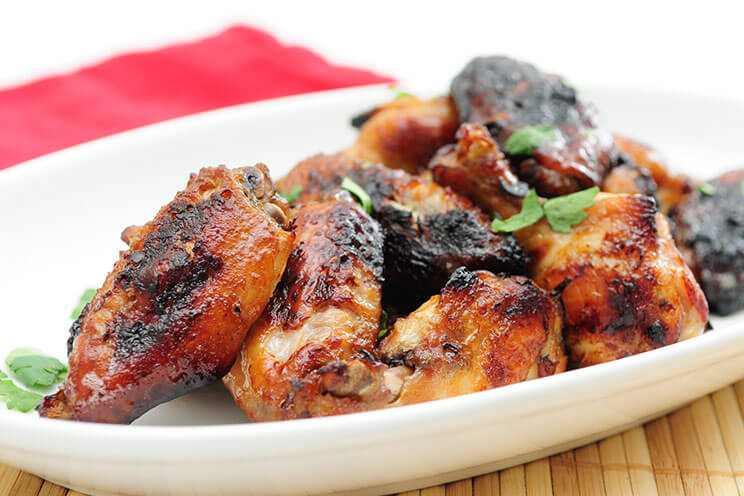 Cook Time:
35 mins
35 minutes
Prep Time:
5 mins
5 minutes
Garlic-Tossed Chicken Wings
Pro tip: I get my wings from the farmers market, where they sell them fresh by the pound. I've learned the hard way that they run out fast during play-off season, so I try to get there early!
Ingredients
2 pounds of chicken wings

2 cloves garlic, minced

1 tablespoon of sesame oil

1/4 cup white wine

pinch or two red pepper flakes (to taste)
How To Make It:
Preheat the oven to 425 degrees F.
In a large bowl, combine garlic, oil and wine. As always, inhale. You want to take a minute and appreciate that although these wings will taste just as decadent as the crappy take-out ones, they are super healthy and much cheaper.
Add the wings to the marinade and toss. It's not absolutely necessary to let them sit in the marinade, but if you can spare the time, let them hang out and get happy for about 30 minutes. Or pop into a ziplock and transport them in the marinade to your potluck venue.
Line a baking sheet with foil, and spread the wings out so that none are touching. It may take two sheets, depending upon the size of the wings.
Bake for 30 to 40 minutes.
Serve these with a generous helping of Paleo Kale Chips.
Want to go Paleo? Not sure where to start?
Start with this FREE Paleo For Beginners Guide Today!
Lose weight, fight inflammation, and soothe your digestion with delicious meals like juicy skirt steak with cucumber & radish salad, succulent pulled pork, and more!
FREE Cookbook:
80 Gourmet Paleo Recipes from
a Professional Chef trained at Le
Cordon Bleu in Paris
FREE Cookbook:
80 Gourmet Paleo Recipes
from a Professional Chef
trained at Le Cordon Bleu
in Paris