A one-pan dish filled with the comforting flavors of curry and fork-tender chicken.
With only five simple ingredients, this one-pan recipe packs in plenty of spice and earthy flavors. Combining fork-tender chicken with dairy-free coconut milk, it's the perfect entrée to pair alongside cauliflower rice or zucchini noodles.
For this Thai-inspired recipe, we use boneless chicken thighs that include a mixture of both dark and white meat. Although boneless chicken saves you time on prep, you can also opt for bone-in chicken thighs to achieve a deeper, meatier, flavor.
Love slow cooker recipes?
Click here to get your FREE copy of our delicious Slow-Cooker Recipes!
To season the thighs, yellow curry adds an aromatic spice blend of turmeric, cumin, and lemongrass to flavor the chicken. Different varieties will range from mild to hot, so it's best to taste the curry powder ahead of time to adjust the level of spiciness.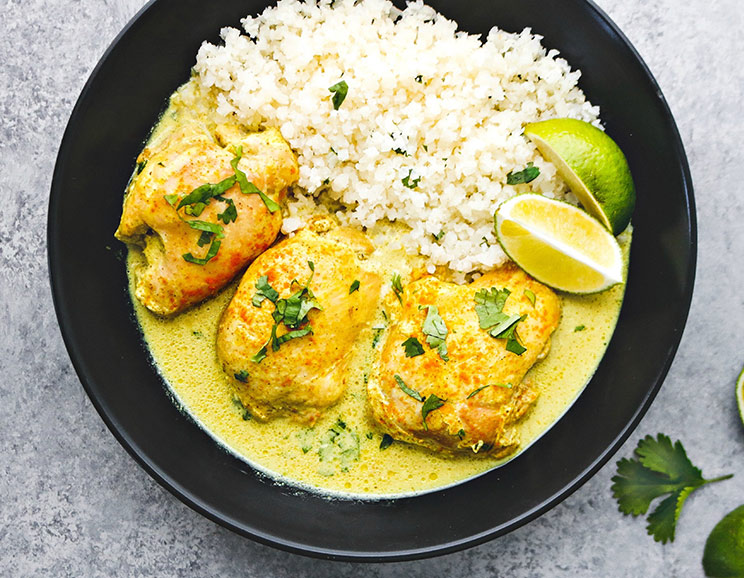 Combining the curry with coconut milk creates a creamy sauce that seeps into the chicken while baking. When shopping for coconut milk, be sure to use one full-fat can (about 15 ounces) instead of one that's sold in a carton. This will ensure you get a thick layer of coconut cream for a richer texture.
To get started, add the chicken thighs to an oven-safe pan. Stir together one and three-quarter cups of coconut milk, one and a half tablespoons of curry powder, and sea salt. Pour over the chicken and cover with foil or an oven-safe lid. Bake for two and a half hours to ensure the chicken thighs are tender and thoroughly cooked.
When finished, toss the chicken thighs with the remaining coconut milk and curry powder in a medium mixing bowl. Garnish the chicken thighs with chopped cilantro and serve hot.
Jennafer Ashley
Easy Coconut Yellow Curry Chicken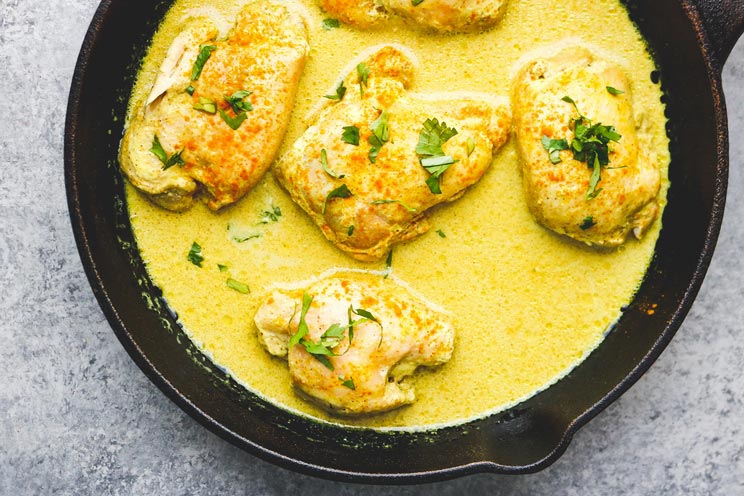 Cook Time:
2 hrs 30 mins
2 hours 30 minutes
Prep Time:
10 mins
10 minutes
Easy Coconut Yellow Curry Chicken
A one-pan dish filled with the comforting flavors of curry and fork-tender chicken.
Tools
Large skillet

Medium mixing bowl
Ingredients
1½ lbs boneless chicken thighs

2 cups full-fat coconut milk, divided

2 T yellow curry powder, divided

1 t salt

2 T chopped cilantro
Instructions
Preheat the oven to 300ºF.

In a large skillet, add the chicken thighs.

Mix in 1¾ cup coconut milk, 1½ T yellow curry, and salt.

Cover the pan with foil and place in the oven for 2½ hours.

Remove from the oven and place the chicken into a bowl while hot, then toss with the remaining curry and coconut milk.

Top with chopped cilantro and serve.
Looking for Paleo ingredients? Here's what we recommend:
Coconut milk (Native Forest)

(You'll Also Love: One-Pot Coconut Curry Soup with Chicken and Veggies)