If you've been withholding information at your annual checkups, you're not alone. It's more common to lie to your doctor than you may have realized.
A national study found that 81 percent of patients avoided disclosing at least one type of information, by either directly lying, omitting information, or slightly fabricating the truth. (1)
The underlying psychological reasons for dishonesty are complex. Here are the major reasons that patients withhold information from their doctors, and how to find a doctor you can trust.
Are you struggling with a Thyroid condition? We've created a FREE guide that shows you how you can heal your thyroid.
Click here to get your FREE copy of our Thyroid Guide!
The Biggest Reasons Patients Lie to Their Doctors
Patients are dishonest for a variety of reasons, including fear, shame, and misunderstanding what the doctor/patient relationship entails.
Let's delve into the top reasons why patients lie to their doctors.
Fear of Judgement
Medical issues can be highly personal, and some intimate matters might feel too personal to fully disclose. Cultural differences can also contribute to trust with physicians.
One 2010 research study found that postmenopausal women are hesitant to be open about sexual experiences with their doctors. Participating women were a lot less upfront about sexual attitudes and partners in clinical interviews versus blind surveys, with results showing that over half the patients lied in direct interviews. (2)
Misunderstandings
Even if you aren't lying outright, it's easy to gloss over important details for fear of being misunderstood. Because patients are often scheduled back-to-back, they can feel as if they are being rushed through appointments. When this happens, it's easy to feel as though complex issues aren't given the time and attention the patient needs.
Research shows that doctors with good communication and listening skills are more successful with patient compliance and outcomes. (3)
If the conclusions drawn by your physician don't resonate with you as a patient, it can also lead to feelings of distrust. Ultimately, if you feel as if your doctor isn't listening, it's time to get a second opinion from another.
---
Are Patients More Likely to Trust Doctors of the Same Sex?
Discussing intimate sexual and reproductive health concerns might be difficult for some. It can cause anxiety, fear, and reluctance when it's time for up-close scrutiny.
Women's health visits can include breast, pelvic, or genital exams that can feel invasive and uncomfortable.
While you might expect that female patients prefer female doctors, research from the University of Connecticut shows that in fact, more than 66 percent of female patients did not have a gender preference when choosing an OB-GYN.
More than 80 percent of patients considered communication and personality to be more important than gender when choosing a doctor. (4)
It appears that men don't have a strong preference for the gender of their doctors, either. A 2016 survey found that 82 to 89 percent of patients had no gender preference when it came to receiving medical attention, whether it was for the emergency room or a routine visit.
When it comes to personal and sensitive medical visits, though, people are more likely to prefer same-sex physicians. (5)
---
How to Find the Right Doctor for You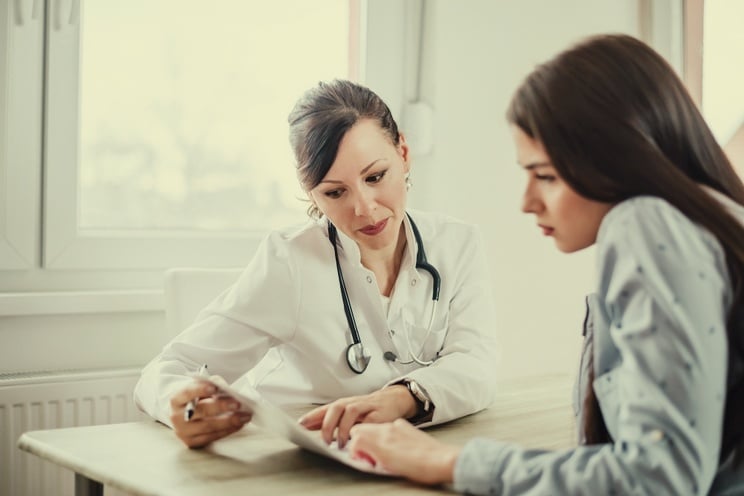 It's important to find a doctor who makes you feel comfortable enough to share what's really going on.
It can be a long process to find the right doctor. We recommend going through these steps as frequently as you need to in order to find a practitioner who fits your needs.
Start With Your Insurance
When searching for a brand-new doctor, start by finding out who your insurance covers. Check your insurer's website for a directory, or give them a call to find more up-to-date information. You should always call the doctor's office to confirm that they still accept your insurance.
While not ideal, you can always choose to receive out-of-network care if you truly need to. Some offices offer sliding scale fees to accommodate those who can't pay the full amount out of pocket.
Get a Recommendation
Family, friends, and coworkers are another great place to start when looking for a new doctor. People are typically happy to share their experiences, so ask around to find a local primary care doctor who others rave about.
If you're looking for a cardiologist, dermatologist, or other specialist and you have a family doctor that you trust, start by asking him or her for a recommendation. Since they should be familiar with you as a patient, they can be a great starting point for finding a shorter-term doctor.
Do Your Research
Once you've found out who your insurance covers, it doesn't hurt to do your homework online. Check healthgrades.com or ratemds.com to see what other patients have to say about these providers. While not all online reviews are accurate, it helps to have an overview about what patients think, and to weed out any red flags.
Next, call the center and ask about office policies. It's important to know ahead of time whether they offer same-day appointments, what happens if you're a no-show, and how much time you'll typically spend in the waiting room.
Ask Lots Of Questions
When it's time for your appointment, come equipped with questions – and write them down ahead of time so you don't forget any. Start by asking your new doc how they stay up to date on protocols and their general approach to medical care. This should give you a good idea into how well you'll work together.
You might also consider asking questions about their education, history, experience, and more, depending on what's important to you. Take note as to how your questions are answered. If you value a doctor with a sense of humor or prefer someone who sticks with the facts, now is the time to really listen and pay attention.
Read This Next: How an American Diet Changes Gut Bacteria, Linking to Obesity