Give your favorite vegetables a spicy kick with this bold cauliflower rice dish topped with spicy almond sauce! A 30-minute meal that's vegetarian, vegan, gluten-free and Paleo-friendly.
Made with three vegetables – sweet potato, cauliflower and red bell pepper – and drizzled with a spicy sauce, this meal is packed with vitamins, minerals and healthy fats.
This dish is made in a single sauté pan. No roasting, no turning on the oven, and only one pan to wash. Spiralizing the sweet potato and ricing the cauliflower reduces the cooking time and makes the veggies extra caramelized and tender. That way, you can cook everything in one pan and have a hearty meal ready in less than 30 minutes.
Add power-packed superfood veggies to every meal with these easy cauliflower recipes.
Click here to get your FREE copy of our Cauliflower Recipe Guide!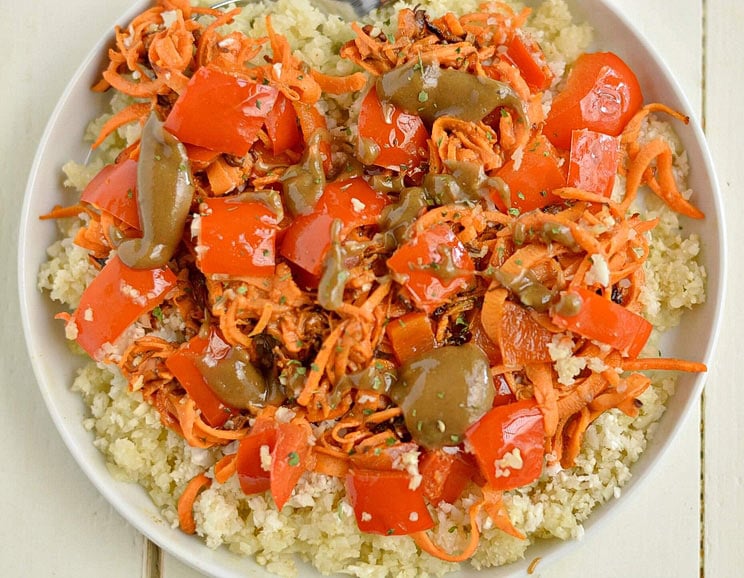 This recipe is perfect for a quick lunch or dinner, especially during those busy weeknights. You can easily add chicken, lamb, or fish for extra protein. Eggs would be awesome too for breakfast!
Tip: Make your own homemade nut butter to drizzle on top! Sunflower, hemp seeds, almonds and pecans are my favorite homemade blend. It will give the sauce an extra special touch of flavor. Save some nuts and seeds to sprinkle on top for extra crunch too!
Megan Olson
Spicy Almond Sauce Over Caramelized Sweet Potatoes & Cauliflower Rice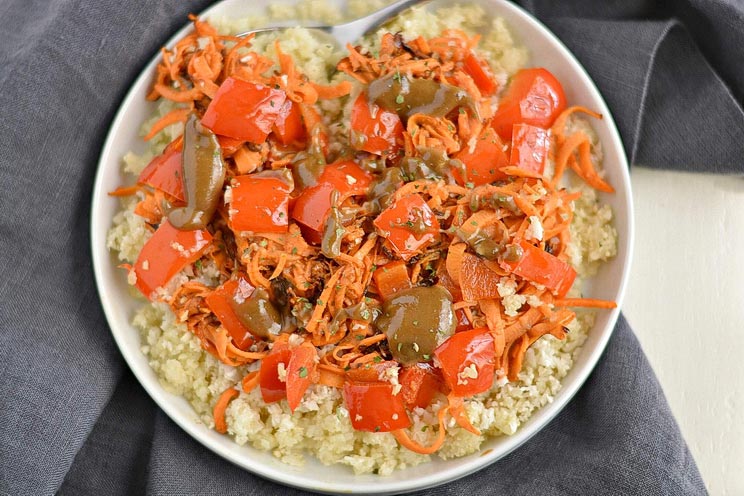 Cook Time:
10 mins
10 minutes
Prep Time:
5 mins
5 minutes
Spicy Almond Sauce Over Caramelized Sweet Potatoes & Cauliflower Rice
Give your favorite vegetables a spicy kick with this bold and healthy vegan dish.
Ingredients
For the Vegetables:
1 small sweet potato, spiralized

¼ cup red bell pepper, diced

2 cups cauliflower, riced

¼ t cumin

2 T coconut oil

Salt and pepper, to taste

½ cups water

Optional: green onions for topping
For the Sauce:
1/3 cup sunflower or almond butter

¼ cup coconut aminos

1 T honey

¼ t ginger

¼ t crushed red pepper flakes

2-3 T water
Instructions
In a small sauté pan, add coconut oil, red bell pepper and cumin. Cook 4-5 minutes until bell pepper softens.

Add spiralized sweet potato to the pan. Cook 3-4 minutes until sweet potato softens, stirring constantly. Do not overcook as the sweet potato is spiralized and thin.

Transfer the veggies to a plate. Add ½ cup water to the pan with the cauliflower rice. Cook 4-6 minutes until the rice is soft and tender.

While the cauliflower rice cooks, mix together the ingredients for the sauce in a small bowl.

Transfer cauliflower rice to a plate, top with bell pepper and spiralized sweet potato, and drizzle the spicy sauce over it. Top with optional green onions, if desired.
You'll Also Love: Roasted Turmeric Cauliflower

Lose weight, fight inflammation, and soothe your digestion with delicious meals like juicy skirt steak with cucumber & radish salad, succulent pulled pork, and more!
FREE Cookbook:
80 Gourmet Paleo Recipes from
a Professional Chef trained at Le
Cordon Bleu in Paris
FREE Cookbook:
80 Gourmet Paleo Recipes
from a Professional Chef
trained at Le Cordon Bleu
in Paris