Heavenly shrimp cakes with a tangy, tender center and a crispy coconut crust.
These Thai-style shrimp cakes are the perfect fancy (but surprisingly easy) appetizer to serve at a party. A simple coating of toasted almonds and coconut create a subtly sweet, crunchy layer, while the inside stays tender and moist. For the distinct Thai-inspired flavor, you'll be using a refreshing blend of fresh ginger, garlic, cilantro and lime for the shrimp mixture.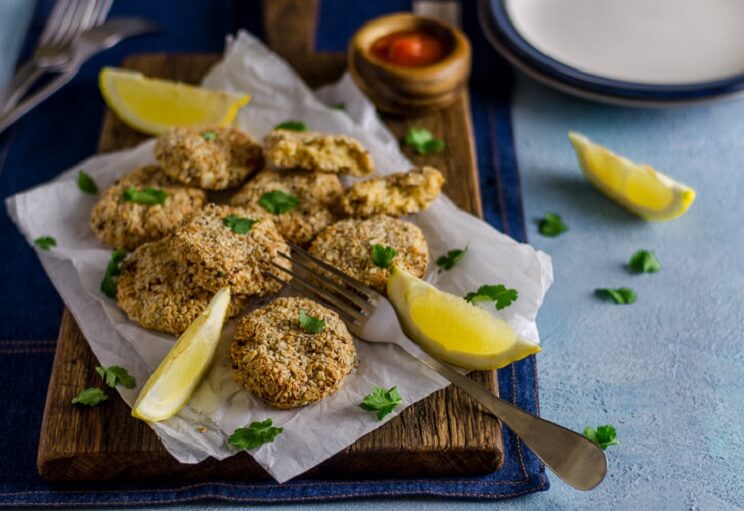 As a plus, your blender does most of the work! Simply mix everything, aside from the coconut and almonds, in a blender, then let it chill in the fridge for 30 minutes to firm up. Once chilled, shape the shrimp mixture into mini patties, cover them in the almond-coconut coating, and pop them in the oven.
Love coconut flour recipes? Get our free coconut flour recipe cookbook here!
While these savory cakes make for a great appetizer, feel free to make them as a side dish for dinner or even as a midday snack. Serve with spicy aioli or your favorite Paleo dip!
Dina Hassan
Easy Shrimp Cakes with a Crispy Coconut Crust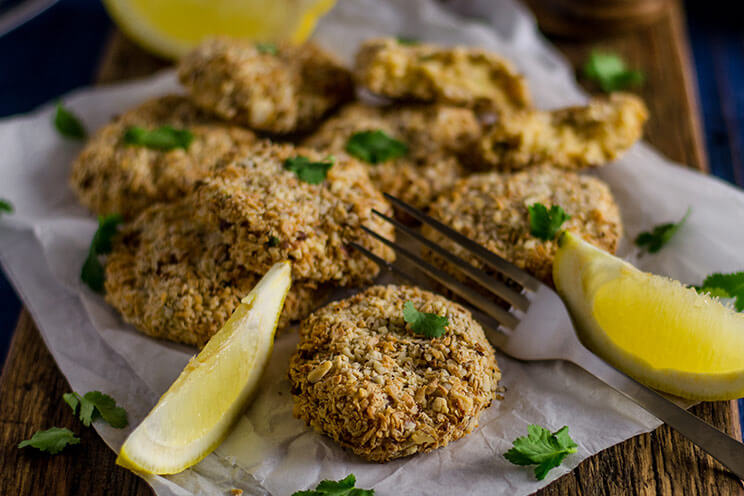 Prep Time:
10 mins
10 minutes
Easy Shrimp Cakes with a Crispy Coconut Crust
Heavenly shrimp cakes with a tangy, tender center and a crispy coconut crust.
Tools
Shallow dish

Blender

Baking tray

Parchment paper
Ingredients
1 lb shrimp, peeled

1 T coconut flour

2 green onions, thinly sliced

¼ cup chopped cilantro

1 t lime zest

1 garlic clove, minced

1 t fresh ginger, chopped

1 egg, lightly beaten

½ t sea salt

½ t white pepper

¼ cup unsweetened desiccated coconut

¼ cup toasted almonds, coarsely ground
Instructions
In a shallow dish, mix together the desiccated coconut and ground almonds. Set aside.

In a blender, add shrimp, coconut flour, green onions, lime zest, garlic, ginger, egg, salt and pepper. Pulse for a few seconds, scraping down sides as necessary. Continue pulsing until the mixture resembles a smooth sticky paste. Transfer to a large bowl, cover and refrigerate for at least 30 minutes.

Once shrimp mixture is chilled, heat the oven to 325oF. Line a baking tray with parchment paper.

Use wet hands to form the mixture into bite-sized patties, about the size of a tablespoon. Roll each patty in the coconut-almond mixture, and transfer to the prepared baking tray.

Bake for 30 minutes or until golden brown. Remove from the oven and serve.
Tips:
If the shrimp mixture is too soft, add coconut flour a little at a time until the consistency just holds together. Start with the recommended amount of flour, and then increase it gradually as needed to make the mixture a little thicker. Wait for a few seconds until the flour is absorbed before adding more.
If buying the shrimp frozen, make sure to pat dry the shrimp after it is thawed, or the mixture will be too soft.


(You'll Also Love: Protein-Packed Mango Shrimp Hand Rolls)