This flavorful, herb-packed cauliflower casserole is made from savory Italian pork sausage for a stick-to-your-ribs meal.
This cauliflower casserole is infused with all the savory flavors of fennel and the Italian herbs you love. No need for sauce, the natural juices from the pork and fresh tomatoes marry in the oven to create a savory dish that is perfect for cool evenings. Topped with almond meal instead of breadcrumbs, you'll get a lovely golden brown topping that imparts a light crunch in every bite.
At the core of this recipe are tender bits of cauliflower, standing in for traditional grains like pasta or noodles. Using cauliflower florets adds bulk and texture, imparting its powerful anti-inflammatory and immune-boosting properties. Pasture-raised pork adds depth of flavor and texture from its high fat content. You can also use ground beef, turkey or chicken if you prefer.
Add power-packed superfood veggies to every meal with these easy cauliflower recipes.
Click here to get your FREE copy of our Cauliflower Recipe Guide!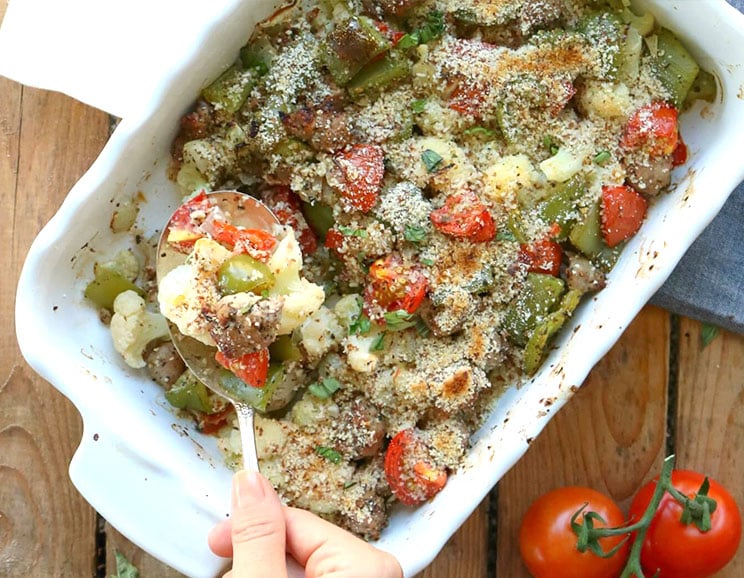 Start by boiling the cauliflower florets just long enough to tenderize, about four minutes. Meanwhile, remove the sausage from its casing and lightly brown the meat in a skillet, using a wooden spatula to break it into small pieces as it cooks. Because of the high fat content in the pork, there is no need to use extra cooking oil.
Stir in diced onion, bell pepper, and herbs. Cook five minutes longer, then add diced tomatoes. Pour the savory sausage mixture over the cauliflower florets in an oven-safe casserole dish, and bake for 15 minutes. Sprinkle almond meal over the top of the cauliflower casserole and broil for five more minutes. Serve hot garnished with fresh basil.
Tip: Be sure to use a ground meat that contains ample fat, preferably around 85% lean to allow its juices to meld with the veggies.
Jennafer Ashley
Loaded Cauliflower Casserole with Pork Sausage and Veggies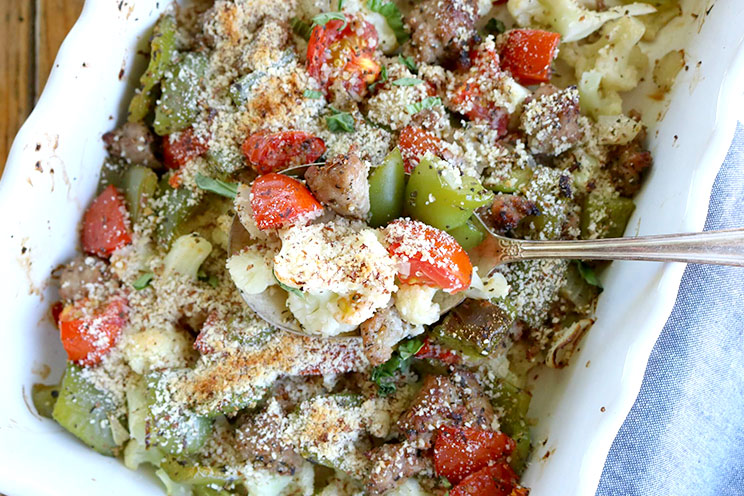 Cook Time:
35 mins
35 minutes
Prep Time:
10 mins
10 minutes
Loaded Cauliflower Casserole with Pork Sausage and Veggies
This flavorful, herb-packed Italian casserole is made from savory pork sausage and cauliflower for a stick-to-your-ribs meal.
Tools
Large pot

Strainer

Large skillet

Wooden spatula

Large casserole dish
Ingredients
1 large head of cauliflower, broken into florets

2 pasture-raised pork sausage links, casing removed

1 t garlic, minced

1/2 cup white onion, diced

1 bell pepper, diced

1/2 t sea salt

1 t dried basil

1/4 t dried oregano

1 cup tomato, diced

1/3 cup almond meal

1 t cracked fennel seed

2 T fresh chopped basil
Instructions
Preheat the oven to 375 °F.

Bring the large pot of water to a boil. Add the cauliflower florets and boil for 4 minutes. Strain and set aside in the large casserole dish.

In the large skillet, cook the sausage for 3 minutes, using a wooden spatula to crumble and break up the pork into small pieces. Stir in the garlic, onion, bell pepper, sea salt, fennel, oregano and dried basil. Continue to cook for 5 minutes. Stir in the tomatoes.

Pour the sausage mixture over the cauliflower and stir to combine. Bake for 15 minutes.

Remove the dish from the oven and top with the almond meal. Turn the oven to broil, and return the dish to the oven for 5 minutes or until the almond meal is light golden brown. Finish with fresh chopped basil.
Looking for Paleo ingredients? Here's what we recommend:
Almond meal (Barney)

(You'll Also Love: Easy 20-Minute Mustard Pork Chops)