Dig into this decadent chia seed pudding filled with toasted hazelnut butter and a dreamy caramel made with medjool dates.
Transform dessert into a healthier-for-you treat with superfood chia seeds. These tiny powerhouses are packed with fiber and have the ideal omega-3 to omega-6 ratio.
For the caramel, we swap the butter and gobs of sugar with medjool dates as a healthier alternative. Note: To get a silky caramel date sauce, make sure that the dates are moist and fresh. If the dates are hard, they won't blend as well and will require soaking in hot water for 5-10 minutes until soft enough to blend.
Love Paleo Desserts? Then you'll love our FREE Paleo Dessert Cookbook.
Click here to get your FREE copy of our delicious Dessert Recipes!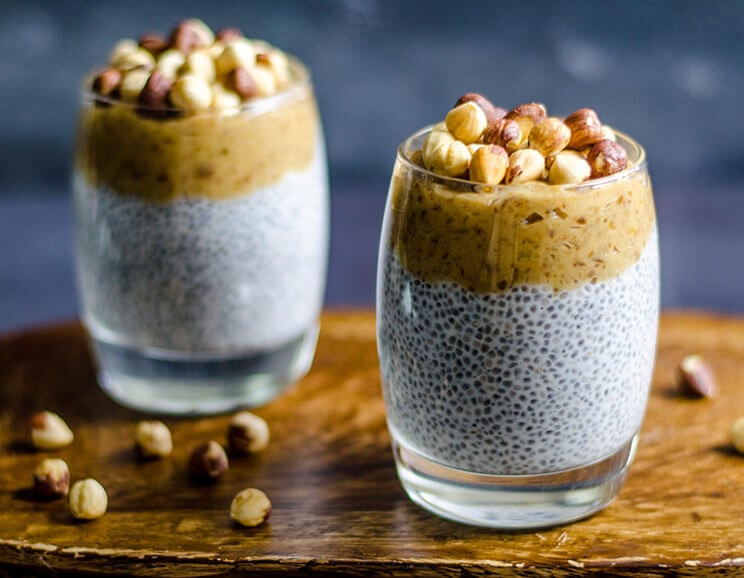 The hazelnut butter adds a warm flavor when mixed with the salted date caramel. Luckily, making it at home is easy and is a great alternative to the store-bought version that is filled with refined sugar and artificial preservatives. To make it, simply blitz toasted hazelnuts in a food processor for a few minutes until it forms a paste.
If you want to enjoy this recipe as a quick breakfast, mix the hazelnut milk, honey and chia seeds the night before, then chill it in the fridge overnight. In the morning, quickly put together the salted date caramel and hazelnut butter and divide it evenly between the chilled chia seed pudding cups. Top it all off with a few more toasted hazelnuts and enjoy!
Tips:
If you are in a hurry, you can warm the hazelnut milk before mixing it with the chia seeds, as the warmth will help the chia seeds expand faster.
If you like your caramel sauce with more texture and spread-like consistency, reduce the amount of water.
You can store the salted date caramel sauce in an airtight container in the fridge for up to a week. Use it as a topping for ice cream, brownies, or even as a sweet dip.
Dina Hassan
Salted Caramel Chia Seed Pudding with Hazelnut Butter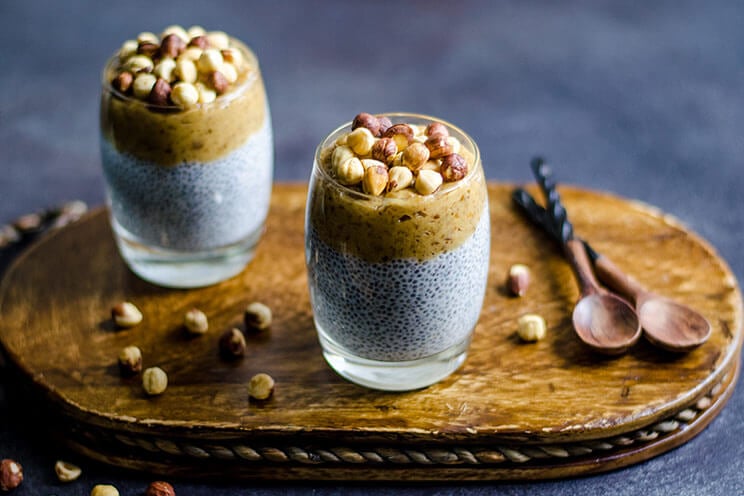 Prep Time:
10 mins
10 minutes
Salted Caramel Chia Seed Pudding with Hazelnut Butter
Dig into this decadent chia pudding filled with toasted hazelnut butter and a dreamy caramel sauce.
Tools
Medium bowl

Food processor
Ingredients
For the Chia Pudding:
2 cups organic hazelnut milk

2 t raw honey

½ cup chia seeds
For the Salted Date Caramel & Hazelnut Butter:
4 oz toasted hazelnuts

7 oz pitted medjool dates

½ t salt

¼ cup water
For the Topping:
2 handfuls of toasted hazelnuts
Instructions
To Make the Pudding: In a medium bowl, combine the hazelnut milk and raw honey. Stir until the raw honey is completely dissolved.

Stir in chia seeds and pour into two separate cups.

Place in the fridge and allow the seeds to expand for at least 3 hours or overnight.

For the Salted Date Caramel: Place the hazelnuts in your food processor and process for 2-4 minutes until you have a fine powder; use a spatula to scrape down the sides as necessary.

Once the hazelnuts begin to form a paste, add the pitted dates and salt. Blend until you have a smooth butter.

Add the water gradually and process until the mixture is smooth and has a heavy but caramel-like consistency.

To Serve: Remove the chilled chia seed pudding from the fridge and distribute the salted date caramel evenly over the top of the pudding.

Top with extra toasted hazelnuts. Serve immediately or return to the fridge until ready to eat.

(You'll Also Love: 17 Ways to Make Chia Seed Pudding)