Blend up this easy, creamy DIY hazelnut butter with just one ingredient (roasted hazelnuts!). Then, to take it up a notch, we'll also show you how to add a rich, chocolatey twist to it!
Packed with vitamins, minerals, healthy fats and protein, this DIY hazelnut butter makes for a great energy-boosting addition to your breakfast. Spread it on Paleo toast, blend it into your smoothie, use it as a topping on pancakes, or simply enjoy as is. Its rich, nutty flavor goes perfectly with almost any sweet snack.
To make a smooth and creamy butter, you have to get rid of the skins since they are dry, tough and have a bitter aftertaste. The easiest way to do that is to roast them in the oven on a baking sheet until the skins are dark and begin to crack. Afterwards, place them on a clean dish towel while they are still hot, wrap them in a bundle and roll the bundle over the counter. Keep rolling for a minute or two, as this causes the hazelnuts to grind against each other and the skins to rub off. You can rub the last stubborn ones between your fingers.
Love Paleo Desserts? Then you'll love our FREE Paleo Dessert Cookbook.
Click here to get your FREE copy of our delicious Dessert Recipes!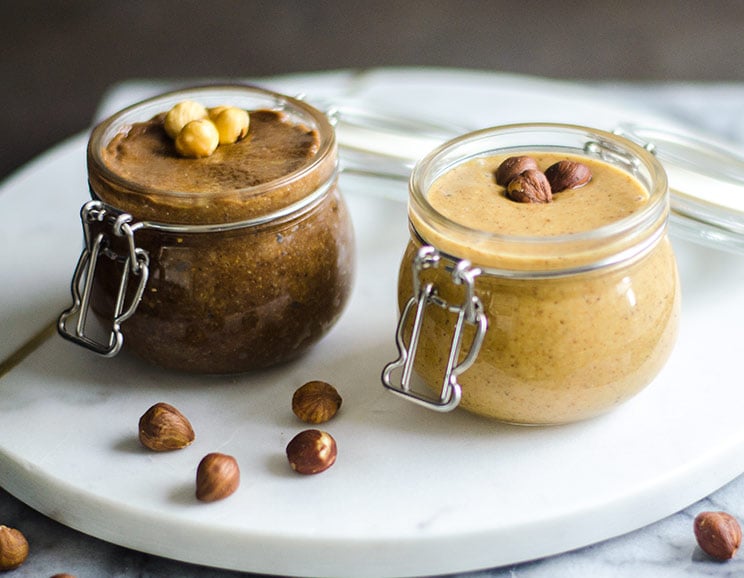 Once the skins are removed, all that's left to do is to process the nuts until nice and creamy. Blending the nuts while they are still warm speeds up the process because it helps release the oils more quickly.
Blending the hazelnuts can take up to 10 minutes, depending on your food processor or high speed blender. Try to do it in intervals to give your food processor little breaks to avoid burnouts.
You will need to stop and scrape down the sides of the bowl now and then. At some point the blended nuts will become a sticky paste, so just remember to keep processing until it gets creamy, resembling wet sand. Pour into an airtight container; it can be stored in the refrigerator for up to one month or kept frozen for up to six months. If frozen, thaw in the fridge overnight. Always bring your DIY hazelnut butter to room temperature before use so that it is spreadable.
Dina Hassan
Roasted Hazelnut Butter Recipe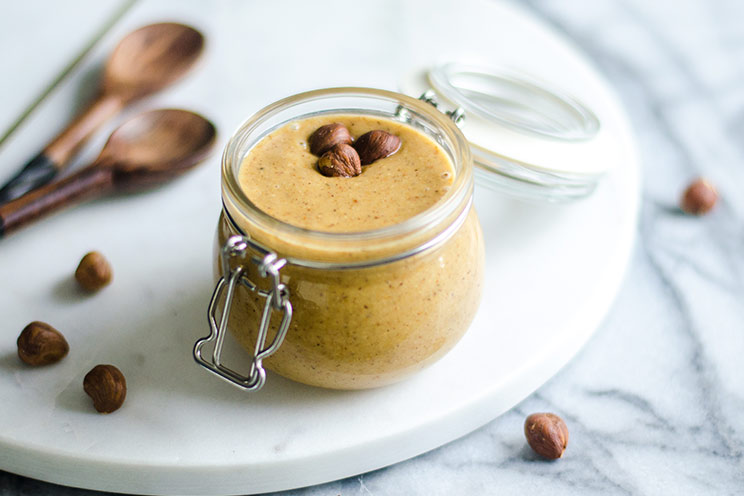 Cook Time:
10 mins
10 minutes
Prep Time:
10 mins
10 minutes
Roasted Hazelnut Butter Recipe
Blend up this easy, creamy hazelnut butter with a single ingredient.
Tools
Food processor

Rimmed baking sheet
Instructions
Heat the oven to 350°F. Spread the hazelnuts in a single layer on a rimmed baking sheet. Roast for 10 minutes, until the skins are mostly split and the nuts are fragrant and light golden brown.

Remove from the oven and place the warm hazelnuts inside a clean dish towel. Fold the towel around the hazelnuts to form a bundle and roll it on your countertop to remove the skins.

Place the warm, de-skinned hazelnuts in a food processor. Process for 6-10 minutes, until creamy and smooth, scraping the sides of the bowl occasionally.

Pour into an airtight jar and store refrigerated for up to 1 month.
Dina Hassan
Dark Chocolate Hazelnut Butter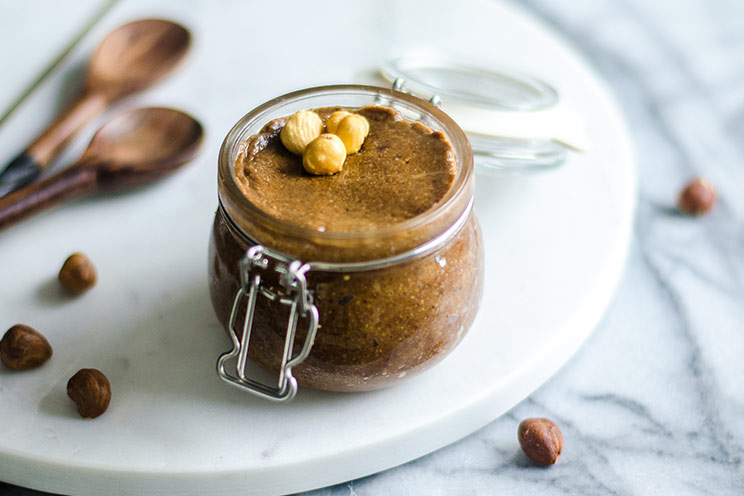 Prep Time:
5 mins
5 minutes
Dark Chocolate Hazelnut Butter
Take your hazelnut butter up a notch with this chocolatey recipe.
Ingredients
1 lb raw hazelnuts

1 ½ T raw cacao powder

1 t vanilla extract

3 T raw honey

⅛ t sea salt
Instructions
Place one cup of hazelnut butter in a bowl of food processor. Add the cocoa powder, vanilla, raw honey and sea salt.

Blend until fully incorporated. Scoop the mixture into an airtight jar and store refrigerated for up to 1 month.
Watch the Recipe Video Below!


(You'll Also Love: Salted Caramel Chia Seed Pudding with Hazelnut Butter)