This simple and super delicious recipe uses chia seeds, almond milk and honey to create a fruity mango trifle.
This mango trifle can easily be enjoyed for breakfast or dessert, as soaking the chia seeds allows for quick convenience at any time of the day with just a little prep work in advance. The honey and fruit give a fantastic kick of natural sweetness to liven up the flavors.
Feel free to add your favorite fruits and toppings, too. Blueberries, sliced strawberries and cacao nibs would all be delicious!
Love Paleo breakfast recipes?
Get our free breakfast recipe cookbook here!
Rebecca Hughes
Chia Banana Mango Trifle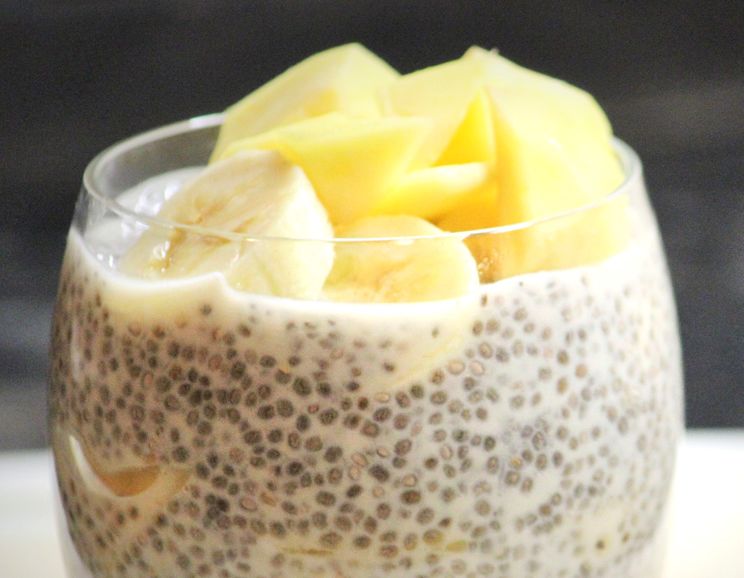 Prep Time:
5 mins
5 minutes
Chia Banana Mango Trifle
Simple, creamy, and super delicious chia trifle.
Ingredients
3 T chia seeds

¾ cup almond milk

2 t honey

1 banana, sliced

Small handful fresh mango chunks
Instructions
Add the chia seeds in a bowl and mix thoroughly together with the milk and honey.

Place the bowl in the fridge and leave to sit overnight or for a couple of hours during the day.

When ready to eat, remove the bowl from the fridge and give all the ingredients a good stir together.

Add the chia mixture to a glass and top with the fresh fruit. You can also layer some chia mix, then add some pieces of the fresh fruit, add more of the chia mix then top with the rest of the fresh fruit.


(You'll Also Love: Salted Caramel Chia Seed Pudding)