Forget peanut butter cups! These homemade salted caramel cups are coated in dark chocolate for a decadent replacement that's actually good for you.
Sticky, sweet, and extra chocolatey, these salted caramel cups are the perfect indulgence for a bite-sized treat. They're easy to make, they stop sugar cravings in its tracks, and best of all, they're a good source of fiber-rich nutrients.
How To Make Salted Caramel With Dates
For this rich salted caramel sauce, there's no need for heat! We simply use a food processor to blend medjool dates with coconut milk, maple syrup, and sea salt until the sauce is thick and smooth. Just remember to soak the dates ahead of time to make them easier to blend.
Love Paleo Desserts? Then you'll love our FREE Paleo Dessert Cookbook.
Click here to get your FREE copy of our delicious Dessert Recipes!
As an added bonus, dates also offer plenty of anti-inflammatory and gut-boosting benefits. Enjoy them raw or as a healthy natural sweetener (like in this homemade vanilla date paste).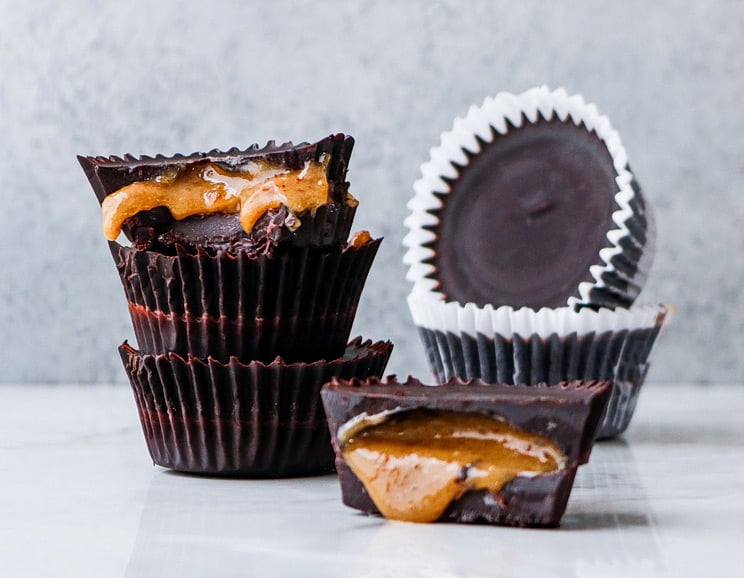 Take Control Of Your Chocolate
When you make your own chocolate, you're in control of the sweetness. We start with cacao butter and mix in cacao powder and a little coconut oil for a creamy texture. We suggest that you add ¼ cup of maple syrup here, but you could certainly cut that down or even swap it with a quarter teaspoon of monk fruit powder instead.
When shopping for cacao butter, look for ones that haven't been deodorized for a richer aroma.
Helpful Tips To Get Started:
Freeze each layer individually. This creates clean lines and keeps the caramel center from melting into the chocolate.
Thicken your chocolate. If the chocolate is too runny, add 2 more tablespoons of cacao powder to thicken it up.
Use leftover caramel sauce for other recipes. We like topping it over rich Paleo desserts like ice cream, pancakes, and apple slices.
Store them in the freezer. They last for up to 2 months and are great to keep handy whenever a craving strikes.
Jennafer Ashley
Salted Caramel Cups with Dark Chocolate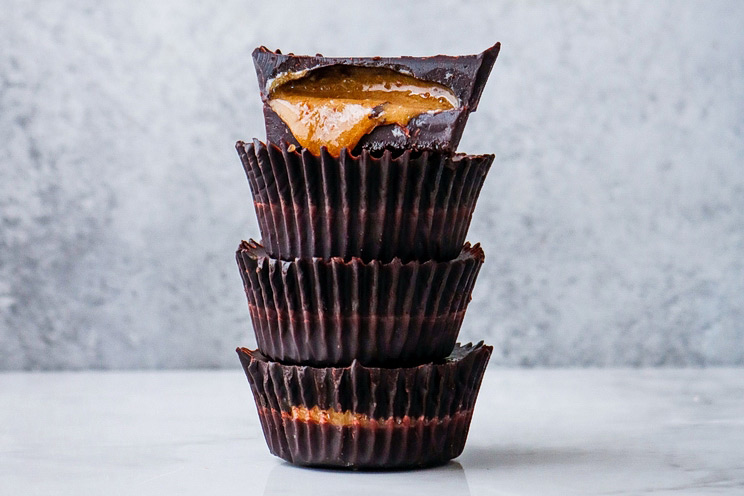 Inactive Time:
1 hr 40 mins
1 hour 40 minutes
Cook Time:
10 mins
10 minutes
Prep Time:
15 mins
15 minutes
Nutrition facts:
1 grams of protein
34 grams of carbohydrates
74 grams of fat
Salted Caramel Cups with Dark Chocolate
Forget peanut butter cups! These healthy homemade salted caramel cups are coated in decadent dark chocolate.
Tools
Food processor

Paper muffin liners

Muffin tin

Double boiler
Ingredients
For the Salted Caramel:
½ cup pitted dates

¼ cup full-fat coconut milk

¼ cup pure maple syrup

½ t sea salt
For the Chocolate:
2 cups cacao butter

1 T coconut oil

½ cup raw cacao powder

¼ cup pure maple syrup
Instructions
To Make the Salted Caramel: Soak the dates in 1 cup of hot water for 5 minutes, then drain.

Place the drained dates into a food processor with coconut milk and maple syrup, then blend for 3 minutes.

Pour the caramel into a small jar and refrigerate for 30 minutes to thicken.

To Make the Chocolate: Melt the cacao butter and coconut oil in a double boiler over medium heat for 10 minutes.

Stir in the cacao powder and maple syrup, then turn off the heat.

Spoon 2 tablespoons of chocolate each into 6 muffin tins lined with paper. Place the muffin tin into the freezer to chill for 30 minutes. Reserve the remaining chocolate at room temperature.

When the chilled chocolate is ready, spoon 1 tablespoon of caramel on top of each cup and return it to the freezer for 10 minutes.

Top the solid caramel of each cup with 2 more tablespoons of room-temperature chocolate.

Freeze again for 30 minutes, then serve!
Looking for Paleo ingredients? Here are a few we'd recommend:
Coconut milk (Native Forest)
Sea salt (REDMOND)
Cacao butter (Terrasoul Superfoods)
Cold pressed coconut oil (Viva Naturals)
Raw cacao powder (Healthworks)
If you have a sweet tooth that just won't quit, you'll love our Paleo Sweets cookbook! You'll get 70 delicious and nutritious desserts that you'd swear came from your local bakery. Bake your family mouth-watering brownies, whip up decadent cakes and churn out creamy dairy-free ice creams. Get your FREE copy HERE (just pay for shipping)!