This creamy dessert is a nut-lover's dream! This No-Bake Hazelnut Butter Pie is perfect for those nights that you just don't want to start the oven.
If you are looking for the most simple yet impressive dessert recipe ever, this is it!
Whether it's a hot summer day or you just want a simple way to wow a crowd, these Hazelnut Butter Pies are the way to go — and totally Paleo-approved.
For this recipe we chose to make two smaller "pies," but you can always make a large full-sized pie for a party!
Love Paleo Desserts? Then you'll love our FREE Paleo Dessert Cookbook. Click here to get it!
The "hardest" part about making this pie is making the hazelnut butter, but if you're lucky enough to live near a grocery store that has their own nut-butter grinders, you can save yourself about 15 minutes. Or you could always go the route of just buying a jar of hazelnut butter if you really want to make it simple.
Otherwise, you need to first roast some hazelnuts for about 10 minutes, then rub the skins off (for details, this post is really helpful), then throw those toasty beauties in a food processor or blender for about 3 minutes until you have nice creamy butter! YUM!
Once the hard part is over, all you have to do is make an easy crust from almond flour and coconut oil, then melt a few dark chocolate chips with some coconut milk for a velvety rich ganache.
Top everything with a mixture of fresh (or store-bought) hazelnut butter and coconut cream for your main filling. (Be sure to use coconut cream as opposed to coconut milk. You can buy "coconut cream" in a small jar by itself, or you can place a can of coconut milk in the fridge for an hour or so to separate the cream from the liquid, and scoop it off the top.)
The beauty of this recipe is that everything hardens in the freezer or refrigerator. Place everything in the fridge for 10 minutes or so between each layer for a gorgeous, Paleo, nut-butter masterpiece.
Deanna Dorman
No-Bake Hazelnut Butter Pie
Prep Time:
45 mins
45 minutes
No-Bake Hazelnut Butter Pie
Ingredients
1/2 cup almond flour

1 T melted coconut oil

1/4 cup coconut milk

1/4 cup dark chocolate chips

1/2 cup coconut cream

1/2 cup creamy hazelnut butter

1/4 t vanilla extract

1 T honey
How To Make It
1. Grease two ramekins with coconut oil, OR line a cupcake pan with 6 cupcake liners.
2. Mix together the almond flour and coconut oil. Divide the mixture evenly between each ramekin or cupcake liner. Use your spoon to press the mixture down to make a crust. Place the ramekins or cupcake pan in the refrigerator to harden for 10 minutes.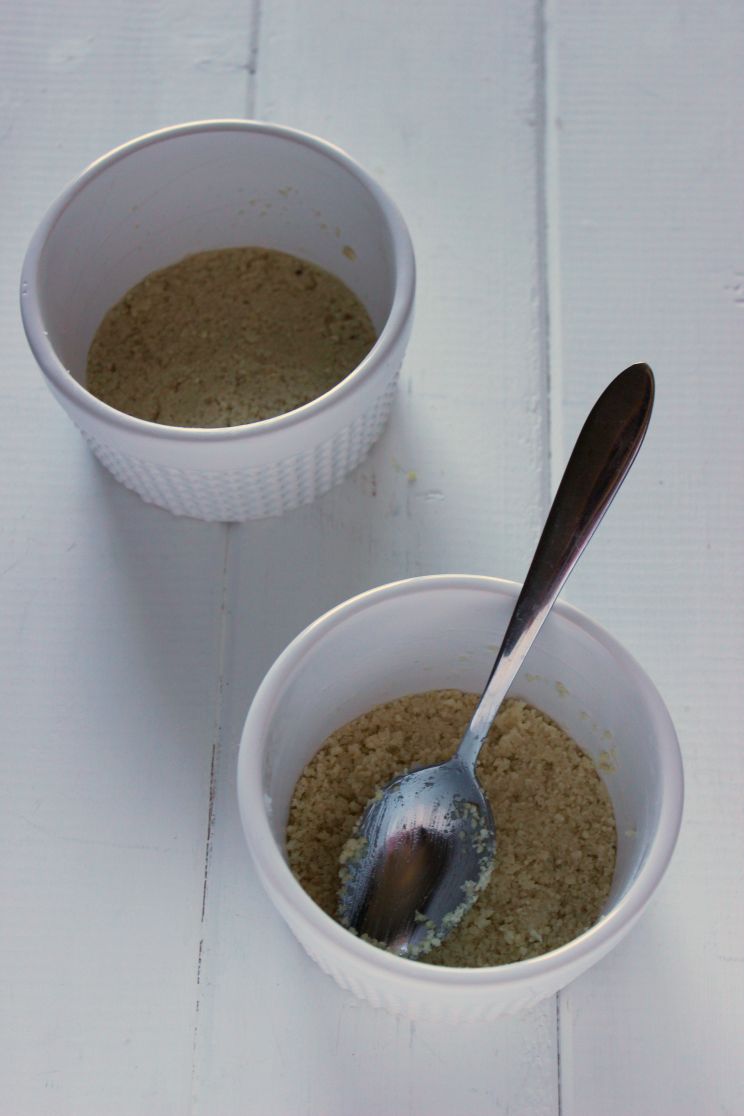 3. Prepare your ganache by melting chocolate and coconut milk in the microwave for 20-second intervals on a LOW power setting, stirring between each interval. When the chocolate is almost completely melted, stir the remaining chunks to completely melt the chocolate.
4. Take your mini crusts out of the refrigerator and spoon the ganache evenly over the crusts. Place in the refrigerator to harden for 10 minutes.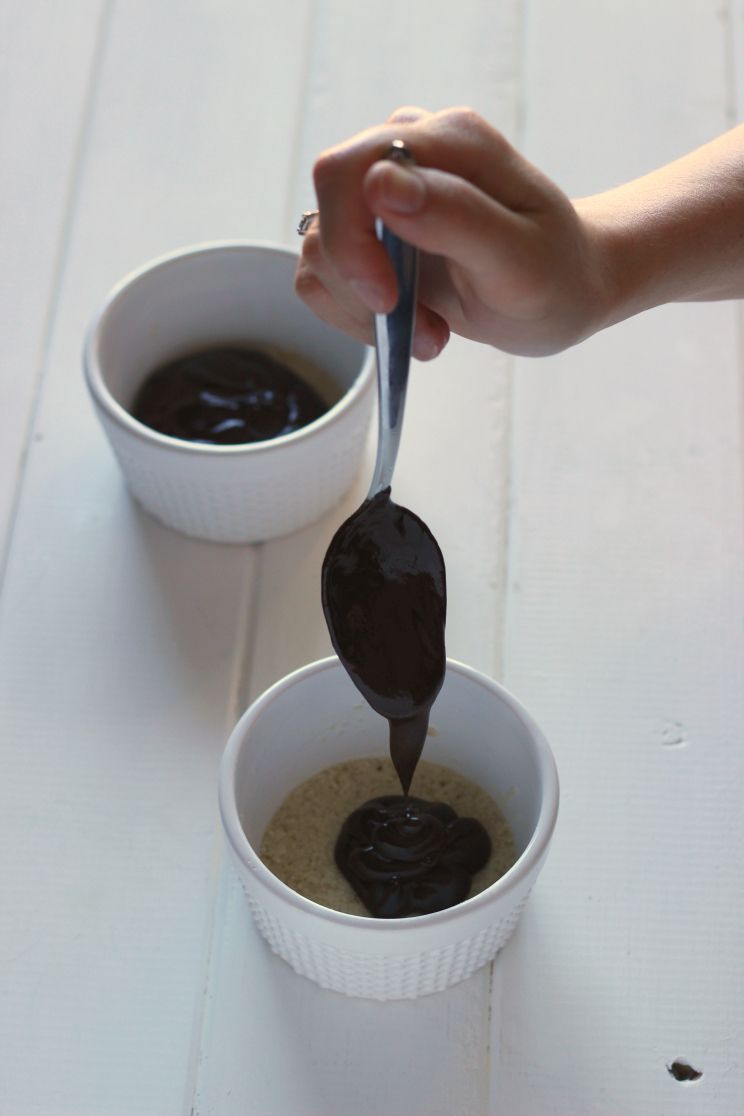 5. Prepare your hazelnut butter topping by mixing the coconut cream, hazelnut butter, vanilla extract, and honey in a bowl. Cream the ingredients together until smooth, and spoon the mixture evenly over the ganache.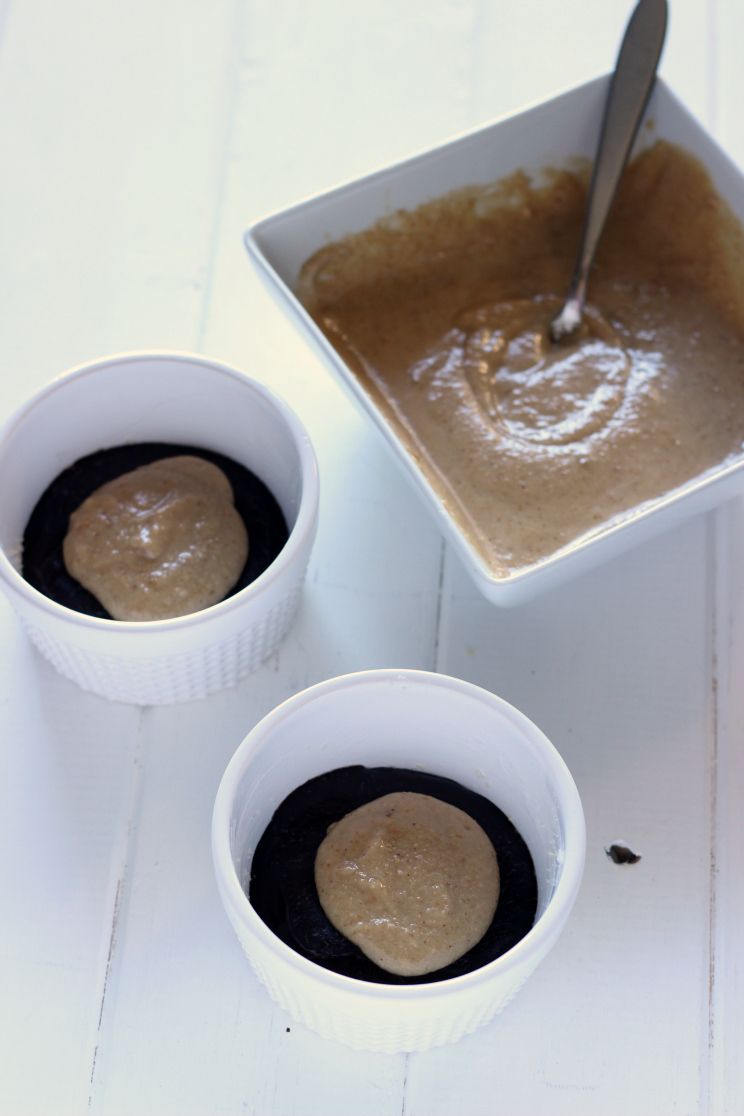 6. Chill for 10 minutes in the freezer before serving. Keep refrigerated or frozen until ready to serve.

(You'll Also Love: No-Bake Paleo Peppermint Chocolate Cheesecake)