Chill out with this salted caramel ice cream featuring gut-healthy collagen!
This guilt-free ice cream is a treat that'll help curb your sweet tooth and boost your protein. Typically made using dairy vanilla ice cream, we're switching things up with a coconut cream and cashew base swirled with Paleo-approved caramel.
Best of all, there's no churning required – all you have to do is freeze and enjoy!
Love Paleo Desserts? Then you'll love our FREE Paleo Dessert Cookbook.
Click here to get your FREE copy of our delicious Dessert Recipes!
How To Make The Salted Caramel
You only need four simple ingredients to make this Paleo-friendly caramel sauce. Simply simmer rich coconut milk with a bit of vanilla extract, sea salt, and coconut sugar to create a silky-sweet flavor – no refined sugar needed!
When simmering the caramel sauce, you may notice that it reduces slightly as it thickens. This is a good sign that it's ready to be transferred to the cooling jars.
As the caramel cools, the ingredients will transform into a rich sauce that rivals any ice cream shop.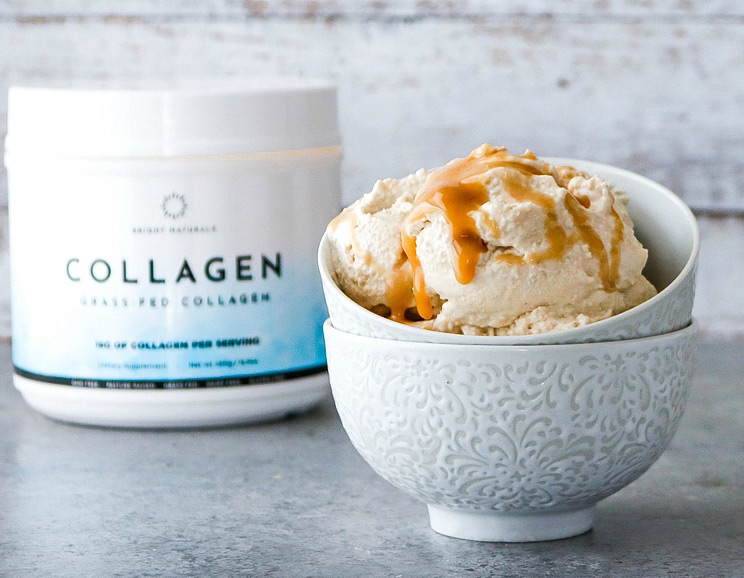 The Secret To Making Dairy-Free Ice Cream
The best way to make dairy-free ice cream (without compromising taste or flavor) is to use cashews as the base. When you soak the cashews in water overnight, they'll soften so they blend up easily to create a fluffy, creamy texture. Plus, you get even more rich, nutty flavor in your salted caramel ice cream!
How Collagen Makes It Even Better
Adding a few scoops of collagen to your ice cream base instantly upgrades it with nutrients like amino acids. Collagen is flavorless, so you won't even know it's there!
If you're new to using collagen powder, its benefits range from boosting gut health to increasing skin elasticity. Stir it into your morning coffee, pancake batter, or smoothies to get your daily dose (though of course, we think this salted caramel ice cream is the best way to get your fix).
Helpful Tips To Get Started:
Prep ahead of time. Save time by making the caramel sauce two days in advance.
You'll have leftover caramel sauce. There will be about 2-3 tablespoons of caramel sauce left over. Use it to drizzle on top of Paleo brownies, pancakes, or even sweet potatoes.
Don't let it freeze solid. Freezing it too long can result in a harder texture. If this happens, just thaw the ice cream for 10 minutes at room temperature before scooping.
Jennafer Ashley
Salted Caramel Ice Cream with Healing Collagen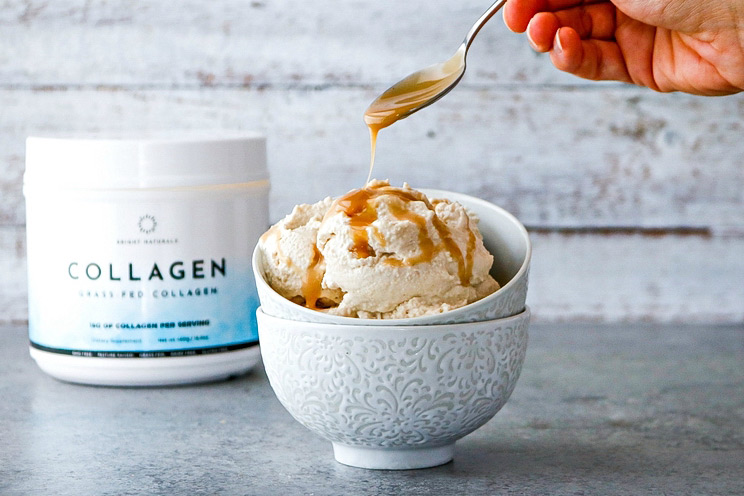 Inactive Time:
6 hrs
6 hours
Cook Time:
17 mins
17 minutes
Prep Time:
10 mins
10 minutes
Nutrition facts:
9 grams of protein
22 grams of carbohydrates
24 grams of fat
Salted Caramel Ice Cream with Healing Collagen
Chill out with this salted caramel ice cream featuring gut-healthy collagen.
Tools
Medium saucepan

8-ounce jar

Food processor

Loaf pan
Ingredients
For the Salted Caramel Sauce:
2/3 cups unsweetened coconut cream

½ cup coconut sugar

1 t vanilla extract

½ t sea salt
For the Ice Cream:
2 cups raw cashews, soaked in water overnight and drained

2 cups full-fat coconut milk

3 T Bright Naturals Collagen Powder

1/3 cup salted caramel sauce
Instructions
To Make the Salted Caramel Sauce: Heat the ingredients in a saucepan over medium heat for about 7 minutes.

When bubbling, reduce the heat to medium-low and simmer for 10 minutes. Stir occasionally.

Cool the caramel in an 8-ounce jar at room temperature for 30 minutes, then transfer to the fridge and let it chill for 2 hours.

To Make the Ice Cream: Combine the cashews, coconut milk, collagen powder, and 1/3 cup of caramel sauce into a food processor. Blend for about 3 minutes, or until smooth and creamy.

Transfer the mixture to a loaf pan and drizzle 2 tablespoons of caramel sauce on top. Use a sharp knife to swirl the caramel and create a marble effect.

Cover and freeze for 6 hours, or until just frozen. Scoop and serve immediately.
Looking for Paleo ingredients? Here are a few we'd recommend:
Coconut cream (Native Forest)
Grass-Fed Collagen (Bright Naturals)
Vanilla extract (Frontier)
Sea salt (REDMOND)
Raw cashews (Terrasoul Superfoods)
Coconut milk (Native Forest)