When it comes to nuts, cashews are king – and these chocolate-covered cashew bars prove it!
Cashews are loaded with healthy protein and magnesium, making them perfect for an energy-boosting breakfast. When blended, cashews take on a creamy, decadent texture unrivaled by any other nut.
These snack bars have another power ingredient in them: figs! When combined with cashews, coconut flakes and a small amount of water, they help everything stick together. They also add an amazingly sweet taste that's perfect for these raw bars.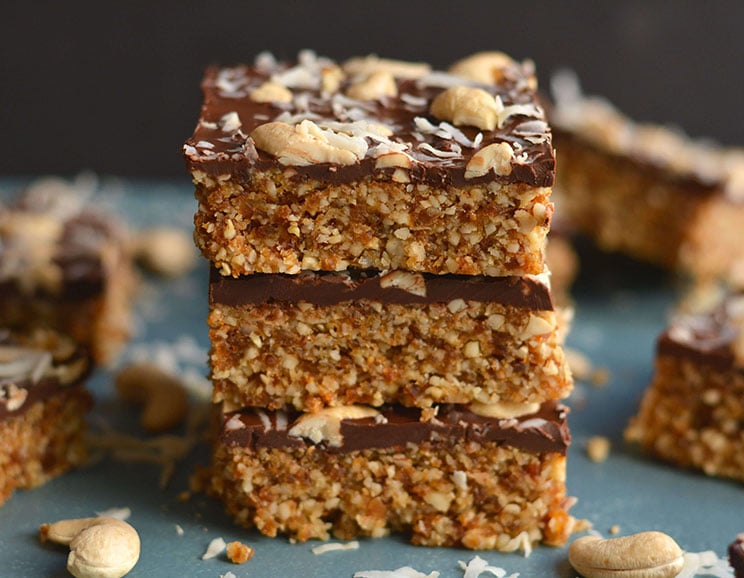 To make these bars extra indulgent, they're topped with a layer of silky dark chocolate. This recipe calls for 1/3 cup of dark chocolate to melt over a double boiler, but you can up the amount if you want yours a little extra chocolatey. We won't judge!
Love Paleo Desserts?
Get our FREE Paleo Dessert Cookbook here!
Store your bars in the refrigerator for up to a week to maintain their firmness. Grab one and eat it on the go, or hand them out to your kids on their way to school!
Megan Olson
Cashew King Bars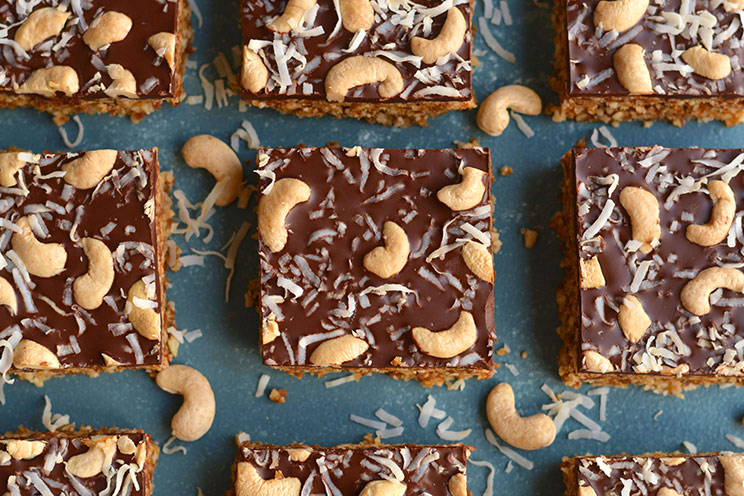 Prep Time:
20 mins
20 minutes
Cashew King Bars
When it comes to nuts, cashews are king - and these chocolate-covered cashew bars prove it!
Tools
8x8 baking pan

Parchment paper

Food processor

Double boiler
Ingredients
2 cups raw cashews, plus more for topping

1 ¼ cup figs, stems removed

¾ cup unsweetened coconut flakes

¼ t sea salt

3 T water

1/3 cup dark chocolate

1 T coconut oil

Unsweetened coconut flakes (for topping)
Instructions
Prepare an 8x8 baking pan with parchment paper.

Place the cashews, figs, coconut flakes and sea salt in the food processor. Process on high until crumbly. Swipe down the side of the food processor, then add water and process on high until smooth and sticky. If the ingredients aren't coming together, add 1 tablespoon of water at a time until it does.

Transfer the batter to the prepared baking pan and spread into a smooth layer, pressing it into the pan and corners. Set aside.

Place the chocolate and coconut oil in a glass bowl over a double broiler. Stir the chocolate until silky smooth, then pour over the prepared batter, spreading into an even layer.

Sprinkle coconut flakes and sliced cashews over the chocolate, lightly pressing them in.

Refrigerate 2-3 hours until the bars are set.

Once set, remove from the refrigerator and slice into 6 bars. Store in the refrigerator.
Tip: Dates or apricots can be substituted for the figs, but you may need to experiment with the amount, as the texture and density will be a bit different.
Looking for Paleo ingredients? Here's what we recommend:
Cold pressed coconut oil (Viva Naturals)
(You'll Also Love: Paleo Mr. Goodbar Recipe)