We all know coconut oil is one of the healthiest cooking oils out there. But did you know there are lots of other uses for coconut oil aside from just cooking?
When it comes to a Paleo lifestyle you know you'll see coconut oil used over and over again in recipes. That's because organic cold-pressed coconut oil has been far less processed than most other oils you will find at the grocery store. But the amazing benefits of coconut oil go far beyond just cooking. Did you know that coconut oil is also great for cleaning?! Or that it's a fantastic beauty product? Or that it can also keep your pets healthy?
Well, my friends, coconut oil does all that and then some. Coconut oil's little secret is that it contains lauric acid. Coconut oil is made up of almost 50% lauric acid, a medium-chain triglyceride which is easily absorbed by the body. Lauric acid also has fantastic antibacterial properties as well as antiviral and antifungal properties. These combined properties make coconut oil an amazing cleaning agent and beauty product as well. (1, 2)
Coconut Oil has hundreds of health benefits - learn how you can experience them with our FREE guide to Coconut Oil & its benefits.
Click here to subscribe
30 Uses for Coconut Oil Besides Cooking
Beauty Uses for Coconut Oil
1. Moisturize your Skin
Use coconut oil just as you would any moisturizer and your skin will feel moisturized all day long. Use a small amount of coconut oil (a little goes a long way!) and apply it anywhere on your body for hydrated skin. At first you may seem a bit greasy, but don't worry, it absorbs into your skin quickly.
2. Enjoy a Relaxing Moisturizing Bath
Adding a spoonful of coconut oil will not only help moisturize your skin but will also add some relaxation. The light tropical scent of coconut oil is also great for aromatherapy. (3)
3. Smooth out your Skin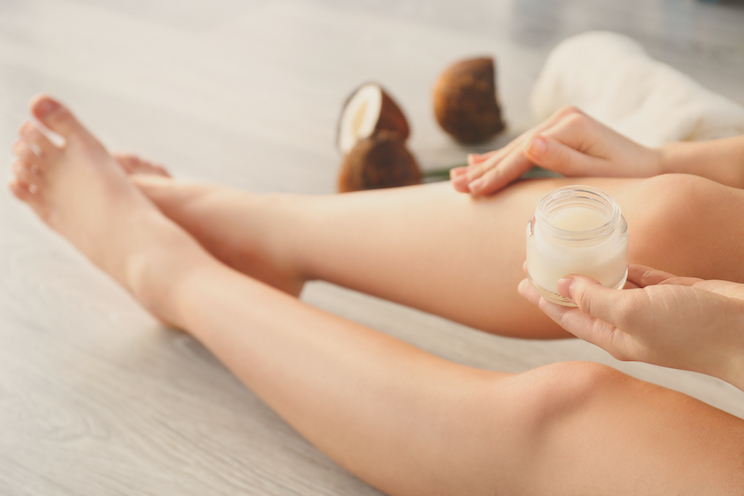 Mix coconut with equal parts regular sugar and you'll have a perfect DIY body scrub. Next time you shower, buff and exfoliate your skin and rinse off for super smooth and moisturized skin (just be careful – the tub floor will get slippery!)
4. Care for your Cuticles
Moisturize dry, flaky cuticles by rubbing coconut oil into your nail beds. The oils will also help your nails stay moisturized for stronger, more beautiful nails.
5. Fight Frizz & Fly-aways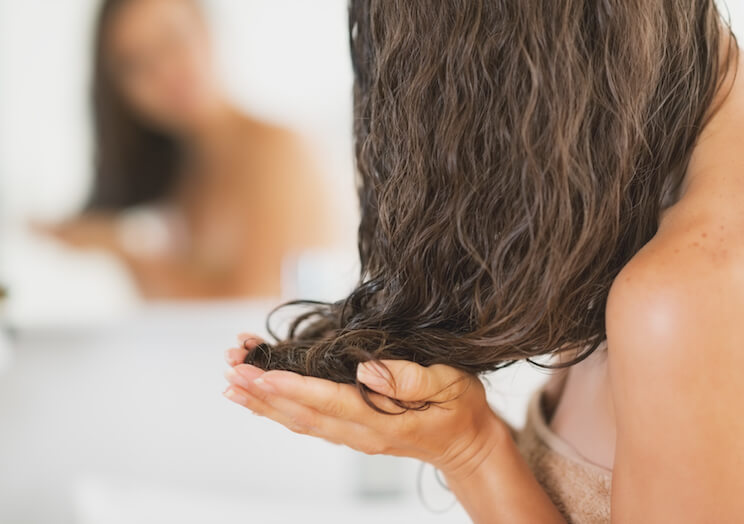 The best way to apply this without looking like a total grease-ball is to rub a TINY amount of coconut oil in your hands (as if you were applying hand lotion) and use the leftover on your ends. Start at the ends of your hair to protect from split ends and then work your way up if necessary. (Again – a little goes a very long way here!)
6. Deep Condition your Locks
By now you see how moisturizing coconut oil is, which makes it the perfect all-natural deep conditioner for your hair as well. Coconut oil's fatty acids will penetrate deep into your strands to moisturize and soften them. Mix up an at-home coconut oil & honey hair mask and smooth it through your hair, let it sit for 30 minutes or so, and wash hair as normal.
7. Make Up Remover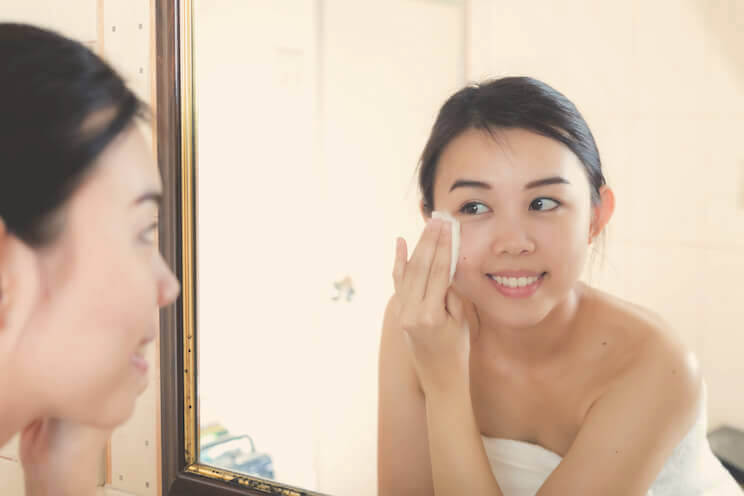 Coconut oil makes taking off heavy and difficult-to-remove make up a cinch. Rub a small amount of coconut oil onto a cotton ball and gently dab your eyes and skin with the oil. Gently wipe the coconut oil off with a wet washcloth and wash face normally. Yes, this even works with WATERPROOF mascara!
8. Improve Acne
Now, it may seem counterintuitive to rub an oil all over your face when you have acne, however, the lauric acid in coconut oil comes to the rescue again. Coconut oil can help inflammation and redness related to acne. It will also help moisturize your skin instead of over-drying it (as most store-bought products will – making your body produce even more oil, snowballing the acne effect). Cleanse your face regularly, apply a very small amount on your face and allow it to soak in. (4)
9. Help Reduce Wrinkles
Coconut oil is also rich in antioxidants which help protect against free radical damage, a leading cause of early aging. Coconut oil can help reduce and prevent wrinkles, especially around the eyes. Massage, or dab, a small amount of coconut oil on your skin or around your eyes before going to sleep each night to help ward off wrinkles. (5)
10. Improve Scalp Health
Massage coconut oil into your scalp to fight dandruff. The coconut oil will help moisturize and fight the root cause of dandruff – fungus. (6)
11. Soothe Sunburns
After a long day in the sun, coconut oil can help relieve a sunburn. It can calm your skin and keep it moisturized to help minimize peeling. (7)
12. Help Eczema Flare-Ups
Coconut oil can help calm itchy and irritated skin related to eczema. Its anti-inflammatory, antibacterial, and antifungal properties help heal and soothe the skin. (8)
13. Enjoy an At-Home Massage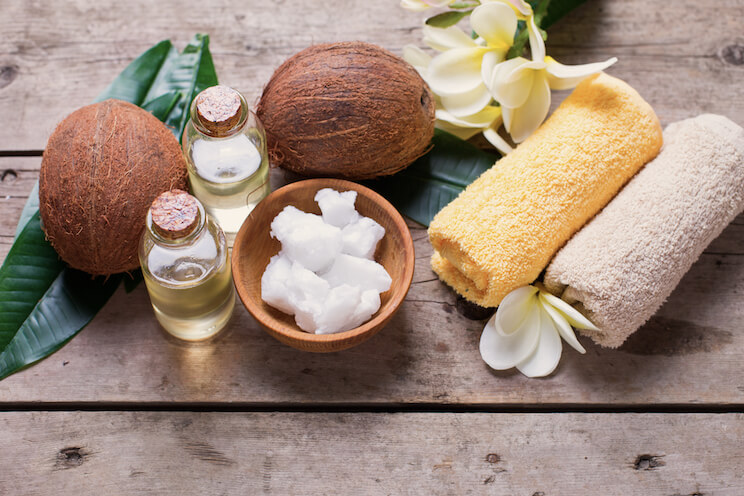 Give your muscles some TLC with an at-home massage starring coconut oil. Coconut oil is great massage oil because it's slick, but soaks in fairly quickly, preventing that greasy feeling all day long!
14. Fight Body Odor
Smooth some coconut oil on your armpits (seriously!). The lauric acid will help kill the bacteria that causes odor. It may not be powerful enough to fully deodorize your pits so you may also want to try a homemade deodorant! (9)
---
Home Uses for Coconut Oil
15. Remove Gum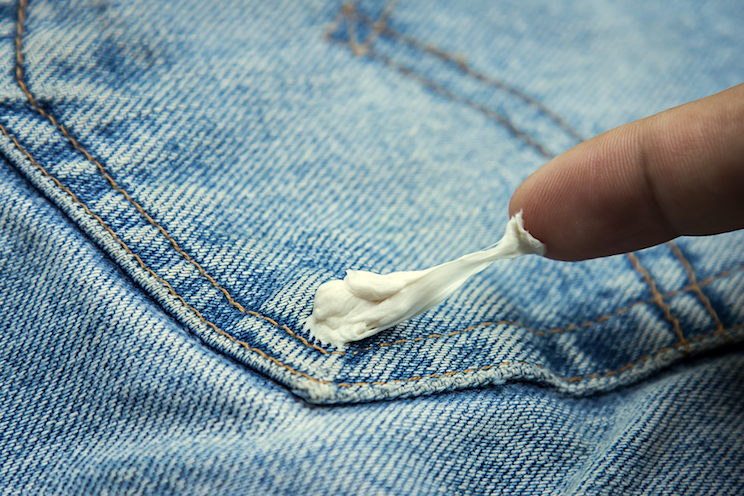 Finally get rid of sticky residue and even gum with a little bit of coconut oil and some elbow grease. Rub a generous amount of coconut oil on the area and rub with a cloth until it comes clean. (10)
16. Condition Wooden Utensils & Furniture
Wooden utensils and furniture need to be conditioned to keep their beauty and strength. Condition and polish them with a generous amount of coconut oil by massaging it into the wood and let it seep in. Your wooden gems will look just like new! (11)
17. Season your Cookware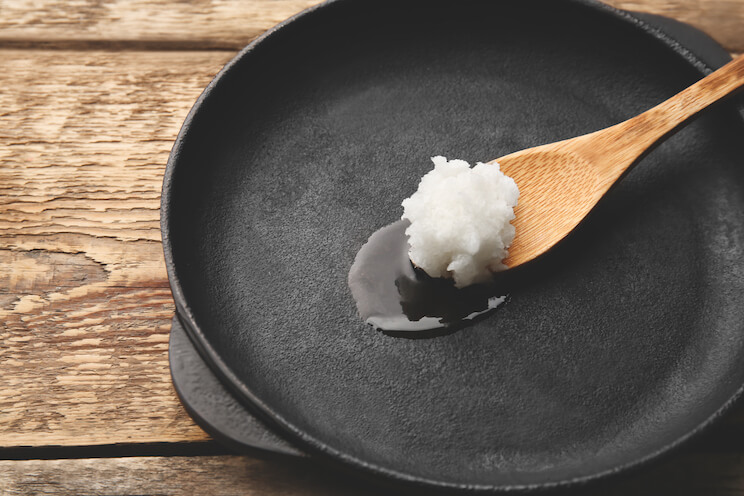 Cast iron cookware must be prepped before using to help prevent sticking. Season your cookware with coconut oil to maintain the integrity of the pan and to make cleanup a breeze. (12)
18. Treat Leather
Give leather new life by conditioning it with some coconut oil. Rub a small amount on the leather to clean the leather and add a bit of sheen.
19. Silence Squeaky Hinges
We all know how annoying a squeaky hinge can be. Just rub a small amount of coconut oil on the hinge to lubricate the hinge and finally be at peace.
20. Remove Rust & Clean Metal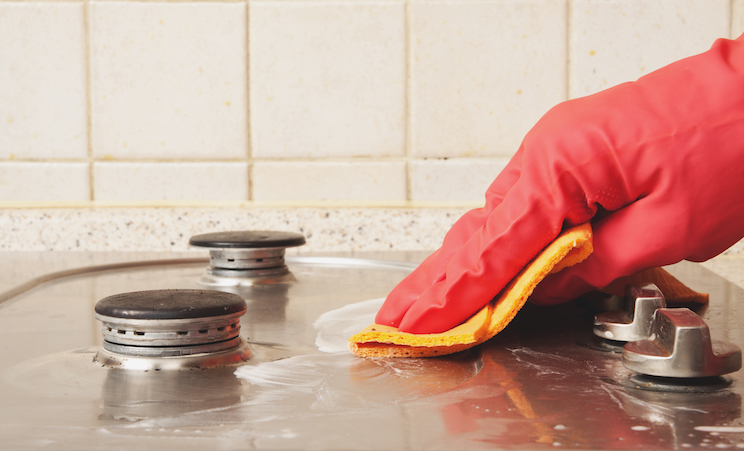 Coconut oil can remove rust, clean bronze, and condition your metal. Spread a layer of coconut oil over the rusty area, and let it sit for at least two hours. Wash the oil off and wipe clean with a soft cloth.
21. Grease up Small Motors
Small appliances with motors could benefit from a little coconut oil to keep them lubricated and running smoothly. You could even grease up your bike chain or lawnmower. Just remember that coconut oil solidifies at temperatures lower than 76 degrees. (13)
---
Pet Uses for Coconut Oil
22. Condition your Pet's Fur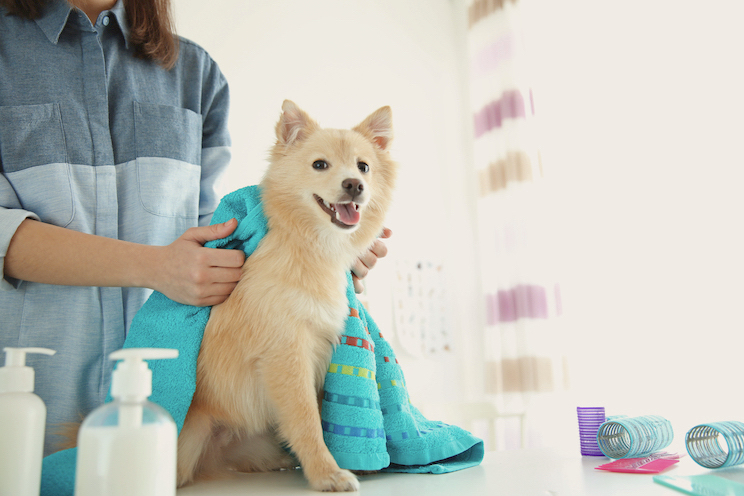 Coconut oil helps condition your pet's fur just as it does you own hair. Rub a small amount in your hands, then run your hands through your furball's coat for shiny and healthy fur.
23. Supplement your Pet's Health
Again, just as you supplement your health with coconut oil, you can supplement your pet's health too. Adding a very small amount of coconut oil to their diet can improve their health, including helping with weight management and protection against arthritis. Always check with your vet before making any changes to your pet's diet. (14)
---
Wellness Uses for Coconut Oil
24. Soothe Scratchy Throats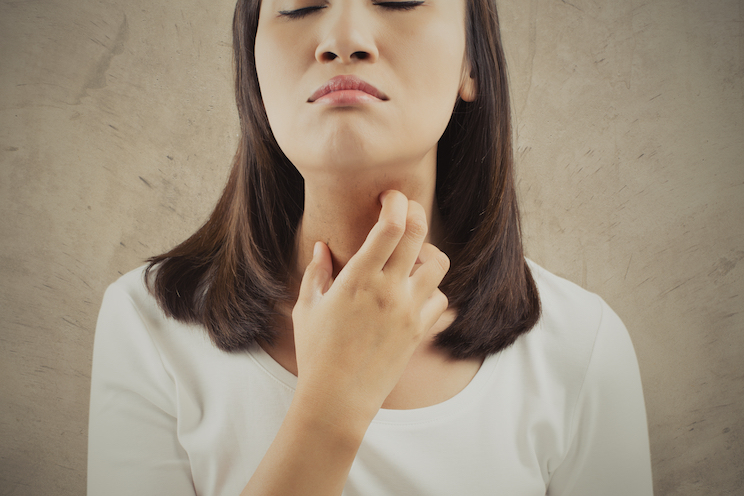 Help a dry, scratchy throat by swallowing a bit of coconut oil or adding it to some calming tea.
25. Prevent Chafing
Help prevent chafing and treat areas that have already been affected. Rub a small amount on the area and enjoy comfort. Coconut oil can also help your baby. Soothe diaper rash with a homemade diaper rash cream made with coconut oil to soothe your little one.
26. Treat Cold Sores
The antiviral properties in coconut oil may help treat cold sores. When you begin to feel like a cold sore is about to break through, rub some coconut oil around the spot to help heal it faster. (15)
27. Protect Scrapes and Scratches
For small and superficial cuts and scrapes, you can use coconut oil as you would Neosporin® to create a barrier against dust and bacteria. (16)
28. Relieve Bug Bites and Stings
To relieve itching from a bug bite or soothe bee stings, spread a small amount of coconut oil around the area to relieve discomfort. (17)
29. Prevent Nosebleeds
Most nosebleeds are caused by dry, irritated nostrils. Keep them moisturized by applying a small amount of coconut oil onto a cotton swab and coating the inside of your nose.
30. Comfortable Breastfeeding
Moisturize tender and dry nipples after breastfeeding with coconut oil for an all-natural way to prevent cracked or painful nipples. (18)
So there you have it! Thirty uses of coconut oil besides cooking. Coconut oil is almost like the miracle oil with all that it can do, and I'm sure there are many more uses out there. What else do you use coconut oil for?

(Read This Next: The Benefits of Ghee vs Coconut Oil)