Grab your spatula and turn on the oven, this nutty, two-layer Paleo Apple Cinnamon Bread brings home the warm flavors of fall. (But we have a feeling you'll enjoy this yummy recipe all year round!)
This grain-free bread puts a fun twist to classic apple cinnamon bread: It has not one, but two layers! A nutty, buttery bottom layer with a surprise sweet almond cinnamon topping.
The bottom layer uses a blend of almond butter, coconut oil, almond flour and tapioca flour to get a soft, fluffy texture. If you don't have almond butter on hand, you can use any other Paleo-friendly nut butter as well. Coconut butter is a great option if you're sensitive to tree nuts; just note that it will add a distinct coconut taste to your recipe. Cashew butter also works just as well.
Love Paleo Desserts? Then you'll love our FREE Paleo Dessert Cookbook.
Click here to get your FREE copy of our delicious Dessert Recipes!
For the top layer, you'll get a heavenly sweet "crumble" thanks to the coconut sugar and pecans. Again, feel free to make a swap here with the pecans. Walnuts make a delicious substitute!
This two-layer bread is perfect in the morning with a cup of coffee, or served as a healthy, homemade dessert.
Tip: You can store the bread in the refrigerator for up to one week.
Megan Olson
Apple Cinnamon Bread Recipe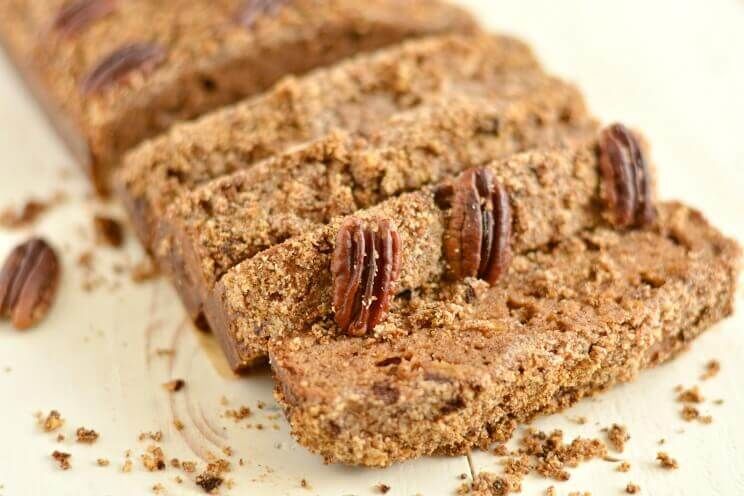 Cook Time:
25 mins
25 minutes
Prep Time:
20 mins
20 minutes
Apple Cinnamon Bread Recipe
This nutty, two-layer Paleo Apple Cinnamon Bread brings home the warm flavors of fall.
Ingredients
For the Bottom Layer:

2 large eggs

3 T melted coconut oil

½ t almond extract

½ cup almond butter or nut butter of choice

½ cup coconut sugar

½ cup almond flour

¼ cup tapioca flour

½ t baking soda

1 t cinnamon

¼ t nutmeg

1 apple

For the Top Layer:

1/3 cup almond flour

1 T coconut sugar

2 T melted coconut oil

3 T raw pecans
Instructions
Preheat oven 350ºF. Prepare an 8x8 loaf pan by placing a piece of parchment paper inside. Allow the ends to hang off the edges a bit for easy removal.

To Make Bottom Layer: Core the apple and shred in a blender by pulsing on high a few times. Note: you can leave the skin on or remove it.

In a medium bowl, sift together the almond flour, tapioca flour, baking soda, cinnamon and nutmeg to evenly distribute dry ingredients.

In a separate larger bowl, mix eggs, almond butter, almond extract, coconut oil and coconut sugar.

Slowly add the dry ingredients to the wet ingredients until fully incorporated. Note: depending on the nut butter you use, you may need an additional 2-3 tablespoons of coconut oil to get desired consistency.

Fold shredded apple into the batter. Transfer the bottom layer batter to the prepared loaf pan, spreading into an even layer.

To Make Top Layer: In another bowl, mix together ingredients for top layer (except for the pecans) until the coconut oil is fully incorporated into the flour and sugar.

Spread the top layer evenly over the bottom layer, pressing into bottom layer so it bakes into the bread. Top with raw pecans, pressing them into the batter.

Bake 20-25 minutes at 350ºF, or until a toothpick can be inserted into center and come out clean.

Leave bread in the pan 2 hours to cool at room temperature.

Once cooled, gently lift the bread from the pan using the sides of the parchment paper to remove. Cool another 30 minutes before cutting into slices
You'll Also Love: Paleo Cinnamon Raisin Bread

It's ooey gooey chocolate cake - and it's healthy for you! Which means no blood sugar spikes… no guilt… and it'll even help you lose weight.
FREE Recipe:
Black Forest Cake with Silky Chocolate Icing… and it's 100% Paleo Friendly!
FREE Recipe:
Black Forest Cake with
Silky Chocolate Icing…
and it's 100% Paleo
Friendly!