A healthy version of a Chinese takeout classic, these savory cashew chicken tacos make your slow cooker do all the work!
These cashew chicken tacos are absolutely perfect for when you want a filling, light dish. The sauce is made with honey, garlic and ginger – truly coating the tender chicken in sweet and tangy flavor. For the "tortillas" we'll be using butter lettuce to keep things gluten-free.
To start, brown the chicken bites in a skillet to seal in the juicy flavor. Next, add the chicken and a sliced red bell pepper to a slow cooker with the whisked sauce. Cashews are added in the final 30 minutes of cooking to keep them crunchy. Wrap the saucy chicken in the butter lettuce, and devour!
Love slow cooker recipes?
Click here to get your FREE copy of our delicious Slow-Cooker Recipes!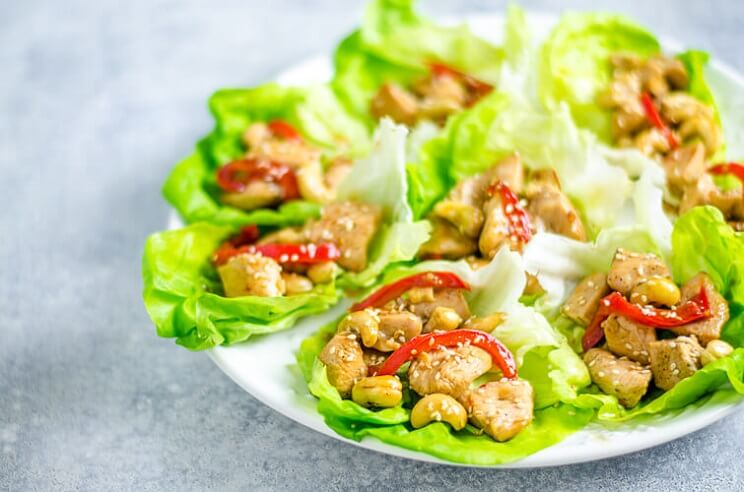 As a replacement to soy sauce, this recipe uses coconut aminos. This Paleo substitute is made from aged coconut sap and sea salt for a deep, savory flavor with a touch of sweetness. As a plus, it has about 65% less sodium than regular soy sauce!
For the wraps, feel free to use iceberg, romaine or Boston lettuce if you don't have butter lettuce. You can also serve it over cauliflower rice or Paleo tortillas.
Tips:
To easily grate the ginger, peel a small knob ahead of time and keep it in the freezer. A zester will work better on frozen ginger!
You can add any other veggies into this dish along with the bell pepper. For example: broccoli, mushrooms or carrots.
Boneless chicken thighs can be used instead of chicken breasts.
Dina Hassan
Tortilla-Free Cashew Chicken Lettuce Tacos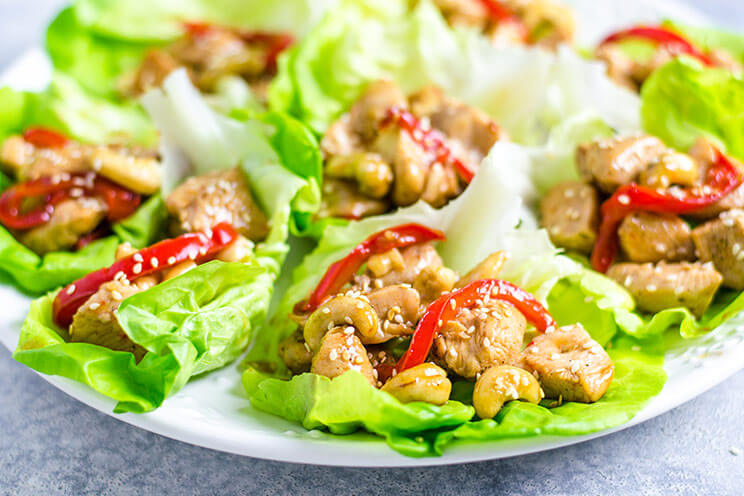 Prep Time:
10 mins
10 minutes
Tortilla-Free Cashew Chicken Lettuce Tacos
A healthy version of a Chinese takeout classic, these savory cashew chicken tacos make your slow cooker do all the work!
Tools
Medium bowl

Skillet

Slow cooker
Ingredients
For the Chicken Tacos:
1 lb chicken breast fillets

Salt and pepper to taste

1 T extra virgin olive oil

1 red bell pepper

1 cup unsalted cashews

1 head butter lettuce
For the Sauce:
4 T coconut aminos

3 T raw honey

2 garlic cloves, minced

1 t fresh ginger, grated

2 t toasted sesame seeds

1 cup chicken broth

3 T tapioca flour
Instructions
Cut the chicken into bite-sized pieces and season with salt and pepper. Next, thinly slice the red bell pepper.

In a medium bowl, whisk together the coconut aminos, honey, garlic, ginger, sesame seeds and chicken broth. Set aside.

Heat the extra virgin olive oil in a skillet over medium heat. Add the chicken and cook for 1-2 minutes, browning all sides.

Add the chicken, bell pepper and sauce to the slow cooker. Cook on low for 2 hours.

Whisk the tapioca flour with 3 tablespoons of water, add it to the slow cooker along with the cashews in the last 30 minutes of cooking.

To serve, spoon the chicken mixture into individual butter lettuce leaves and enjoy.
You'll Also Love: Easy Chicken Mango Lettuce Wraps