This refreshing matcha smoothie bowl fuses superfoods like chia and pomegranate for a satisfying and healthy kickstart to the day.
The main difference between smoothie bowls and traditional smoothies is the thickness. For this recipe, combine chopped frozen banana with almond milk and matcha green tea powder in a blender and blend until smooth and thick.
Using frozen bananas will add richness to your matcha smoothie bowl. I often keep a ziplock bag of frozen bananas on hand so they are ready to use when a smoothie bowl craving strikes. You can add extra frozen bananas depending on how thick you want your smoothie to be.
Love Paleo Breakfasts? Then you'll love our FREE Paleo Breakfast Recipes.
Click here to get your FREE copy of our delicious Breakfast Recipes!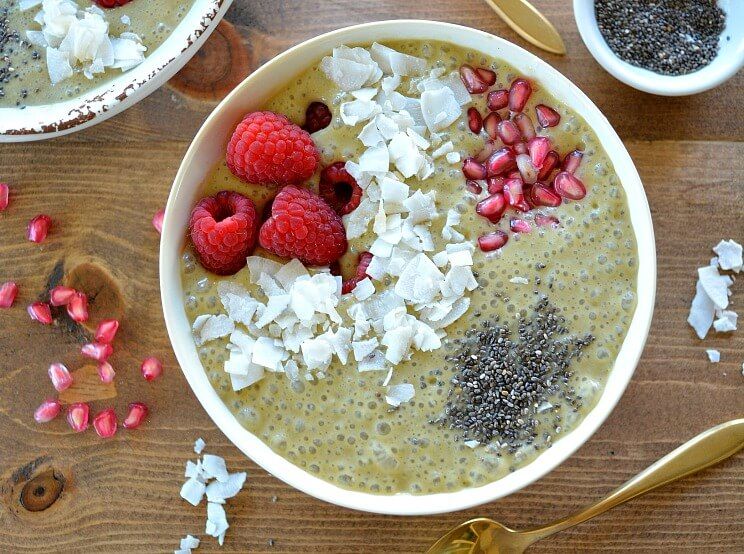 Now you can get creative and add your favorite superfood toppings. I like adding the juicy crunch of pomegranate arils with the sweetness of the smoothie. Matcha adds immune-boosting antioxidants, enhances mood and also helps detoxify the body. Because of its relatively mellow flavor, matcha powder works great in smoothie bowls that are fruity or chocolatey. Once all of your toppings are displayed on top, it is time to grab a spoon and dig in to reap the benefits of this energizing smoothie bowl.
Tip: Smoothie bowls let you get creative with your toppings, and you can easily change up the recipe ingredients to suit your tastes. Use ingredients you have in season locally, like figs in the fall and strawberries in the summer.
Jennafer Ashley
Awakening Matcha Smoothie Bowl Recipe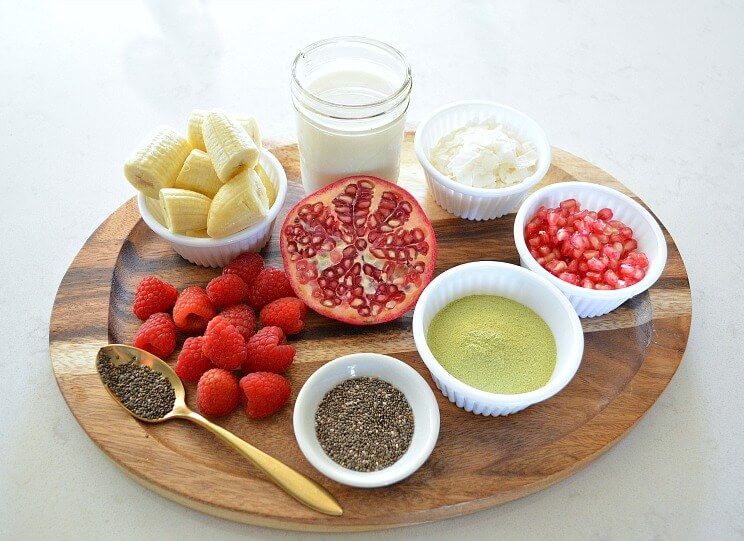 Prep Time:
10 mins
10 minutes
Awakening Matcha Smoothie Bowl Recipe
This refreshing smoothie bowl fuses superfoods matcha, chia and pomegranate for a satisfying and healthy kickstart to the day.
Ingredients
3 large frozen bananas, sliced into chunks

2 cups unsweetened almond milk

2 T matcha green tea powder

1/2 cup unsweetened coconut flakes

1/2 cup raspberries

1/2 cup pomegranate arils

1 T chia seeds
Instructions
Place frozen banana, almond milk and matcha powder in a blender. Blend on high until smooth.

Divide smoothie between two bowls. Top each bowl with raspberries, pomegranate arils, chia seeds and coconut flakes or toppings of your choice. Enjoy right away.

(You'll Also Love: Healthy Coconut 'Oatmeal' Recipe)