This dark chocolate mousse made with creamy almond butter is going to be your new favorite dessert.
Chocolate and almond butter is the ultimate combo for any Paleo-indulgent dessert. We've crafted Chocolate Almond Butter Brownies before, but today we want to show you how to make this melt-in-your-mouth dark chocolate mouse that's rich in buttery flavor. The best part is, it only requires six ingredients and is crazy simple to make. 
The great thing about dark chocolate is that it contains plenty of health benefits and includes essential vitamins and minerals to help boost your overall mood. When making any kind of Paleo recipes with dark chocolate, make sure to use at least 70 percent cacao since anything less typically contains unnecessary refined sugars that can be damaging to your health.
Love Paleo Desserts? Then you'll love our FREE Paleo Dessert Cookbook.
Click here to get your FREE copy of our delicious Dessert Recipes!
To get started, you'll want to combine all ingredients in a bowl and transfer it to two separate cups. Then, place both cups inside the refrigerator for at least 30 minutes, allowing the mixture to harden to mousse-like consistency. Once you've got the perfect texture, dig in and treat yourself to a guiltless Paleo-friendly treat.
Erin Druga
Almond Butter Dark Chocolate Mousse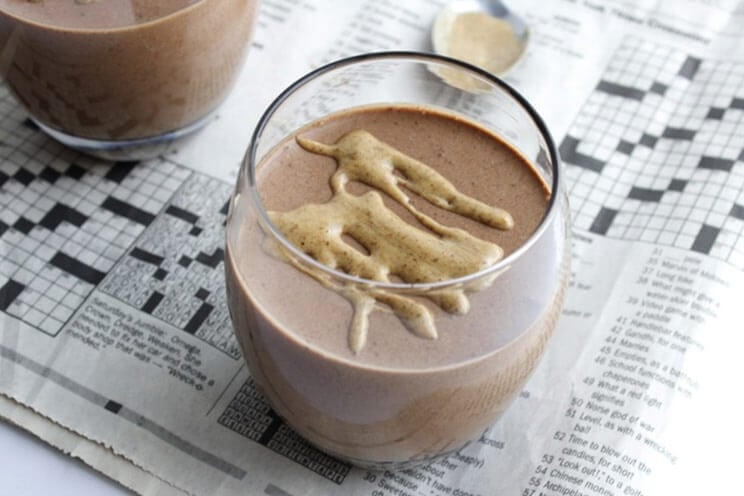 Inactive Time:
30 mins
30 minutes
Cook Time:
5 mins
5 minutes
Almond Butter Dark Chocolate Mousse
This tasty mousse recipe requires just six ingredients and couldn't be easier to whip up!
Ingredients
1 can coconut cream

1/4 cup organic maple syrup

2 T almond butter

1/4 cup dark chocolate (at least 70%)

2 T coconut oil

1/4 cup raw cacao powder
Instructions
Combine coconut cream, syrup and raw cacao in a bowl.

Heat chocolate and oil in a saucepan over stove and stir until smooth; pour into coconut cream mixture and stir.

Pour into two separate cups and place in the refrigerator for at least 30 minutes (but ideally 2 hours), allowing mixture to become a mousse-like consistency.

Drizzle almond butter over mousse before serving. Enjoy!
Looking for Paleo ingredients? Here's what we recommend:
Coconut Cream (Native Forest)
Maple Syrup (Hidden Springs Maple)
Almond Butter (Barney)
Cold Pressed Coconut Oil (Viva Naturals)
Raw Cacao Powder (Healthworks)

(Read This Next: 4-Ingredient Almond Butter Cookies)