This sweet and salty brittle packs creamy almond butter and smoky bacon in every bite!
Made with maple syrup and crunchy nuts, this easy treat strikes the perfect balance between savory and sweet. Enjoy it as a guilt-free indulgence or share it with friends and family as a tasty dessert.
Why Broiling Your Almonds and Walnuts Makes All the Difference
The key to adding extra depth to the brittle is to lightly toast the walnuts and almonds under the high-heat temperatures of a broiler. Make sure to keep a close eye on them since they tend to toast quickly. When you start to smell their nutty aromas at around one minute, it typically means they're ready to come out.
Want to snack smarter and curb cravings? Get your FREE 25 Healthy Paleo Snacks Cookbook here.
Click here to get your FREE copy of our Snack Recipes Cookbook!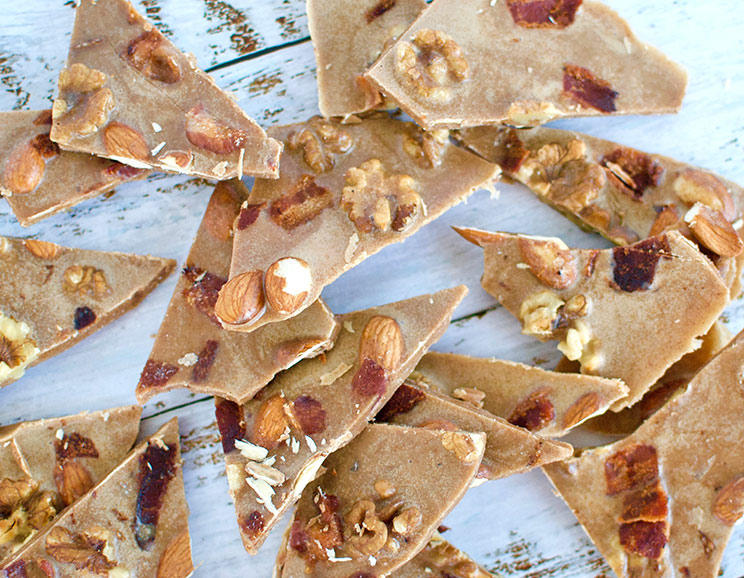 Keeping it Simple, Sweet, and Smoky
Easy to prep, this brittle requires minimal cooking time and is primarily made from the inside of your freezer. All you need to do is stir it together, spread it on a baking dish, and let it set to the perfect candy-like consistency.
For this brittle, we swap out refined sugars for almond butter, vanilla extract, maple syrup, and warm spices for sweetness. Adding crumbled bacon on top offers a hint of smokiness that marries all the candied nutty flavors.
Helpful Tips:
Make your own almond butter. Homemade almond butter is easy to make and will last you for multiple recipes (we like using this almond butter recipe).
Switch up your sheet pan with a different baking dish. If you like your brittle a little thicker, go for a smaller baking dish instead.
Don't worry if it's a bit messy. Brittle is supposed to have rigid edges, so embrace any imperfections when spreading onto the sheet pan.
Danielle Moore
Almond Butter Nut Bacon Brittle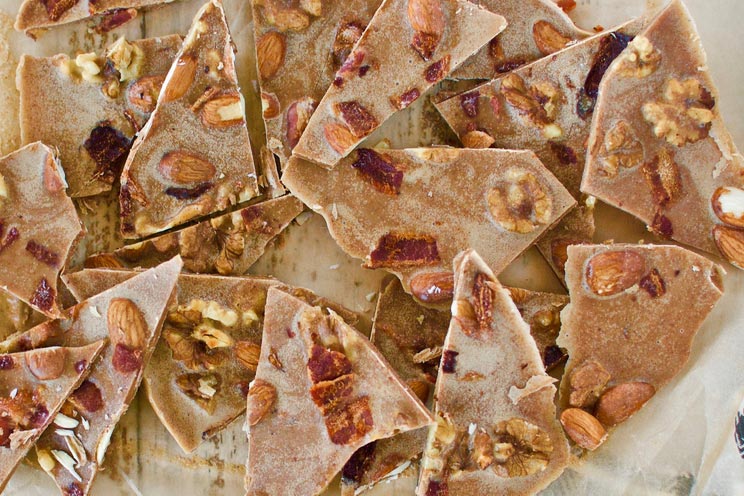 Inactive Time:
4 hrs
4 hours
Cook Time:
5 mins
5 minutes
Prep Time:
10 mins
10 minutes
Almond Butter Nut Bacon Brittle
This sweet and salty brittle packs creamy almond butter and smoky bacon in every bite.
Tools
13-by-9-inch baking sheet

Parchment paper

Small bowl

Small saucepan
Ingredients
¼ cup almonds

¼ cup walnuts

¼ cup coconut oil

½ cup almond butter

½ t vanilla extract

1 T maple syrup

½ t ground cinnamon

½ t ground ginger

2 slices cooked bacon, crumbled
Instructions
Preheat the oven to high broil (550°F) and line a baking sheet with parchment paper.

Combine the almonds and walnuts together onto the prepared baking sheet and spread into an even layer.

Broil the mixed nuts for 1 minute, then gently shake the pan to toss. Continue broiling for 1 minute or until they're lightly toasted. Pour the nuts into a small bowl and set aside.

In a small saucepan, heat the coconut oil, almond butter, vanilla extract, maple syrup, cinnamon, and ginger over medium heat for 3 minutes. Whisk until well combined.

When ready, remove the saucepan from the heat and pour the mixture into the same prepared sheet pan from earlier.

Spread the mixture with a spatula into an even layer and sprinkle the toasted nuts with crumbled bacon on top.

Transfer the sheet pan to your freezer for at least 4 hours, then remove and break into pieces. Serve and enjoy immediately!
Looking for Paleo ingredients? Here are a few we'd recommend:
Raw almonds (NOW Foods)
Raw walnuts (NOW Foods)
Cold pressed coconut oil (Viva Naturals)
Almond butter (Barney)
Vanilla extract (Frontier)
Ground cinnamon (Simply Organic)
Ground ginger (Simply Organic)

If you love simple and sweet recipes like this, check out our Paleo Sweets cookbook. In it, you'll find Paleo-friendly treats like decadent black forest chocolate cake and the best gluten-free chocolate chip cookies – ever. Hungry? Get the Paleo Sweets cookbook now.
(You'll Also Love: Dark Chocolate Pistachio Bark Recipe)