Indulge your pasta craving with this guilt-free, veggie-packed Paleo primavera.
This "pasta" meal swaps spaghetti noodles with thin strands of zucchini, then loads the dish up with vibrant, seasonal veggies. It's perfect on its own, or paired with grilled fish or steak for a healthy dose of protein.
This veggie-packed dish is great for warmer months when heavy meals take a back seat. Because there's no boiling water or waiting for meat to cook, this dish is ready for the table in just 15 minutes!
Love pasta? Grab your spiralizer and crank out these amazing veggie noodle recipes!
Click Here to Get Your FREE recipe book of 20 Easy Ways to Use Your Spiralizer.
How To Make Pasta Primavera Paleo-Friendly
Pasta primavera is known for ditching meat in favor of colorful vegetables. This version uses rainbow carrots, sliced asparagus, spinach, and zucchini, each offering an array of antioxidants along with different textures and flavors.
To keep the texture interesting, shave, chop, and spiral-slice the vegetables. A spiral slicer fit with a 3-millimeter blade is ideal for thin, spaghetti-like strands of zucchini. You can use a standard vegetable peeler to shave the carrots into thin ribbons.
Keep things seasonal and experiment with different varieties of veggies throughout the year. You can also try making your primavera with broccoli, red bell pepper, and yellow squash.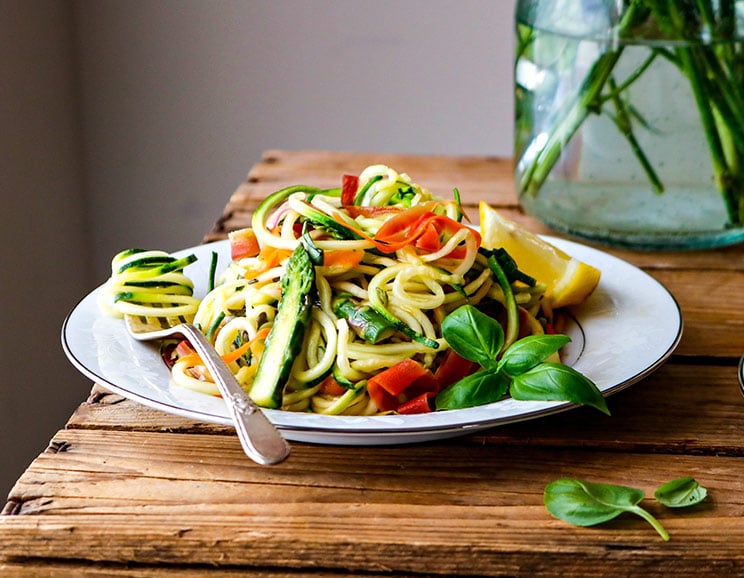 The Perfect Dairy-Free Lemon Butter Sauce
The pasta is cooked in a lemon butter sauce made with ghee. You can also use grass-fed butter if you'd like, but ghee is great for anyone who has lactose sensitivities.
To add herby flavor, we add dried thyme and garlic. Be sure to add the chopped basil as a fresh garnish; it loses flavor when cooked. For more complementary herbs and aromatics, add oregano, chives, or shallots.
Helpful Tips To Get You Started:
There are several ways to make zucchini noodles. Use a julienne peeler if you don't have a spiral slicer.
Don't overcook it! Keep an eye on the veggies while it's cooking, as zucchini noodles can go from tender to mushy in a matter of minutes.
Eat it fresh. For optimal flavor and texture, this dish is best enjoyed as soon as it's cooked. It won't hold up well to reheating.
Jennafer Ashley
Light Pasta Primavera with Veggie Noodles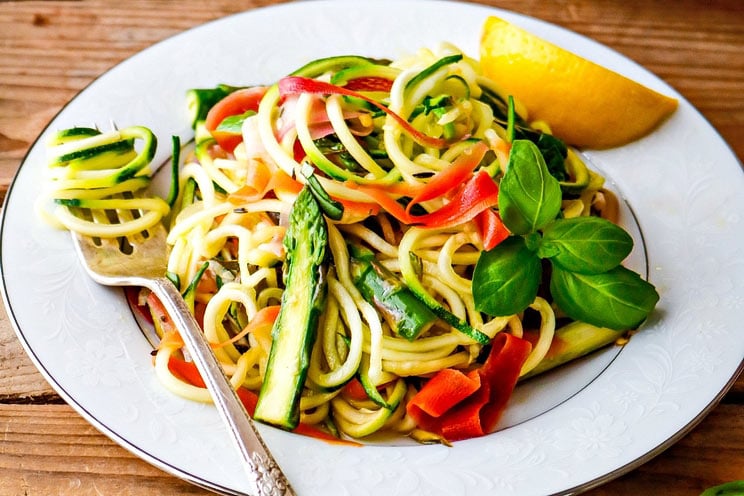 Cook Time:
10 mins
10 minutes
Prep Time:
5 mins
5 minutes
Nutrition facts:
3 grams of protein
11 grams of carbohydrates
12 grams of fat
Light Pasta Primavera with Veggie Noodles
Indulge your pasta craving with this guilt-free, veggie-packed Paleo primavera.
Ingredients
3 T ghee, divided

1 t minced garlic

1 t lemon zest

1 T lemon juice

1 t dried thyme

4 cups zucchini noodles

1 cup shaved carrots

1 cup fresh spinach

2 cups sliced asparagus

1/2 t sea salt

1/3 cup chopped basil
Instructions
Heat 1 tablespoon of ghee in a large sauté pan over medium heat, about 1 minute. Add garlic, lemon zest, lemon juice, and thyme. Sauté for 2 minutes.

Add the remaining ghee, zucchini noodles, carrots, spinach, and asparagus. Use tongs to gently toss to coat the noodles. Cover and cook for 5 to 7 minutes, until tender.

Sprinkle on the sea salt and chopped basil. Serve hot.
Looking for Paleo ingredients? Here are a few we'd recommend:
Ghee (Pure Indian Foods)
Sea salt (REDMOND)

You'll find even more zucchini noodles inspiration with recipes like this soy-free mushroom miso soup. Or keep things Italian-inspired with this pasta carbonara recipe with light zucchini noodles.