Fill up on this soy-free mushroom miso soup with a surprise ingredient.
It can be tricky to recreate Asian flavors on the Paleo diet because many Asian staples like soy sauce and miso are soy-based. This recipe, though, makes smart substitutions to replicate the flavor of Japanese miso soup.
While coconut aminos is an obvious sub for soy sauce, our substitution for miso may surprise you: tahini! The sesame seed paste recreates the creamy mouthfeel of miso soup, while mushrooms, vegetable stock, fish sauce, and coconut aminos all capture the soup's distinctive umami flavor.
Trying to figure out exactly what to eat on Paleo? Look no further than our FREE 21 Day Paleo Meal Plan.
Grab Our FREE Paleo Meal Plan By Clicking Here!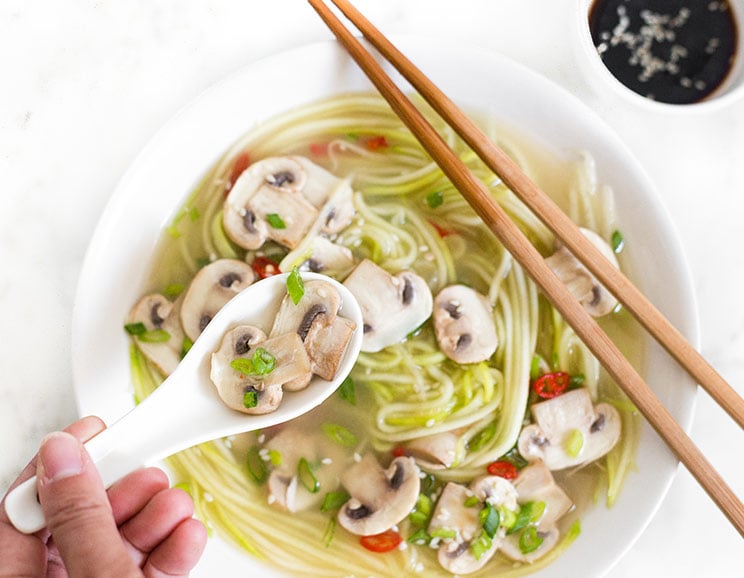 Helpful Tips To Get You Started:
Experiment with different mushrooms. If white button mushrooms are too subtle for your taste, you can try portobello or shiitake mushrooms for an even stronger flavor.
Add in your favorite veggies and proteins. Add more heft to your meal with veggies like carrots and bok choy, or throw in some chicken or steak for protein.
Felicia Lim
Soy-Free Mushroom "Miso" Soup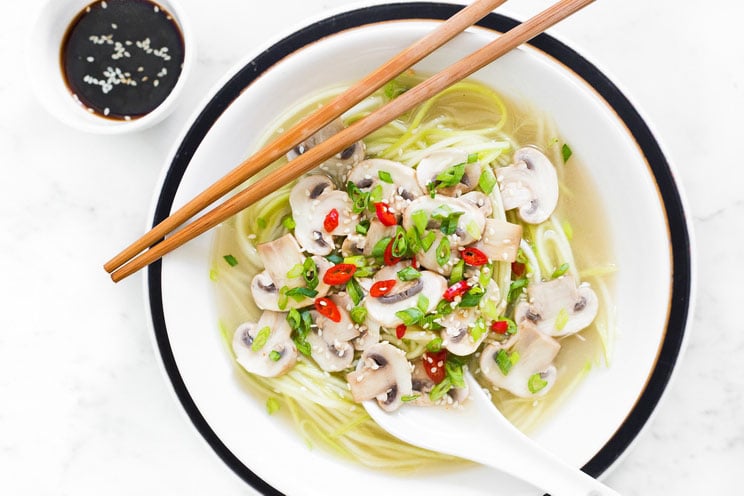 Cook Time:
15 mins
15 minutes
Prep Time:
5 mins
5 minutes
Nutrition facts:
12 grams of protein
34 grams of carbohydrates
10 grams of fat
Soy-Free Mushroom "Miso" Soup
Whip up this soy-free mushroom "miso" soup for a Paleo-friendly dish that looks and tastes like the real deal.
Tools
Julienne peeler

Medium pot

Small mixing bowl
Ingredients
3 ¼ cups water, divided

3 cups vegetable stock

1 T thinly sliced garlic

1 T tahini

1 T fish sauce

1 T coconut aminos plus extra for serving

2 cups white button mushrooms, thinly sliced

1 T fresh lime juice

1 t salt

6 cups zucchini noodles

1 T spring onions, finely chopped

1 T fresh red chili, finely chopped

1 T sesame seeds
Instructions
Combine 3 cups of water, 3 cups of vegetable stock, and sliced garlic in a large pot and bring to a boil.

While the water-stock mixture is coming to a boil, whisk the tahini, fish sauce, coconut aminos, and ¼ cup of hot water together in a small bowl, until smooth and creamy.

Stir the tahini mixture into the pot, add the sliced mushrooms and bring the heat down to medium. Cook the mushrooms for 5 minutes, until tender. Stir in the lime juice and add the salt.

Add the zucchini noodles to the pot and cook for 2 minutes, until al dente.

Divide the noodles and soup evenly between two bowls. Garnish with spring onions, red chili, and a sprinkle of sesame seeds.
Looking for Paleo ingredients? Here's what we recommend:
Sesame seeds (McCormick)
PS: If you want more deliciously healthy, easy meals – like tender beef over roasted spaghetti squash or hearty chicken stew – get our FREE Paleo Eats Cookbook shipped to you now.