Tender, juicy, fall-off-the-bone lemon garlic chicken with a little splash of citrus for an easy crockpot dinner.
Rubbed with seasoning and nested on a bed of garlic and lemon, this four-ingredient recipe is the easiest way to prepare chicken in a slow cooker.
When preparing to cook a whole chicken, make sure to remove any extra bits and pieces from the insides, then rinse the inside and outside very well. Pat dry before seasoning with salt, pepper and any other seasonings you prefer.
Love slow cooker recipes?
Click here to get your FREE copy of our delicious Slow-Cooker Recipes!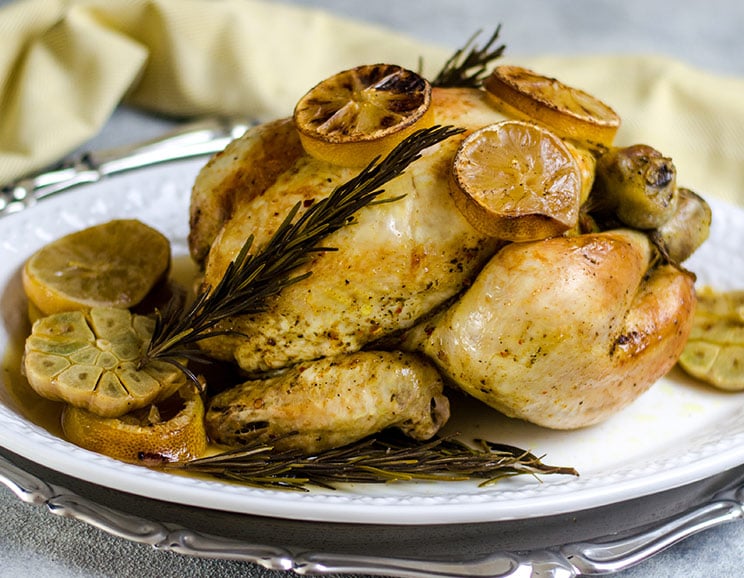 Place the chicken in the crockpot over thick slices of lemon and chopped garlic heads. This step is important! As the chicken cooks, it will release a large amount of liquid. Raising the chicken prevents it from sitting in a pool of liquid for a long period of time and allows more airflow around it.
Cooking a whole chicken in the slow cooker won't give you the brown crispy skin you'd get from roasting in the oven. To get that extra golden skin, just move the chicken carefully out of the slow cooker and onto a baking sheet. Pop it under the broiler for about 5 minutes to quickly crisp up the chicken!
You'll have a good amount of liquid from the chicken in the bottom of the slow cooker. Pour the garlicky juice over the chicken when serving to make sure you get all that delicious lemon flavor with your meal!
Tips:
To make this recipe with boneless chicken breasts, cook for about 2 hours on high.
For a more accurate way to monitor the chicken, use a meat thermometer. When the thickest part of the chicken reaches 165 degrees, it's done!
Dina Hassan
No-Fail Crockpot Lemon Garlic Chicken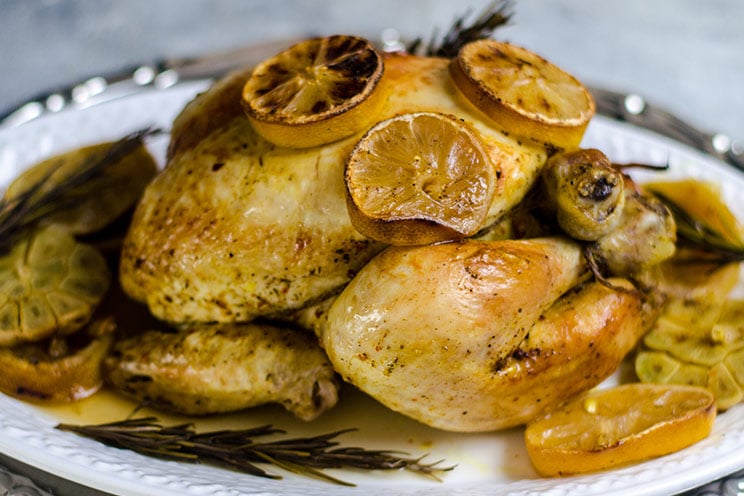 Prep Time:
10 mins
10 minutes
No-Fail Crockpot Lemon Garlic Chicken
Tender, juicy, fall-off-the-bone chicken with a little splash of citrus for an easy crockpot dinner.
Ingredients
3 lemons

3 garlic heads

1 whole chicken, 2 ½ - 3 pounds

Fresh rosemary sprigs

Salt and pepper
Instructions
Slice the lemons into thick slices, cut the garlic heads in halves (no need to peel!).

Lay the lemons and garlic in the bottom of the slow cooker, setting aside one garlic half and a few lemon slices.

Rinse the chicken and pat dry. Generously season the chicken inside and out with salt and pepper, and with any other favorite spices.

Stuff the chicken with the reserved garlic and lemon slices, and add to the crockpot. Top with rosemary sprigs and remaining lemon slices. Cook on high for 4 hours.

Turn off the slow cooker and transfer the chicken to an oven tray. Broil for about 5 minutes, or until the skin is crispy and golden brown.

Remove from the oven, let rest for 10 minutes, then top with lemon and garlic juices from the crockpot. Carve and serve.
You'll Also Love: Crockpot Chicken and Cauliflower Rice Soup

Lose weight, fight inflammation, and soothe your digestion with delicious meals like juicy skirt steak with cucumber & radish salad, succulent pulled pork, and more!
FREE Cookbook:
80 Gourmet Paleo Recipes from
a Professional Chef trained at Le
Cordon Bleu in Paris
FREE Cookbook:
80 Gourmet Paleo Recipes
from a Professional Chef
trained at Le Cordon Bleu
in Paris