This hearty dish puts a healthy spin on the classic cheeseburger casserole!
This Paleo casserole fuses your favorite cheeseburger fixings with fresh veggies for a lighter, healthier meal. Crumbled ground beef gets mixed with a savory spice mix, then tossed in with sweet potato noodles. The best part is that this saucy beefy goodness easily comes together in one skillet and in under 30 minutes.
Use a spiralizer to make the sweet potato noodles. Note: Make sure to apply a good amount of pressure while spiralizing. If you don't, it won't work as smoothly.
Love slow cooker recipes?
Click here to get your FREE copy of our delicious Slow-Cooker Recipes!
If you don't have a spiralizer, you can use a julienne peeler. When using the peeler, hold the potato with one hand and slowly pull the peeler down the potato with your other hand. Repeat this process until the whole sweet potato is done. This method will take some elbow grease!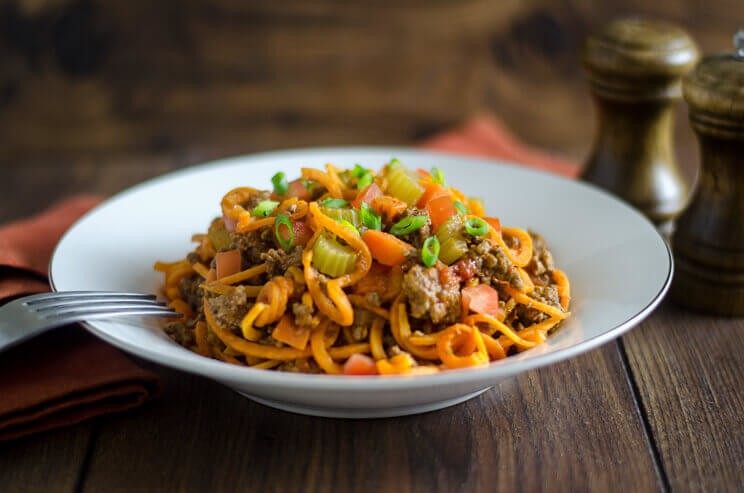 When choosing the right sweet potato for spiralizing, make sure it is not overripe, as it won't spiralize as well and the noodles will break easily. Make sure the sweet potato is firm and doesn't have too many dark spots on the skin. Also, choose sweet potatoes that are similar in circumference to a zucchini. Thinner sweet potatoes will fit easily in the spiralizer and will make the spiralizing process easier.
This recipe is great as quick weekday dinner after a long day at work. It also can be stored in the fridge and reheated as needed; just double the ingredients, make a batch on Sunday and enjoy throughout the week!
Dina Hassan
Sweet Potato Cheeseburger Casserole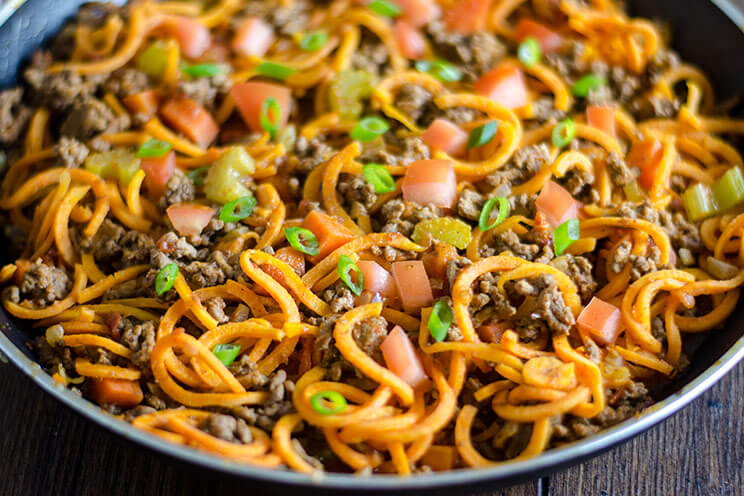 Cook Time:
20 mins
20 minutes
Prep Time:
10 mins
10 minutes
Sweet Potato Cheeseburger Casserole
This Paleo casserole fuses your favorite cheeseburger fixings with fresh veggies for a lighter, healthier meal.
Tools
Large skillet

Wooden spoon
Ingredients
3 medium sweet potatoes, spiralized

1 T extra virgin olive oil

1 medium onion, finely chopped

1 medium carrot, chopped

1 celery stalk, chopped

1 lb grass-fed ground beef

1 t dried oregano

½ t garlic powder

1 t smoked paprika

½ t chili powder

1 ½ cups chicken stock

1 cup crushed tomatoes

Chopped tomatoes and green onion to garnish

Salt and pepper to taste
Instructions
Heat extra virgin olive oil in a large skillet over medium-high heat; add onion, carrot and celery. Cook for 3 minutes until onion is translucent and veggies are softened.

Increase heat to high and add ground beef. Cook for 5 minutes, breaking meat up as it cooks, until beef has browned and is no longer pink. Add oregano, garlic powder, smoked paprika and chili powder. Season with salt and pepper, to taste.

Stir in the chicken stock and the crushed tomatoes. Reduce heat to medium-low and bring to a simmer; add spiralized sweet potatoes and cook for another 10 minutes until sweet potatoes are slightly softened and sauce is reduced. Remove from heat and top with chopped tomatoes and spring onions. Serve warm.
Tip: Take this cheeseburger casserole recipe up a notch and add your favorite burger toppings like pickled jalapeño or crumbled bacon. The variations are endless!

(You'll Also Love: Sweet Potato Casserole)