Dark chocolate encases a sweet whipped "nougat" in these homemade "3 Musketeers" Bars!
This copycat Musketeers Bar recipe gets transformed into a better-for-you treat with just five Paleo-friendly ingredients. With a hard dark chocolate shell surrounding a creamy, fluffy filling that melts in your mouth, this knockoff is so much better than the original!
The creamy center is made with a combination of gelatin, raw cacao powder and dates. Be sure to soak the dates in water for at least 30 minutes before making these candy bars – the longer you soak your dates, the creamier the center of your bars will be. Raw cacao powder balances the sweetness of the dates while gelatin makes the "nougat" extra fluffy!
Love Paleo Desserts? Then you'll love our FREE Paleo Dessert Cookbook.
Click here to get your FREE copy of our delicious Dessert Recipes!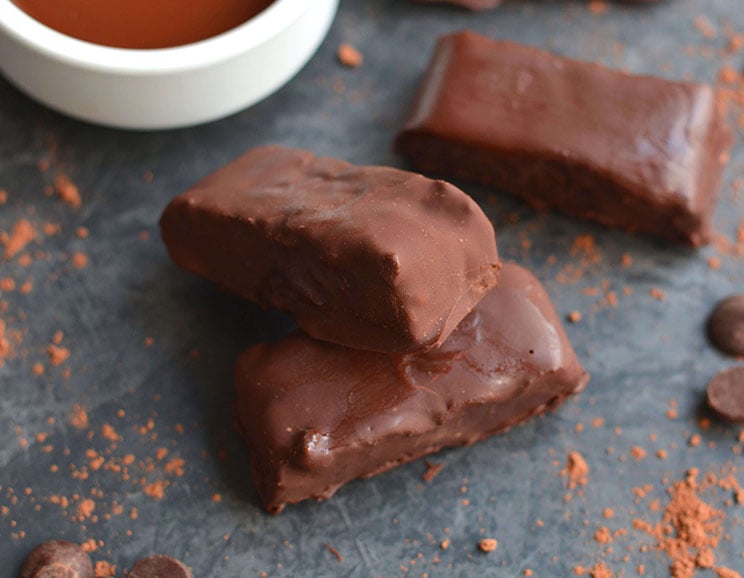 When you mix the ingredients in a food processor, the texture will be spongy. Press the nougat into a mini loaf pan and transfer to the freezer for 20 minutes to set.
Meanwhile, melt coconut oil and dairy-free dark chocolate over a double boiler until rich and creamy. Once the nougat sets, slice them into four bars and carefully dip each one in the chocolate coating. Use two spatulas or spoons to transfer the bars to parchment paper, and place back in the freezer for another 15 minutes to harden.
Enjoy your 3 "Musketeers" Bars straight out of the freezer for a crave-worthy anytime treat!
Megan Olson
Paleo '3 Musketeers' Bar Recipe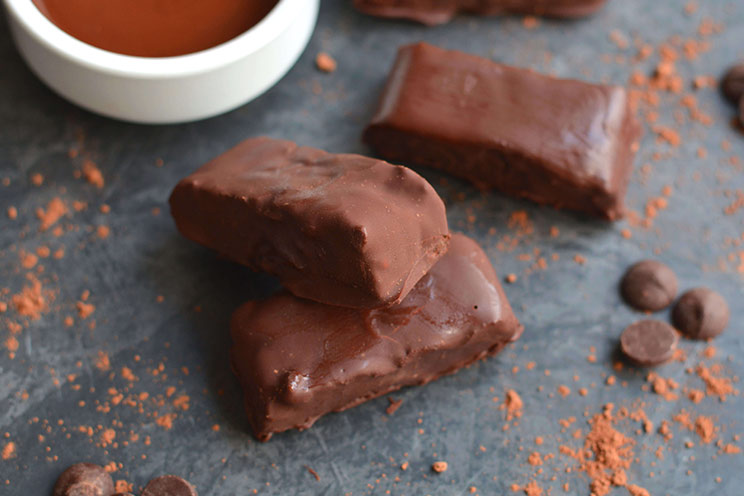 Cook Time:
5 mins
5 minutes
Prep Time:
40 mins
40 minutes
Paleo '3 Musketeers' Bar Recipe
Tools
Food processor

5.75 x 3.25" mini loaf pan

Parchment paper

Double boiler
Ingredients
1 cup dates, pitted and soaked for 30 minutes

2 T unflavored gelatin

2 T raw cacao powder

½ T coconut oil

1 cup dairy-free chocolate
Instructions
Line a mini loaf pan with parchment paper.

Place the dates, gelatin and raw cacao powder in a food processor. Process on high until the dates are broken down and the batter is spongy.

Transfer the batter to the prepared baking pan and press it into a smooth layer.

Place in the freezer for 20 minutes.

Remove from the freezer and slice into 4 bars.

In a double boiler over medium heat, melt the chocolate with the coconut oil. Turn off the heat.

Dip each bar into the chocolate mix, coating it entirely.

Place the bars back on the parchment paper and freeze for 15 minutes to harden.
Looking for Paleo ingredients? Here are a few we'd recommend:
Raw cacao powder (Healthworks)
Cold pressed coconut oil (Viva Naturals)
Dairy-free chocolate chips (Enjoy Life)
(You'll Also Love: Paleo Klondike Bar with Cashew Ice Cream)