Switch up your hamburger game and fry up these juicy, sweet potato chicken patties.
These low-carb chicken patties with scallions and garlic make a great protein-rich lunch that your whole family will love! They're packed with antioxidant-rich sweet potatoes and lightly fried in anti-inflammatory coconut oil for a nourishing meal.
Start by sautéing spring onions and finely diced sweet potatoes in a skillet until tender. Transfer the cooked vegetables to a bowl and add the minced chicken, egg, coconut flour and seasonings, mixing well. Form the mixture into 8 patties, then fry in coconut oil until both sides are golden brown.
Love slow cooker recipes?
Click here to get your FREE copy of our delicious Slow-Cooker Recipes!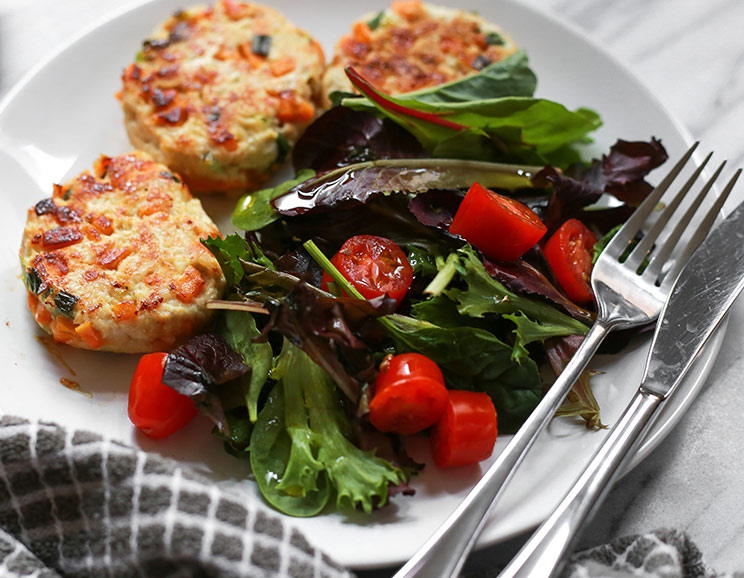 Serve your sweet potato chicken patties with a fresh green salad for a full, satisfying meal!
Tip: If you can't find minced chicken, simply chop skinless chicken breasts or thighs into small pieces, add to a food processor, and pulse until minced.
Felicia Lim
Sweet Potato Chicken Patties Recipe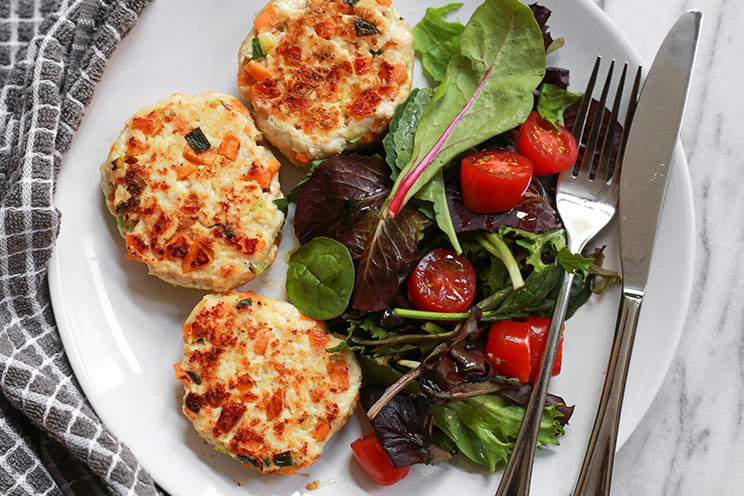 Cook Time:
20 mins
20 minutes
Prep Time:
10 mins
10 minutes
Sweet Potato Chicken Patties Recipe
Switch up your hamburger game and fry up these juicy, sweet potato chicken patties.
Tools
Large skillet

Large mixing bowl
Ingredients
2 T coconut oil, divided

2 cups spring onions, chopped

2 cups sweet potato, diced

1 lb minced chicken

3 garlic cloves, minced

1 t dried garlic

1 t salt

1 t dried parsley

1 egg beaten

2 T coconut flour
Instructions
Heat 1 tablespoon of coconut oil in a skillet over medium heat, and sauté the spring onions and sweet potatoes for 3 to 4 minutes or until tender, stirring occasionally.

Turn off heat. Transfer the cooked spring onions and sweet potatoes to a large mixing bowl, then add all remaining ingredients. Mix well.

Scoop out the mixture to form 8 patties (about 2 tablespoons each).

Wipe the skillet clean and heat remaining coconut oil over medium heat. Add patties in a single layer and cook about four minutes per side, or until golden brown.
Looking for Paleo ingredients? Here are a few we'd recommend:
Cold pressed coconut oil (Viva Naturals)
Coconut flour (Nutiva)

(You'll Also Love: 4-Ingredient Tuna Patties Recipe)
Lose weight, fight inflammation, and soothe your digestion with delicious meals like juicy skirt steak with cucumber & radish salad, succulent pulled pork, and more!
FREE Cookbook:
80 Gourmet Paleo Recipes from
a Professional Chef trained at Le
Cordon Bleu in Paris
FREE Cookbook:
80 Gourmet Paleo Recipes
from a Professional Chef
trained at Le Cordon Bleu
in Paris