Nutty Paleo "Payday" Bars are made with cashews and creamy nut butter for a salty, chewy treat.
If you love the chewy, nutty flavor of Payday Bars, then this recipe is for you! Cashews replace the peanuts for a crunch rich in healthy fats and minerals while the marshmallow center gets swapped with creamy cashew butter. You get the same lusciously smooth candy bar, without all the needless sugar.
Begin by lining a baking pan with parchment paper and covering the bottom with cashew pieces. For the filling, whisk cashew butter, coconut oil, honey, vanilla and salt over medium heat until thick. Tip: Add 1-2 tablespoons of a little coconut cream if the mixture seems thin.
Love Paleo Desserts? Then you'll love our FREE Paleo Dessert Cookbook.
Click here to get your FREE copy of our delicious Dessert Recipes!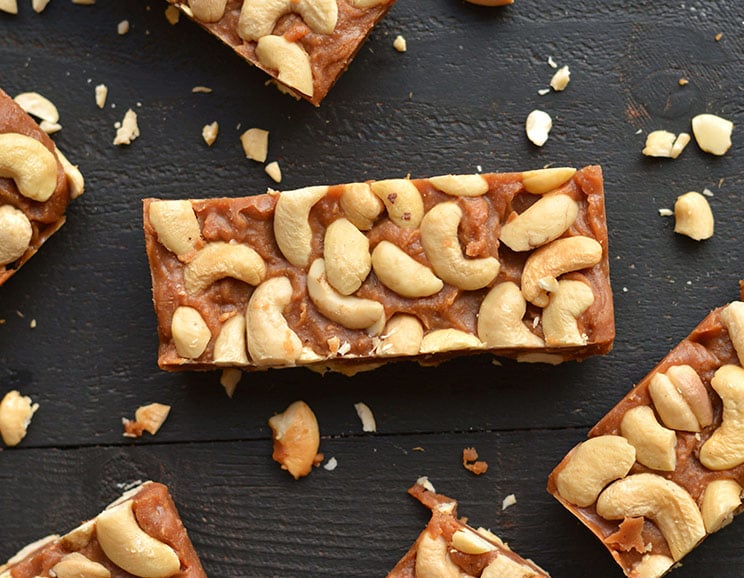 Pour the filling over the cashew layer and smooth evenly, working quickly because it hardens easily. Sprinkle with more cashew pieces and set in the fridge before slicing into bars.
Store your Paleo "Payday" Bars in the refrigerator and enjoy as a cool treat whenever you need something crunchy, salty and chewy!
Tip: Try jazzing up your bars by adding shredded coconut, dairy-free chocolate chips, or raisins.
Megan Olson
Paleo 'PayDay' Bars Recipe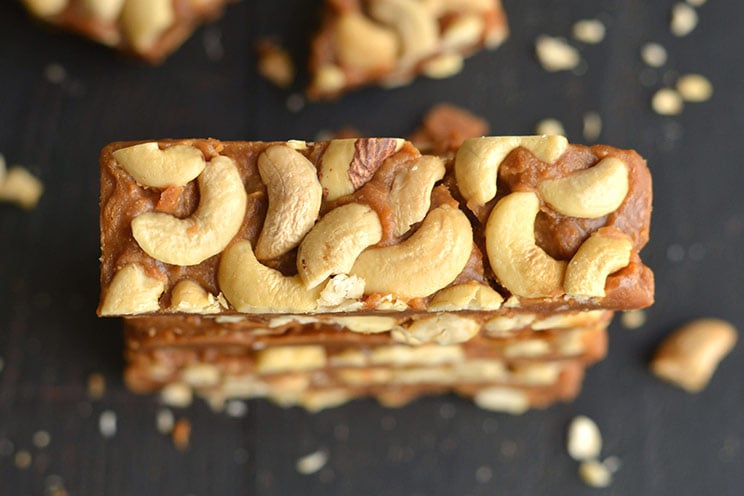 Cook Time:
2 hrs 5 mins
2 hours 5 minutes
Prep Time:
10 mins
10 minutes
Paleo 'PayDay' Bars Recipe
Tools
9x5" baking pan

Parchment paper

Saucepan

Whisk
Ingredients
3 cups raw cashew pieces, divided

½ cup creamy unsalted cashew butter

4 T coconut oil

4 t raw honey

½ t vanilla extract

½ t sea salt
Instructions
Line a baking pan with parchment paper and cover the bottom with half the cashew pieces.

Heat a saucepan over medium heat. Add the cashew butter, coconut oil, honey, vanilla and salt and whisk until thick, about 5 minutes.

Pour the mixture over the cashews and work quickly to smooth into an even layer.

Cover with the remaining cashews.

Place the pan in the refrigerator for 2 hours to harden. Slice into 10 bars and enjoy!
Looking for Paleo ingredients? Here are a few we'd recommend:
Cashew butter (Georgia Grinders)
Cold pressed coconut oil (Viva Naturals)
Raw honey (Bee Farms)

(You'll Also Love: No-Bake 4-Ingredient Paleo Bounty Bars)