Make your tacos in a muffin tin and load them up with a savory ground beef and sweet potato filling!
I think it's safe to say that we collectively love tacos and pie. So it only seemed natural to combine these two favorites into one flavorful recipe.
Classic taco-spiced beef gets a hint of sweet from minced sweet potatoes. This crispy pie crust, made from almond flour, is the perfect vessel for our savory taco filling. Top it all off with fresh cilantro, salsa, and guacamole and you've got bite-sized taco pies.
Love Almond Flour Recipes? Then you'll love our FREE Almond Flour Recipes.
Click here to get your FREE copy of our delicious Almond Flour Recipes!
Enhance The Spices
You'll notice that the filling starts by toasting a combination of classic taco spices, like chili powder, coriander, and smoked paprika. Just a few minutes in a dry pan will toast the spices, allowing their flavors to really shine through.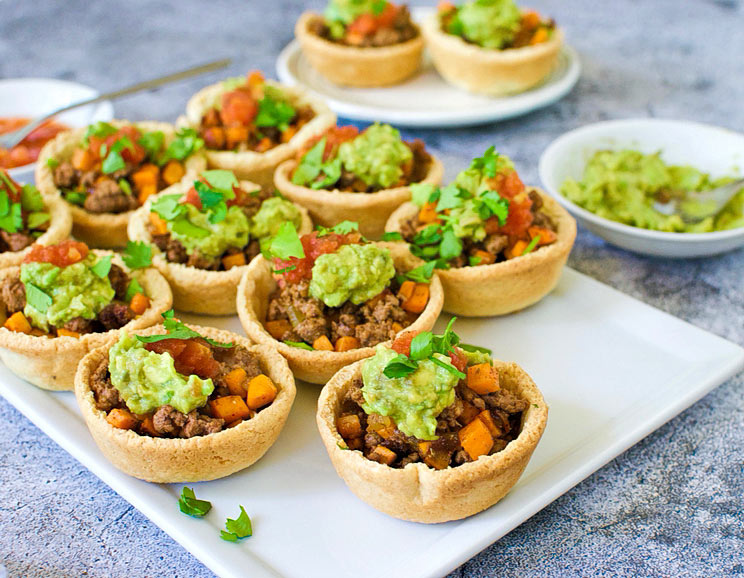 No Cookie Cutter? No Problem
This dough gets its pliability from gelatin. It comes together in the food processor and rolls easily between two sheets of parchment paper.
When it comes time to cut the cookies, a cookie cutter works well, but so does the top of a drinking glass, or anything that will cut a circle about 3 inches in diameter. No need to stick to conventional tools.
Helpful Tips To Get You Started:
Keep the veggies small. Finely mince the sweet potatoes and onions in this recipe. Keeping them small will allow a better mixture of flavors in each mini pie.
Prep the muffin tins. Non-stick or not, don't skip greasing the muffin tins. The mini pies will slide right out of a well-greased muffin tin.
Get creative with the toppings. Don't be afraid to play with the toppings. The combinations are endless. Try bits of crispy bacon, shredded chicken, or chopped jalapeños!
Danielle Moore
Mini Taco Pies Made in a Muffin Tin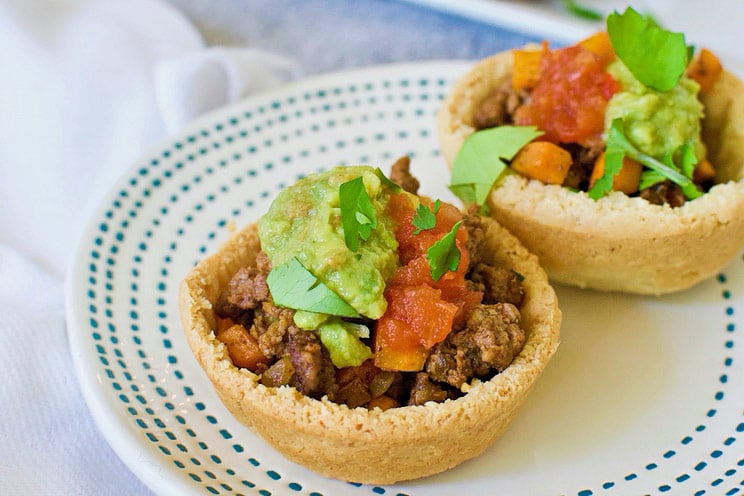 Inactive Time:
5 mins
5 minutes
Cook Time:
30 mins
30 minutes
Prep Time:
40 mins
40 minutes
Nutrition facts:
10 grams of protein
9 grams of carbohydrates
17 grams of fat
Mini Taco Pies Made in a Muffin Tin
Make your tacos in a muffin tin and load them up with a savory ground beef and sweet potato filling.
Tools
Muffin tin

Small saucepan

Small mixing bowl

Food processor

Parchment paper

Large skillet
Ingredients
For the Crust:
2 T ghee, plus extra for greasing

1/4 cup water

1 T gelatin

2 cups almond flour

1/2 t salt
For the Filling:
1 t chili powder

1 t coriander

1/2 t smoked paprika

1/2 t dried oregano

1 T olive oil

1/2 lb ground beef

1/3 cup finely chopped onion

1 cup peeled and diced sweet potatoes

Salt and pepper to taste
For the Garnish:
1/4 cup guacamole

1/4 cup salsa

1/4 cup chopped cilantro
Instructions
To Make the Crust: Preheat oven to 350°F. Grease a muffin tin with ghee and set aside.

In a small saucepan, bring the water to a boil, then transfer it to a small, heat-proof mixing bowl. Sprinkle the gelatin over the top. Set aside for 5 minutes.

In a food processor, pulse the almond flour, salt, and ghee until combined.

Whisk the gelatin into the water until it's dissolved. Add the mixture to a food processor and pulse 1 to 2 minutes, until a cohesive dough forms.

Turn the dough out onto a large sheet of parchment paper. Top with another large sheet of parchment paper. Roll out the dough between two sheets of parchment until about ¼-inch thick.

Cut out eight 3-inch circles from the dough. Form the remaining dough into a ball and roll out again. Cut four more circles to make 12 dough circles in total.

Place each circle in the prepared muffin tin and gently press to make a cup. Transfer to the oven and bake for 10 to 12 minutes, until golden.

To Make the Filling: In a large sauté pan, toast the chili powder, coriander, smoked paprika, and oregano over medium heat for 2 to 3 minutes, stirring occasionally.

Increase heat to medium-high and add olive oil to the pan. Add beef to pan and cook for 5 to 7 minutes, breaking it up as it cooks. Remove it and set it aside, reserving the grease in the pan.

To the same pan, add the onion and sweet potatoes and cook for 5 to 7 minutes, stirring occasionally, until the onions are translucent and the sweet potatoes are tender.

Add the beef back to the pan and toss to combine. Season with salt and pepper to taste.

Scoop the mixture into the mini pie crusts. Top with guacamole, salsa, and cilantro.
Looking for Paleo ingredients? Here are a few we'd recommend:
Ghee (Pure Indian Foods)
Unflavored gelatin (Great Lakes)
Almond flour (Hodgson Mill)
Ancho chili powder (Simply Organic)
Olive oil (Sky Organics)
Looking for more mini, easy recipes? These 31 adorable Paleo meals you can make in a muffin tin have everything from eggs in hash brown nests to bacon guacamole cups!