Bite into these creamy keto cheesecakes made with dairy-free eggnog and silky coconut oil.
These no-bake desserts are the perfect holiday treat for anyone needing a guilt-free indulgence. They're ready in under an hour and go perfectly with your favorite hot chocolate.
To keep the crust Paleo-friendly, coconut oil steps in for eggs and binds everything together. And for a flavor reminiscent of graham cracker crusts, you'll be adding almonds and cinnamon – no gluten needed!
Love Paleo Desserts? Then you'll love our FREE Paleo Dessert Cookbook.
Click here to get your FREE copy of our delicious Dessert Recipes!
Soaked cashews and coconut cream pair up to create a silky, dairy-free cheesecake layer. Tip: Allow the cashews to soak overnight to create an extra smooth blend.
Monk fruit sweetener keeps things keto and low carb. Best part is, it doesn't include the bitter aftertaste that many calorie-free sweeteners are known for. If you're not following a strict keto diet, you can substitute it with raw honey or maple syrup.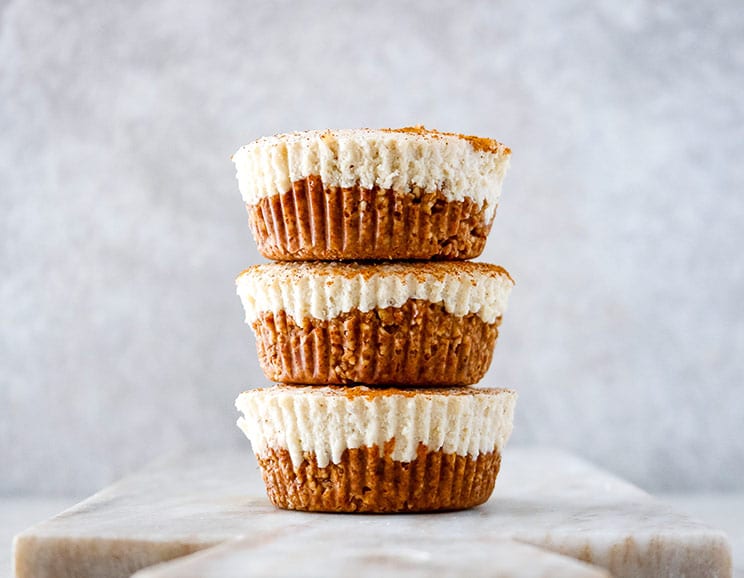 To get started, begin by blending the ingredients for the crust layer in a food processor. Pulse until fine and crumbly with a consistency that's similar to wet sand. When ready, press the mixture into six muffin tin cavities prepped with liners. Transfer to a freezer and let it set for 10 minutes.
While the crust sets, prepare the cheesecake layer in the food processor by blending its ingredients until smooth and creamy. Spoon the cheesecake mixture onto each crust layer and freeze for 20 minutes. Serve chilled and enjoy or keep refrigerated in an airtight container for up to one week.
Tip: These cheesecakes can be frozen for up to one month. Thaw in the refrigerator for up to six hours before serving.
Jennafer Ashley
Keto Eggnog Cheesecakes Made in a Muffin Tin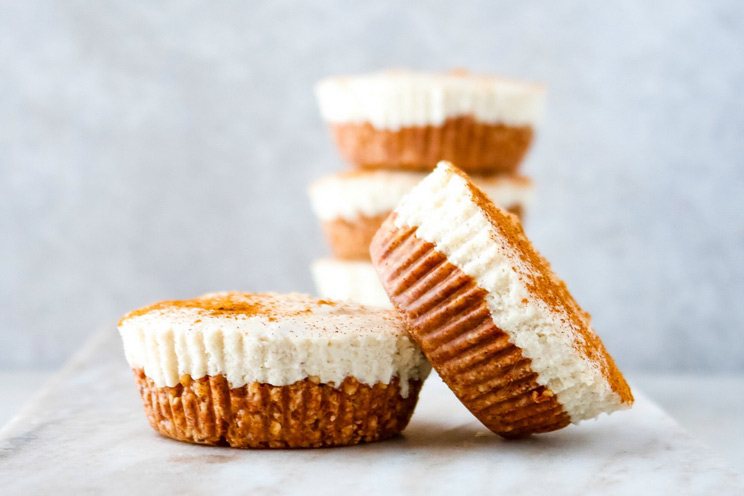 Inactive Time:
30 mins
30 minutes
Prep Time:
10 mins
10 minutes
Nutrition facts:
8 grams of protein
10 grams of carbohydrates
38 grams of fat
Keto Eggnog Cheesecakes Made in a Muffin Tin
Ring in the holiday season with mini Keto cheesecakes flavored with dairy-free eggnog, nuts, and plenty of healthy fats.
Tools
Muffin tin

Muffin liners

Food processor
Ingredients
For the Crust Layer:
1 cup raw unsalted almonds

1/4 cup coconut oil

1 T ground cinnamon

1/4 t sea salt
For the Cheesecake Layer:
3/4 cup cashews soaked in 1 cup water overnight, drained

1/2 cup unsweetened coconut cream

2 T coconut oil, melted

1 T monk fruit sweetener

1 T lemon juice

1/4 t ground nutmeg
Instructions
Prep muffin tin with 6 liners.

To Make the Crust: Add the ingredients for the crust layer to a food processor. Blend for 2 minutes, or until finely ground and moistened.

Spoon the mixture into the muffin liners and press firmly with your fingertips. Freeze for 10 minutes.

To Make the Cheesecake: Clean the food processor and add the ingredients for the cheesecake layer. Blend until smooth (about 1 minute), scraping down the sides as needed.

When the crust is ready, spoon the cheesecake layer on top of crust layer. Gently tap the muffin tin on a countertop to evenly distribute.

Freeze for 20 minutes to set, then serve chilled and enjoy!
Looking for Paleo ingredients? Here are a few we'd recommend:
Raw almonds (NOW Foods)
Cold pressed coconut oil (Viva Naturals)
Ground cinnamon (Simply Organic)
Sea salt (REDMOND)
Raw cashews (Terrasoul Superfoods)
Coconut cream (Native Forest)
Monk fruit powder (Julian Bakery)
Ground nutmeg (Simply Organic)

(You'll Also Love: 24 Easy, Dairy-Free Cheesecake Recipes
)