These Mini Paleo Apple Pies are a fun twist on the classic (full-sized) dessert and their sumptuous taste does not disappoint!
The dough is fragile, so take your time when preparing, especially with the lattice steps – just breathe and gently create the fancy touches.
This recipe is egg-free, gluten-free and dairy-free, and these bite-sized desserts yield maximum satisfaction.
Love Paleo Desserts? Then you'll love our FREE Paleo Dessert Cookbook. Click here to get it!
Rebecca Hughes
Mini Paleo Apple Pies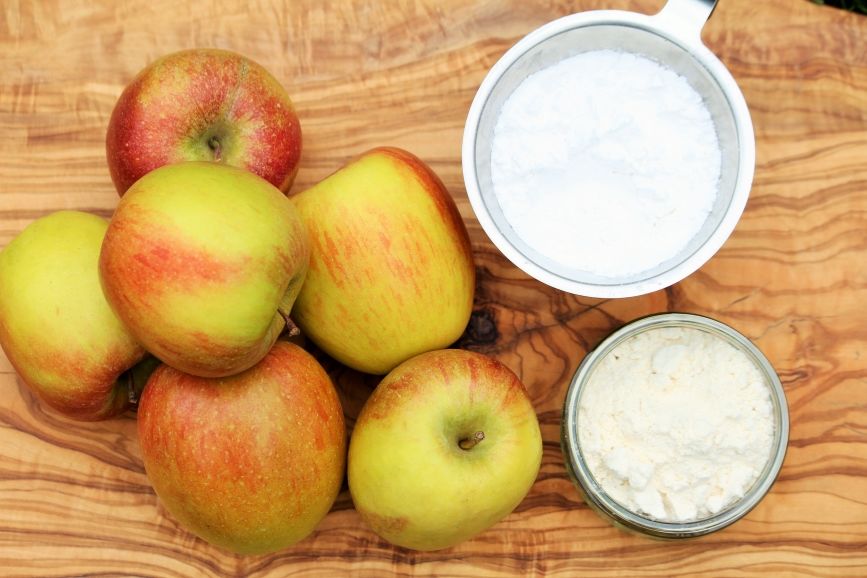 Cook Time:
20 mins
20 minutes
Mini Paleo Apple Pies
Ingredients
3/4 cup arrowroot flour

3/4 cup coconut flour

1/4 t sea salt

1/4 cup water

6 T coconut oil, melted (or 3 T coconut oil + 3 T olive oil)

4 to 6 T honey or maple syrup

1 1/4 cup peeled and chopped apples

3 cups peeled and chopped apples

1 t cinnamon

1/4 t mixed spice

1 t vanilla extract

3 T honey or maple syrup
How to Make It: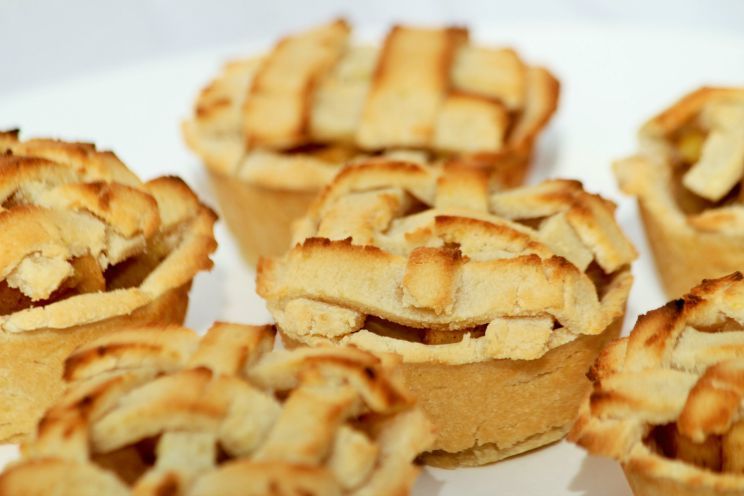 1. Preheat the oven to 350°F.
2. To make the crust: In a large bowl, mix the dry ingredients (arrowroot flour, coconut flour and sea salt).
3. Add the 1 ¼ cup apples to a pan with a little water and heat until the apples are slightly softened.
4. Add the apples, water, coconut oil (and olive oil if using) and 4 to 6 T honey or maple syrup (amount depends on how sweet you want it to be) to a blender. Blend together until the apples have broken down and are fully combined with the other ingredients.
5. Add the apple mix to the dry ingredients and mix until a dough forms.
6. Lightly grease a muffin baking tray with olive oil or coconut oil.
7. Divide the dough into twelve pieces. One at a time, roll six of the pieces between two sheets of parchment paper until it is about 1/4 in thick. Press the flattened dough into each muffin hole and trim any excess. Leave the rest of the dough to one side.
8. For the apple pie filling: Add 3 cups of apples, cinnamon, mixed spice, vanilla and honey or maple syrup to a pan. Heat on a medium-heat for about five minutes or until the apples are softened.
9. Add the filling to the six pie crusts in the muffin tin.
10. To create the lattice pie topping: Roll out the remaining dough to about ¼ in thick. Cut the edges off to create straight lines all around so that the dough forms a rectangle shape. Cut vertical strips so that each strip is approximately ½ cm thick. Once the vertical strips are created, cut one horizontal line through the centre of the dough. You should now have a series of small dough strips.
11. Add three vertical strips on top of the pie. (This dough is very fragile and may break but it can be easily pressed back together). Fold back the middle strip, then place a strip horizontally and place the middle strip back down, overlapping the new strip. For the middle horizontal strip, carefully place it under the left outer strip, then overlapping the middle strip, and under the right strip. For the bottom horizontal strip, carefully lift up the vertical centre strip and place it underneath with the outer parts overlapping the outer vertical strips. Repeat for the other pies and remain calm!
12. Bake the pies for 15 to 20 minutes or until golden brown on top.
13. Remove from the oven and leave on a cooling rack before removing from the muffin tray. Enjoy!
(You'll Also Love: Paleo Shepherd's Pie)
It's ooey gooey chocolate cake - and it's healthy for you! Which means no blood sugar spikes… no guilt… and it'll even help you lose weight.
FREE Recipe:
Black Forest Cake with Silky Chocolate Icing… and it's 100% Paleo Friendly!
FREE Recipe:
Black Forest Cake with
Silky Chocolate Icing…
and it's 100% Paleo
Friendly!