I bet you cringe just thinking about it. Painful leg cramps can come on suddenly, but they don't have to last long. Try these easy stretches the next time your leg starts to spasm!
Also known as a Charley Horse or muscle spasms, painful leg cramps are usually the result of one of four things: dehydration, muscle strain, holding a particular position for too long, or taking certain medications.
While temporary, leg cramps often come on suddenly and can hurt quite a bit. The calf is the most common muscle to get cramped up, but your hamstrings and quadriceps are susceptible too. When a cramp sets in, you can often feel a hard lump in the muscle where the spasm is happening.
Can you spare 10 minutes a day? Then you can do this 7-Day Paleo Weight Loss Bodyweight Workout Challenge!
Click here to get your FREE copy!
There are different at-home remedies to help with leg cramps, but the easiest way to take care of a painful cramp is to stretch out in order to release the spasm. If you find that you are experiencing leg cramps often, make sure to drink plenty of water and do these stretches once or twice per day.
You can do these five easy stretches in the middle of a painful leg cramp, or preventatively every morning and evening. All you need is yourself, a wall, and a foam roller if you want to add in some SMR.
Wall Calf Stretch | 20 sec per side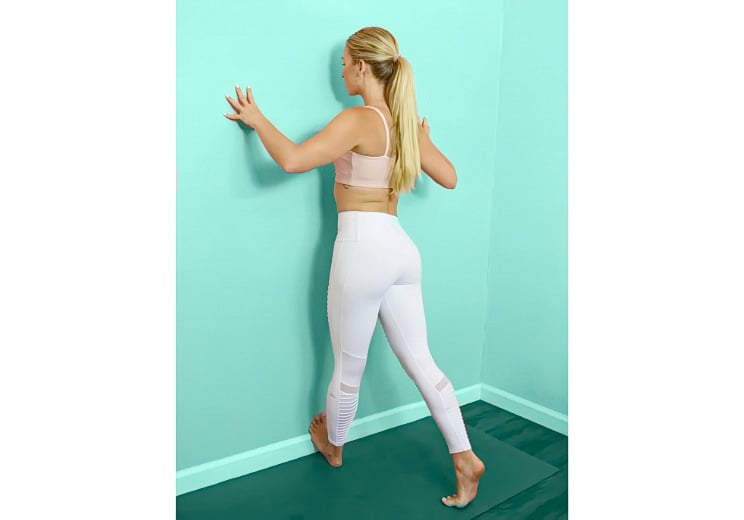 If you get painful leg cramps in your calves, use this stretch to release tightness and spasms.
Stand with both hands resting on a wall.
Put the ball of your right foot on the wall, keeping the heel on the floor.
Keep the legs straight and lean your hips towards the wall.
Hold the stretch for at least 20 seconds, then switch sides.
Quad Stretch | 20 sec per side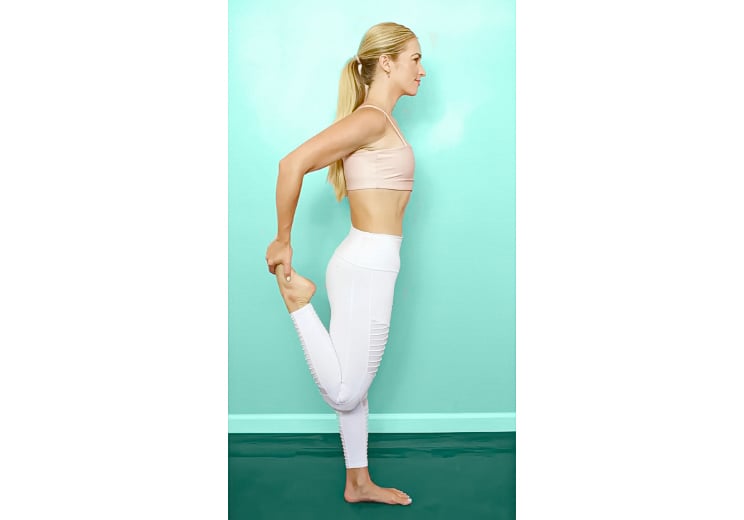 Prevent and release painful leg cramps in the quadriceps with this stretch.
Stand with your left shoulder facing the wall, and rest your hand on the wall for support.
Shift your weight into your left foot and bend your right knee to bring the heel towards your glutes. Catch the top of your right foot with your right hand.
Keep your chest lifted and press your hips forward as you hug your heel in.
Hold for 20-30 seconds, then switch sides.
Scissor Stretch | 20 sec per side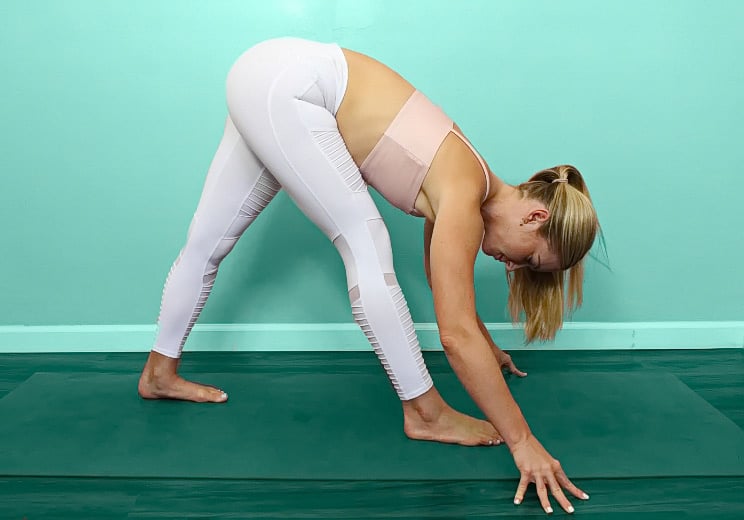 Say goodbye to tense hamstrings with this stretch.
Begin standing with your right foot forward and your left foot back a few feet. The left toes should point slightly outward at a 45-degree angle.
Engage your abs and fold forward with a flat back, bringing your hands to the floor to frame your right foot.
Keep your belly close to your right thigh, bringing a small bend into the knees if you need to. Let your head hang heavy.
Hold for 20-30 seconds as you feel a stretch through the back of your thighs. Switch sides.
Seated Calf and Hamstrings Stretch | 20 sec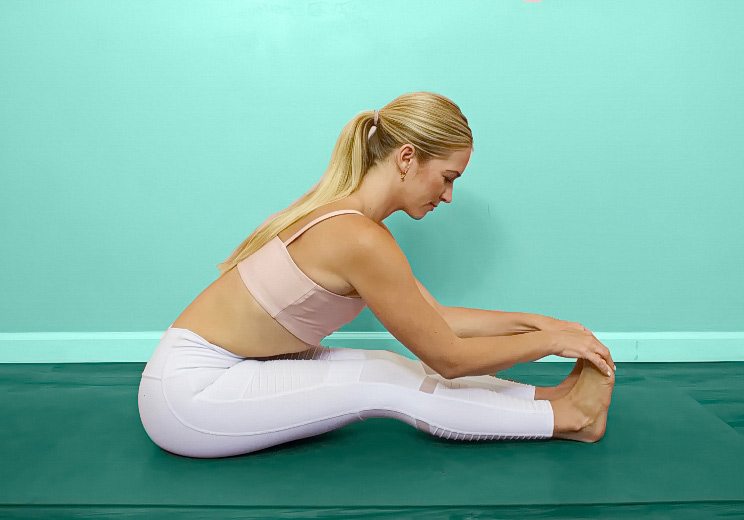 This double whammy stretch loosens up both the calves and hamstrings to release painful cramps.
Sit on the floor with your legs straight out in front of you. Bring a small bend into your knees, and flex your feet.
Inhale and reach forward to catch the tops of your feet with your hands.
Gently pull back on the tops of your feet to feel a good stretch. Keep your spine long as you hold for 20-30 seconds.
Foam Roller SMR | 1 min per side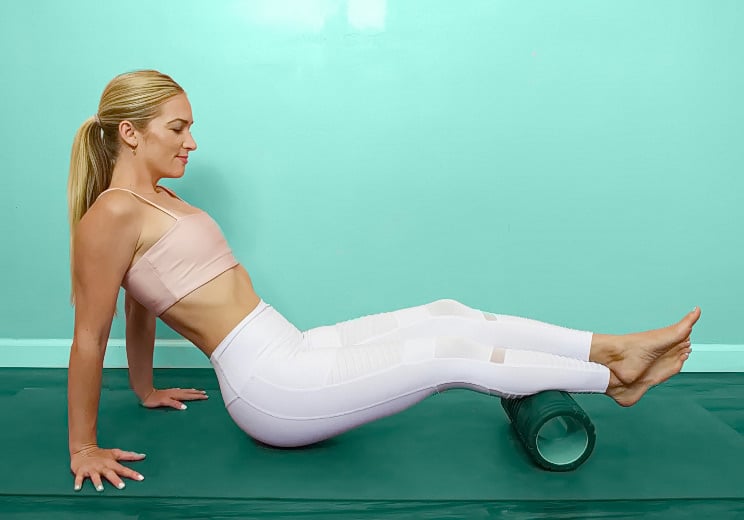 Self-massage is a vital tool for releasing muscle tension. Grab a foam roller and massage out your leg cramps!
Sit on the floor and place a foam roller in front of you. Rest the lower part of your right calf on the foam roller and cross your left ankle over your right to apply some pressure.
Place your palms down by your hips and press into them to lift the hips up. Slide your body forward so that the foam roller rolls up your leg. Go nice and slow.
When you find the cramping or tight spot, stop and hold the foam roller there for 20-30 secs or until you feel the tightness release.
Roll slowly up until you are right below the knees, then roll back down. Stop and hold it on the tight spot again if it's still there.
Switch legs.
If your low back and hips hurt along with your legs, you might want to try The Release Rebalance Method. This completely new mobility program relieves and repairs low back and hip pain in just 9 minutes a day. Soothe away those aches and pains today!