Bacon and avocado get rolled up in an eggy patty for a protein-rich breakfast burrito!
Ordinary tortillas are usually made from corn or flour and don't offer much in the way of nutrition. If you don't have the time to make your own Paleo tortillas, try whipping up this quick recipe instead!
These breakfast burritos are rolled up with bacon and avocado. You can also try seasoned taco meat, shredded chicken or grilled veggies as a healthy lunch or dinner.
Love Paleo Breakfasts? Then you'll love our FREE Paleo Breakfast Recipes.
Click here to get your FREE copy of our delicious Breakfast Recipes!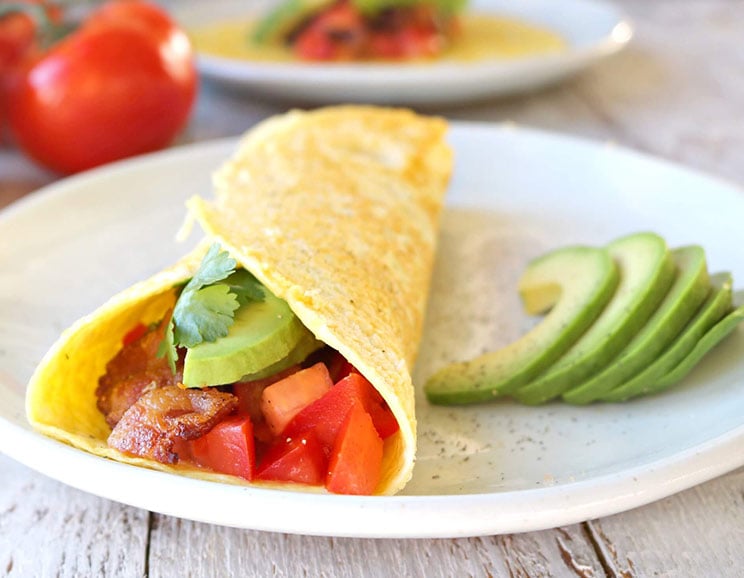 Avocados are high in healthy fat which helps to keep you full for longer while tomatoes add antioxidants like lycopene to combat free-radical damage. Bacon adds a crunchy, smoky flavor and fresh cilantro is beneficial for removing toxins and heavy metals from the body. Basil, spinach or kale would also be great additions!
Start by whisking the eggs and almond milk together in a bowl. Lightly grease a skillet with ghee and heat over medium heat. Pour half the egg mixture onto the pan and cover. Cook for 3-4 minutes until the top of the eggs are cooked. Carefully use a spatula to lift the wrap from the pan and place onto a plate. Repeat with the remaining egg mixture. Top each egg "tortilla" with bacon, tomato and greens, wrap it up and get at it while it's warm!
Jennafer Ashley
Keto Breakfast Burrito with Bacon and Avocado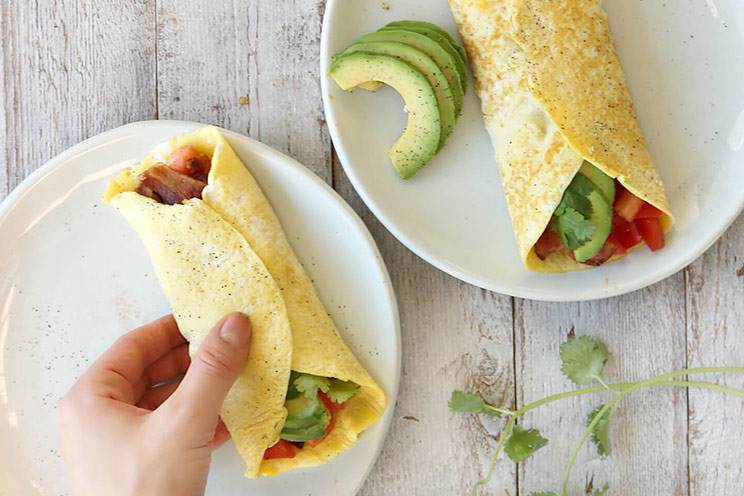 Cook Time:
10 mins
10 minutes
Prep Time:
5 mins
5 minutes
Nutrition facts:
9 grams of protein
4 grams of carbohydrates
14 grams of fat
Keto Breakfast Burrito with Bacon and Avocado
Bacon, tomato, and avocado get rolled up in a protein-rich eggy patty for a gluten-free breakfast burrito.
Tools
Small mixing bowl

Medium Skillet

Spatula
Ingredients
4 pasture-raised eggs

2 T unsweetened almond milk

Ghee for greasing

4 strips cooked pasture-raised bacon, chopped

1 medium tomato, diced

Fresh greens of choice (spinach, cilantro, basil)

1/2 avocado, sliced
Instructions
Whisk together the eggs and almond milk in a mixing bowl.

Heat a skillet over medium heat and lightly grease with ghee.

Pour half of the mixture into the pan to coat the bottom thinly. Cover and cook for 3 minutes. Use a spatula to transfer to a plate.

Pour the remaining mixture into the skillet and cook for an additional 3 minutes, covered.

Top each egg "tortilla" with bacon, tomato, greens and avocado. Roll and enjoy!

(You'll Also Love: 23 Keto-Friendly Snacks)