Sweet, salty, savory? You got everything covered with this Mango Bacon Butternut Hash!
What can be better than waking up to the perfect breakfast hash? The sound of juicy, sizzling bacon on a hot pan and the smell of warm, fresh vegetables frying in the rendered bacon fat is bound to make the grouchiest of risers happy.
To keep this butternut squash hash recipe Paleo-friendly, we swap the white potatoes with butternut squash as an excellent replacement! The starchy vegetable browns perfectly in the pan, soaking up all the spices, flavors and texture you would expect from any hash.
Love Paleo Breakfasts? Then you'll love our FREE Paleo Breakfast Recipes.
Click here to get your FREE copy of our delicious Breakfast Recipes!

To balance the savory flavor of the butternut squash in this recipe, I added mango. Mango has a vibrant, sweet flavor with a silky texture. Squash and mango are an unexpected pairing that's surprisingly delicious!
And of course, we can't forget the bacon! For a complete breakfast, add a fried egg on top of a big bed of hash. That runny egg yolk makes the hash taste even better!
But this butternut squash hash isn't just for breakfast. You could also serve it with pork, beef, chicken, fish, or even as a side dish. It's a quick and comforting meal perfect for anytime of the day!
Megan Olson
Mango Bacon Butternut Squash Hash Recipe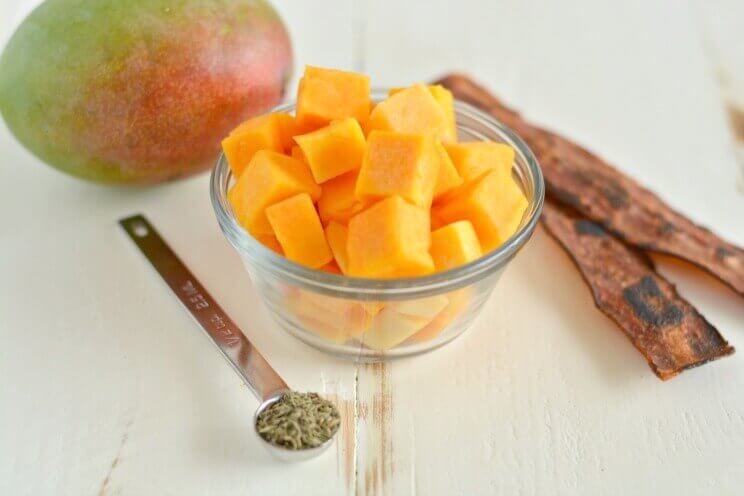 Cook Time:
15 mins
15 minutes
Prep Time:
5 mins
5 minutes
Mango Bacon Butternut Squash Hash Recipe
Sweet, salty, savory? You got everything covered with this Mango Bacon Butternut Hash!
Ingredients
2 slices cooked bacon

1 ripe mango, diced into cubes

1 small butternut squash, diced into cubes

½ t dried thyme

Salt and pepper, to taste
Instructions
Cook bacon in a large pan according to package instructions. Remove and set aside.

Place the butternut squash, thyme, salt and pepper in the pan with the rendered bacon fat. Cook 10 minutes until the squash softens, stirring it periodically.

Break up the bacon with your hands and sprinkle over the hash. Add mango to the pan and cook another 5 minutes before serving.


(You'll Also Love: Bacon & Egg Sweet Potato Pancake Breakfast Sandwich)
Eat cinnamon apple-crusted doughnuts… zesty lemon scones… and even breakfast chili all while staying healthy with the Paleo diet!
Enjoy 101 delicious Paleo
Breakfast recipes that melt fat, fight inflammation, and keep
you healthy
Enjoy 101 delicious Paleo
Breakfast recipes that melt
fat, fight inflammation, and
keep you healthy