Why post a tropical coconut smoothie recipe in February? To begin, it's wishful thinking when all you want is a vacation to the Bahamas. Like a getaway in a cup, this drink perks up winter time blues in no time. 
Additionally, smoothies are a great source of protein and vitamins. Coconut is high in  Vitamins B, C, and E. Did we mention how delicious it tastes? Mixing all the creamy flavors of coconut milk, pineapple, and banana, this decadent drink pairs well with cocoa and almonds.This smoothie is light, filing and packed with nutrients that'll boost your energy and metabolism.
As a result, this recipe is super easy to make. Simply prep, toss in a blender, and five minutes later you have the best tasting smoothie to indulge in.
Love Paleo breakfast recipes? Get our free breakfast recipe cookbook here!
So, the next time you "don't have time" for breakfast, you should consider whipping up this smoothie. It's the perfect on-the-go breakfast and will keep you full until lunchtime. Pair it with a slice of Coconut Flour Banana Bread or Coconut Flour Blueberry Lemon Bread for a complete meal.
Erin Druga
Tropical Coconut Smoothie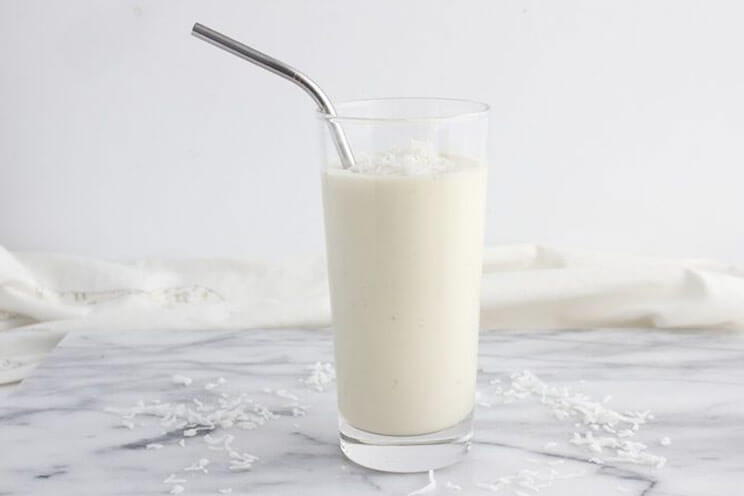 Prep Time:
5 mins
5 minutes
Tropical Coconut Smoothie
This tropical coconut smoothie will have you dreaming of an island getaway.
Ingredients
1 banana

Pineapple chunks (½ cup)

¼ cup coconut cream

¼ cup coconut milk

4 ice cubes

Pinch of shredded coconut for topping
Instructions
Place all ingredients into a blender and blend until smooth. Enjoy!
You'll Also Love: 20 Protein Smoothies to Shake Up Your Morning)