If ever there was a perfect Paleo treat, this lemon curd is it. High in protein and healthy fats with just a touch of sweetness, this is the ideal summer dessert.
Making lemon curd might sound fancy and complicated, but it is one of the easiest desserts to whip up. With just six wholesome ingredients, you can enjoy this quick recipe as a pastry filling or on its own as a custard-like treat.
Among the ingredients, collagen peptides sneak in a boost of joint, gut, and skin-nourishing amino acids, including glycine and proline, which are essential for creating new collagen. As we get older and collagen production drops, adding just a few tablespoons of grass-fed collagen peptides to your diet can help offset the negative effects. Of course, like any supplement, it is not a "one and done thing" – you must make them a regular part of your diet to see and feel the benefits.
Love Paleo Desserts? Then you'll love our FREE Paleo Dessert Cookbook.
Click here to get your FREE copy of our delicious Dessert Recipes!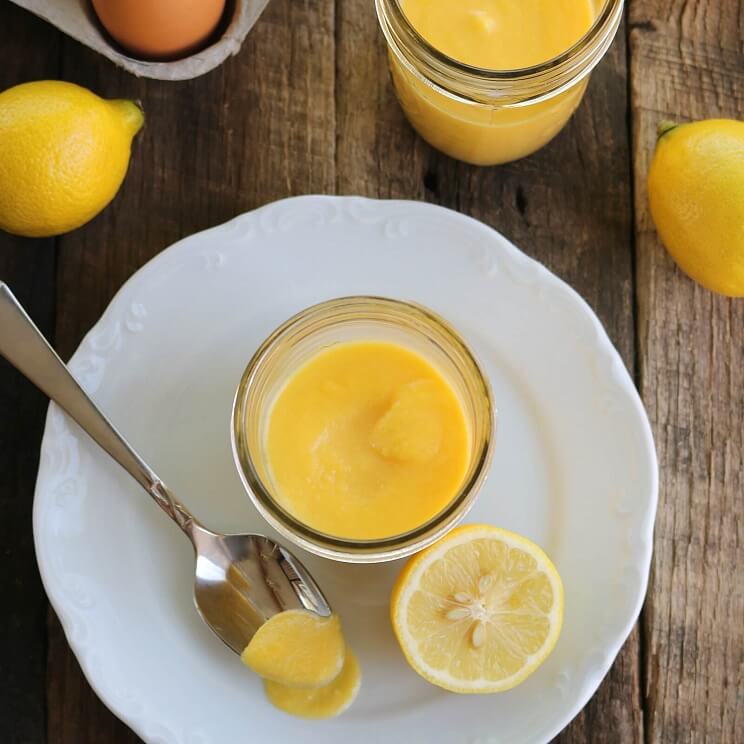 Luckily, collagen peptides are virtually tasteless and are a great addition to smoothies and soups or any recipe that you can dissolve them in. Note: Unlike gelatin, collagen peptides are soluble in water and do not add thickness to recipes. Traditionally, fruit curd is made using butter and sugar. For this recipe, coconut oil is substituted along with raw honey to keep it Paleo. If you prefer to use butter, make sure it is grass-fed and unsalted.
Start by whisking eggs, lemon juice, lemon zest and raw honey in a medium saucepan on the stove. Turn the burner on to low and continue whisking as you add in the coconut oil. Whisk until the coconut oil has completely dissolved. Add the collagen peptides and increase the heat to medium as you continue to whisk slowly. After about 5 minutes, the mixture should be thickened to a smooth, rich curd. Remove from heat and strain through a mesh strainer into a measuring cup with a spout. This will remove any chunks that have formed as well as lemon zest that hasn't dissolved. Pour the curd into 2 jars and refrigerate. Enjoy the curd slightly chilled after 1 hour or let it chill longer for a thicker texture.
Jennafer Ashley
Pucker Up Lemon Curd Recipe with Collagen Peptides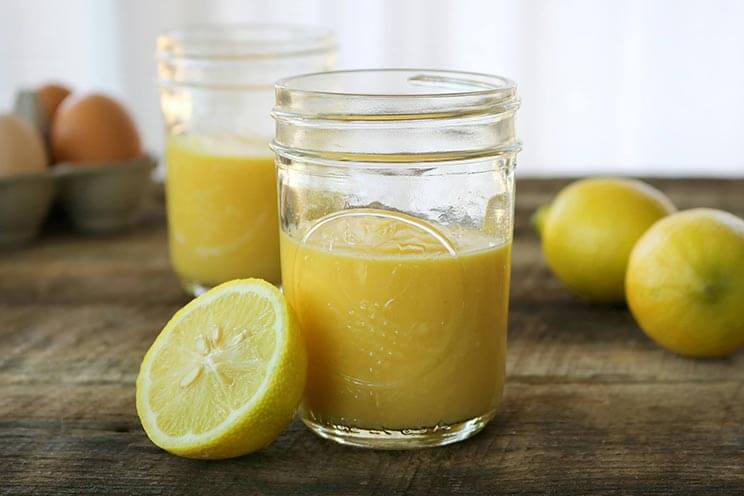 Cook Time:
12 mins
12 minutes
Prep Time:
5 mins
5 minutes
Pucker Up Lemon Curd Recipe with Collagen Peptides
High in protein and healthy fats with just a touch of sweetness, this lemon curd is the ideal summer dessert.
Tools
Small saucepan

Mesh strainer

Measuring cup

2 small jars
Ingredients
4 large eggs

1/2 cup fresh squeezed lemon juice

1/2 cup unrefined virgin coconut oil

1/4 cup raw honey

2 T collagen powder

2 T lemon zest
Instructions
In a small saucepan, whisk together eggs, lemon juice, lemon zest and honey.

Add coconut oil and turn heat to low. Continue whisking until the coconut oil has melted and is combined, about 5 minutes. Stir in collagen peptides.

Turn heat to medium and cook until the mixture thickens about 5-7 minutes. Strain through a mesh strainer over a measuring cup.

Divide mixture among 2 small jars and refrigerate until chilled, about 1-2 hours.


(You'll Also Love: Raspberry Lemon Swirl Bars)