Next time you're making pancakes, try adding a dose of lavender and lemon.
The floral aroma combined with the warm, fluffy texture of the pancakes makes each bite absolutely divine. For the recipe below, the key is to add enough zest and lavender to taste the flavor, but not so much that it becomes overwhelming.
Enjoy these lemon lavender pancakes as a heavenly summertime breakfast.
Want to learn more about Paleo and how it can help you?
Grab our FREE "What Is Paleo?" Guide by Clicking Here!
Erin Druga
Lemon Lavender Pancakes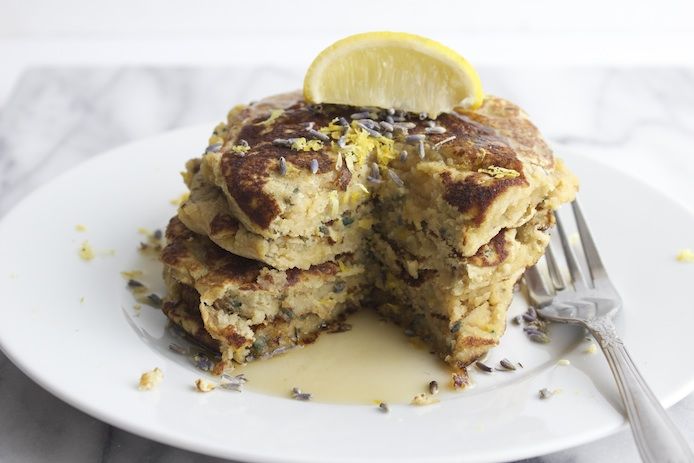 Cook Time:
15 mins
15 minutes
Prep Time:
10 mins
10 minutes
Lemon Lavender Pancakes
These Lemon Lavender Pancakes require less than 10 ingredients and are a refreshing way to start the day!
Ingredients
1/4 cup+2 T coconut flour

1 t baking soda

4 eggs

1/2 cup+2 T unsweetened almond milk

1/2 t vanilla extract

2 T honey

Zest of 1 lemon

1 T lavender
How To Make It:
1. Combine flour and baking soda in a bowl; set aside.
2. In a separate bowl, combine eggs, milk, extract, and honey.
3. Fold wet ingredients into dry, stir zest and lavender in by hand.
4. Grease a skillet with coconut oil or nonstick spray and pour batter onto skillet. Once batter starts bubbling, use a spatula to flip pancakes over and cook the other side. Once both sides are cooked, remove from skillet. Repeat until batter is done.
5. Top pancakes with extra lemon zest or lavender if desired.
6. Enjoy!
(You'll Also Love: Coconut Flour Pancakes)