Soft, chocolatey brownie bread made with raw cacao and zero gluten. Enjoy with a warm cup of coffee or a cool scoop of coconut ice cream.
This easy dessert calls for only six simple ingredients that are healthy, nutritious, and create a dreamy, oh-so-satisfying Paleo treat. Organic eggs, coconut oil, coconut sugar, raw cacao powder, vanilla extract and sea salt blend into a rich, soft and decadent dessert.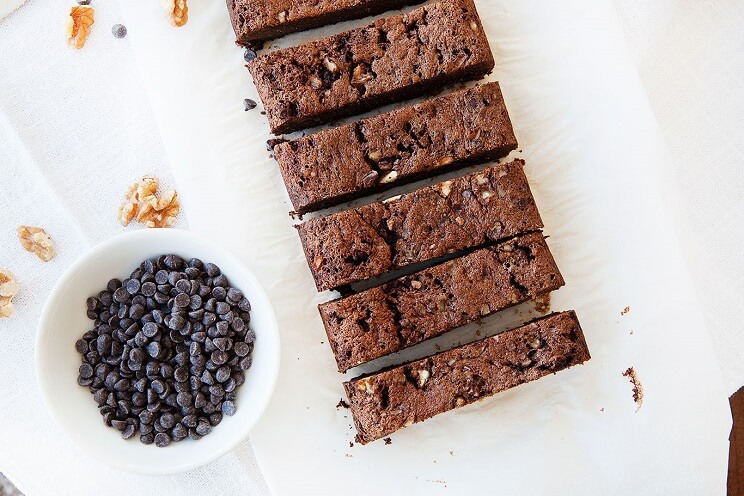 The best part of this recipe? It's star ingredient: raw cacao! Cacao kills it when it comes to nutrition. By eating this yummy and easy-to-make Paleo Brownie Bread, you'll nourish your body with antioxidants and nutrients. Just make sure you get organic, raw cacao with no added sugars or dairy, to reap the full benefits.
Love Paleo Desserts? Then you'll love our FREE Paleo Dessert Cookbook. Click here to get it!
This Paleo Brownie Bread recipe is very simple to make; all you need is one bowl and about 30 minutes from start to finish. Once your Paleo Brownie Bread is out of the oven, let it cool, refrigerate it for an hour or two, then slice and serve it! I personally like to enjoy a slice with a nice hot cup of coffee. You can also top it off with a scoop of your favorite non-dairy ice cream or with a cold glass of almond milk.
Mariel Lewis
Chocolate Brownie Bread with Coconut Oil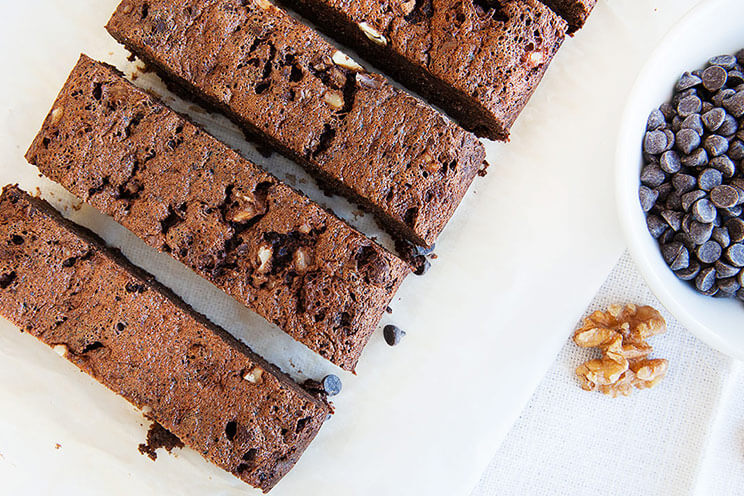 Prep Time:
5 mins
5 minutes
Chocolate Brownie Bread with Coconut Oil
This soft, chocolatey brownie bread is made with raw cacao and contains zero gluten.
Tools
10" bread pan

Parchment paper

Large bowl
Ingredients
1 cup coconut sugar

1 cup raw cacao powder

4 large eggs

5 T coconut oil, melted

1 t vanilla extract

¼ t sea salt

Optional: 2 tablespoons chopped walnuts
Instructions
Preheat oven to 350°F.

Line 10" bread pan with parchment paper and set aside.

Add all ingredients (except chopped walnuts) to a large bowl and mix until batter is smooth.

Pour batter into prepared bread pan, sprinkle chopped walnuts on top and bake for 30-35 minutes. Let cool completely, and refrigerate for at least 1.5 hours before slicing. Enjoy!
Watch the Recipe Video Below!

Looking for Paleo ingredients? Here are a few we'd recommend:
Raw Cacao Powder (Thrive Market)
Organic Virgin Coconut Oil (Thrive Market)

(You'll Also Love: Hidden Veggie Tiger Nut Brownies)