These homemade Collagen Marshmallows, which are sweetened with honey and vanilla, make a high-protein alternative to store-bought kind. Best of all, they only require 20 minutes of hands-on time to prepare!
Marshmallows are always a lovely, sweet treat – whether you like to eat them alone or with a hot beverage, they are always welcome. I particularly like to top a mug of hot chocolate with a few marshmallows, let them melt into the beverage, and then drink it all up, foam and all.
Over the years, as I started making more and more kitchen staples from scratch, I've found that homemade is always better. Making food from scratch allows you to know exactly what ingredients go into a recipe (as opposed to the long list of unpronounceable ingredients and preservatives that often come with packaged foods).
Love Paleo Desserts? Then you'll love our FREE Paleo Dessert Cookbook.
Click here to get your FREE copy of our delicious Dessert Recipes!
Marshmallows are no exception. Today, we're making homemade collagen marshmallows that only require four simple ingredients and a hand mixer, all of which you probably already have in your kitchen.
Start off by mixing gelatin powder and half the amount of water in a large bowl. Let it sit for a while so it gels. In the meantime, begin heating the rest of the water and honey in a small pot, removing it from the heat just as it begins to boil. (I used honey here but you can always swap out the honey for maple syrup instead.)
A little note: you'll need a little patience and some hand muscle for the next part, but it'll be totally worth it. Now, add the hot water mixture to the gelatin mixture and beat it with your hand mixer on low for a few seconds. Incorporate the vanilla extract, turn the speed to medium-high, and beat for a couple of minutes. Finally, increase the speed to high and beat until you see that the mixture is thick and foamy. (The mixture should resemble beaten egg whites when it's ready. Be sure to beat it really well so that air gets incorporated into the mixture and it's light and spongy.)
When the gelatin mixture is ready, transfer it to a greased square or rectangle pan and press it down as much as you can to flatten it (I used a clean spoon – but you can also use a spatula or anything flat). Next, wait patiently for the mixture to firm in the refrigerator before slicing it into pieces! (Waiting for it to chill is probably the toughest part, so I urge you to practice patience here!)
As I mentioned above, I strongly recommend eating these marshmallows with a mug of hot chocolate or even coffee! They're amazing! To store the marshmallows, place them in an airtight container in the refrigerator, where they'll keep for up to three days.
Tip: If you want to jazz things up a little, make chocolate-flavored marshmallows by adding 1 tablespoon of cocoa powder and 1 additional tablespoon of water.
Felicia Lim
Homemade Collagen Marshmallows for Firmer, Healthy Skin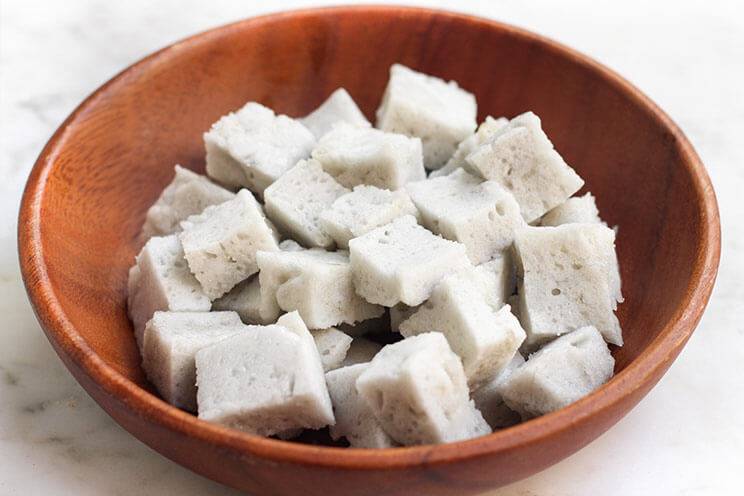 Prep Time:
20 mins
20 minutes
Homemade Collagen Marshmallows for Firmer, Healthy Skin
These homemade collagen marshmallows make a high-protein alternative to the store-bought kind.
Ingredients
1 cup water

1 t pure vanilla extract

3 T gelatin powder

3 T raw honey
Instructions
In a large mixing bowl, combine the gelatin powder and ½ cup of water. Mix well with a spoon and let the mixture sit for 5 minutes until it gels.

Heat the other ½ cup of water over medium heat and add honey to the water. Just as the water is about to boil, remove it from the heat.

Add the hot honey-water mixture to the gelatin mixture and turn on your hand mixer to low, mixing for a few seconds. Add the vanilla extract and increase the speed to medium-high, beating for 1 to 2 minutes. Increase the speed to high and continue whipping until the mixture becomes thick and looks like whipped egg whites (around 7 to 10 minutes).

Grease a square or rectangle pan with coconut oil and transfer the whipped gelatin mixture to the pan, flattening it as much as possible with a clean spoon.

Cover the pan with plastic wrap and let the mixture chill for at least 2 hours in the refrigerator, until it is firm to the touch.

Slice into 1-inch squares. Eat solo as a healthy snack or with hot chocolate or coffee.

Store in an airtight container in the refrigerator for up to 3 days.
Adapted from: Dr Jockers Sweet Collagen Marshmallows
(You'll Also Love: Paleo Pavlova with Gooey Marshmallow Center)